STORY HIGHLIGHTS
Tampa Bay's offense could use a serious infusion of YAC in 2014
The Buccaneers struggled on third down in 2013 but have the tools to improve in that category this fall
Defensively, the Bucs need to turn more of their turnovers into points

There are two numbers from their 2013 stats page that the Tampa Bay Buccaneers' have to fix in 2014 if they want to make Lovie Smith's debut season a success: four and 12.
That's the team's win and loss totals, of course, and they are the kinds of numbers that precipitates a change in coaches.  If that's too painfully obvious, we can step down exactly one more level in our stats analysis and highlight these numbers: 288 and 389.  Those were Tampa Bay's points scored and allowed last fall, leading to a net points differential of -101, fifth-worst in the league.  The Buccaneers have to score more points for Smith and company, and allow fewer.
Still very, very obvious, right?
On the final day of the Buccaneers' offseason program, after he had watched his group practice dozens of teams – and after he had earlier helped in a dramatic reshaping of the roster through free agency and the draft – Smith surveyed his roster and liked what he saw.
"I think we're going to be a good football team," he said.  "We had a successful offseason program, but now it's about that next step.  [We're] putting a group together, getting into pads, and let's just see how it turns out, see how good we can be. We've got to be ready.  The Carolina Panthers, division champs, are coming in and they're feeling pretty good about coming down to Raymond James, and we've got to do something about that."
For Smith to be right, and for the Buccaneers to do something about the Panthers (not to mention the Saints and Falcons), they have to win more than four games in 2014 and they have to reverse that points differential.  We know that.  Better scoring differential will lead to more wins, but what will lead to better scoring differential for the Buccaneers?  Let's take a few more steps down the statistical ladder and look for some numbers that will resonate back up to that top level of Ws and Ls in 2014.
Here are Five Numbers That Must Change in 2014 for the Buccaneers to become winners, along with the potential solutions for each deficiency:
Number: 56.6%
Category: Completion Percentage (Offense)
Solution: Josh McCown and Jeff Tedford
The Buccaneers ranked 29th in the NFL in completion percentage in 2013, ahead of only the Cleveland Browns and the New York Jets.  Of the bottom 15 teams in the NFL in that category last year, only one made the playoffs, and that was the San Francisco 49ers, a team that relied on great defense and a running threat at quarterback.  That's great work if you can get it, but for the most part you're going to have to complete 60% of your passes to have a chance in the NFL.
Let's be clear: This is not an indictment of Mike Glennon.  Glennon completed 59.4% of his passes in his 13 starts, which isn't great but is certainly respectable for a rookie thrown into a particularly difficult situation.  Josh Freeman started the first three games and had a startling 45.7% completion rate, making it difficult for Glennon to get that team percentage up.
That said, 2013 was an extremely bad year for the Buccaneers in terms of completion percentage, when allowing for the ever-increasing prevalence of the passing game in the NFL.  The Bucs' 56.6% completion rate was the 14th best in team history, which doesn't sound bad until one realizes that all 10 of the top spots on the list are occupied by teams since 1999.  The game has changed significantly.  In 1979, the Buccaneers won the NFC Central division and made it to the conference championship game while completing 42.2% of their passes.  It's true that this total was the league's worst, but only 11 teams in the league completed even 55% of their passes that year.  Only two of the top eight teams in completion percentage made the playoffs that year.  Last year, the three top teams on that list made the playoffs.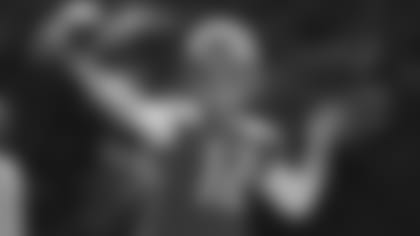 Josh McCown's precision passing should help the Bucs improve on their third-down success rate
Hey, guess who's in town?  Why, it's Josh McCown, who completed 66.5% of his passes last year.  That's really good.  It was sixth in the league behind Philip Rivers, Drew Brees, Peyton Manning, Matt Ryan and Aaron Rodgers.  McCown doesn't have the multi-season pedigree of any of those above him, but the Bucs obviously believe he can duplicate that performance.  That would make a BIG difference in 2014.
Number: 4.0
Category: Yards after Catch (Offense)
Solution: Josh McCown, Mike Evans, Charles Sims and Jeff Tedford
This one goes hand-in-hand with the one above.  The Buccaneers need to catch more passes in 2014, but that's not the end of it.  They also need to do more after they catch those passes.
We're talking YAC, which is a wonderfully alliterative acronym and also shorthand for some of the most entertaining plays in football.  What's better than a receiver catching a pass, faking out a tackler and gaining another 20 or 30 yards?
Last year, the Super Bowl champion Seattle Seahawks ranked 26th in the league in passing yards.  But they also ranked fifth in YAC, suggesting that they were able to complement their strong running game with a quick-strike, big-play passing attack.  That's exactly what Lovie Smith wants to construct in Tampa.
The Buccaneers were absolutely the worst team in the NFL last year in yards after catch, and it wasn't even close.  Tampa Bay's mark was 4.0, and the team ranked 31st, Houston, came in at 4.6.  The difference between the Texans at 31 and the Bucs at 32 is almost exactly the same as the difference between the 11th and 28th teams on the list.
Wow.  It's a good thing that the Buccaneers' offense has been completely rebuilt, from the line back to the quarterback.  We mentioned McCown above. There's also the arrival of Mike Evans, who is considered a powerful runner after the catch.  And, finally, we have Jeff Tedford, who is devising an offense that we haven't had much chance to dissect yet.  Most analysts believe that Tedford likes to throw to the slot receivers and the backs, and that he's good at getting the ball to pass-catchers in space.  That would seem to make YAC particularly important in 2014. Tedford was also gifted running back Charles Sims in the draft, and Sims could provide plenty of bonus yards by turning short passes into big gains.
Number: 31.2%
Category: Third Down Percentage (Offense)
Solution: Doug Martin, Jeff Tedford and a new offensive line
Tampa Bay's offense converted on 31.2% of its third-down tries in 2013, which only sounds terrible until you realize that…wow, it really is.
The Bucs were 31st in the league in that category last year, with Tennessee slipping beneath them at 31.1%.  What's more telling is that this figure is the fifth-worst in the franchise's 38-season history, and three of the four seasons below 2013 belong to the inaugural 1976-78 corridor.  The Bucs' struggles on third down last year were seriously anachronistic.
That said, there are offenses that fall into these third-down troubles every year.  The Arizona Cardinals converted just 25.2% of their third-down tries in 2012 and 27.8% in 2010.  St. Louis converted just 28.1% of their attempts in 2011, Buffalo just 25.8% in 2009.  Even in the current pumped-up offensive era, some teams occasionally bottom out.  That happened to the Bucs last year but it would be surprising if that third-down number didn't go up significantly in 2014.
The additions of Jeff Tedford, Anthony Collins, Evan Dietrich-Smith, Mike Evans, Austin Seferian-Jenkins, Brandon Myers and Charles Sims represent plenty of reasons for optimism.  However, the man who could have the greatest impact on the Bucs' third-down rate in 2014 isn't a newcomer; it's third-year running back Doug Martin.  The Bucs had a 35.8% third-down conversion rate in 2012, which isn't fantastic but is far better than their 2013 figure.  In 2012, Doug Martin was ripping off big runs, averaging 4.6 yards per carry.  Nothing helps a third-down percentage more than reducing the yards needed on that critical down by picking up gains on first and second down.
Number: 6.0%
Category: Sacks Per Pass Play (Defense)
Solution: Michael Johnson, Clinton McDonald, Player Maturation, Lovie Smith
This is a big one, obviously.  Lovie Smith and company knew the pass rush needed to be fixed when they arrived, and it's not as if previous regimes were blind to the issue.  Since 2010, the Buccaneers have freely spent high draft picks (Gerald McCoy, Brian Price, Adrian Clayborn, Da'Quan Bowers) and mid-ranged draft picks (Akeem Spence, William Gholston, Steven Means) trying to rework the defensive front.
Of course, it's an even greater concern now, because the defense Smith and Leslie Frazier are installing will place a premium on getting to the passer with a four-man rush as opposed to sending extra blitzers.  The Bucs want four strong pass-rushers on the field for as many snaps as possible, and that's why they're very first signings in the nascent hours of free agency were defensive end Michael Johnson and defensive tackle Clinton McDonald.
It's not news, of course, that a strong pass rush is important.  With the ever-increasing efficiency of passing attacks in the NFL – with rules that generally favor the offense – the best way to keep a quarterback like Drew Brees or Tom Brady from overwhelming you is to disrupt the pass before he can get it off.  Of the 12 teams that made the playoffs last year, seven ranked in the top 10 in sacks per pass play on defense, and another ranked 14th.  The only team to make it into the postseason with an anemic pass rush was Philadelphia, which ranked 31st.
The Buccaneers ranked 22nd, which is probably higher than some would have guessed.  That's the good news, really – defensive tackle Gerald McCoy had 9.5 sacks and looks like he could be a rare inside rusher that gives you double digits.  When the Bucs do choose to blitz, they have linebacker Lavonte David, who had six sacks last year.  And Adrian Clayborn, who is moving over to left end to accommodate Johnson and who has shown at least seven-sack potential, and the cupboard wasn't bare to start with.
The additions of Johnson and McDonald – and if things break right for the Buccaneers the development of someone from the group of Bowers, Gholston and Means – give the team a potentially deep stable of pass-rushers.  They're going to need that group to do far better than a 6.0% sacks-per-pass-play rate in 2014.
Number: 51.6%
Category: Score Percentage after Takeaways (Offense AND Defense)
Solution: Lovie Smith, Leslie Frazier and Jeff Tedford
The Buccaneers were an unusual aberration when it came to turnover differential last year.  They finished at +10, which is usually the harbinger of a winning record.  In fact, the Bucs were seventh in the NFL in this category, and the only team in the top eight that did not make the playoffs.
Part of the reason that the Bucs' 31 takeaways (tied for fourth in the NFL) didn't translate into more wins is that the team didn't turn them into enough points.  That's an issue for both the offense and the defense – the Bucs need their defenders to take more of those turnovers to the house, and they need their offense to take better advantage of good field position.
The Buccaneers had 10 more takeaways than their opponents last year (31-21) but they scored the same number of touchdowns (nine) off those turnovers.  The Bucs barely outscored their opponents off turnovers, by six points, thanks to two more field goals.  Tampa Bay's offense started a total of 20 drives during the season on their opponent's side of the field (usually the result of a turnover) and turned just eight of those into touchdowns.  Seven of those 20 drives resulted in no points at all.
Lovie Smith's teams have always done a good job taking the ball away on defense, and of scoring directly off those turnovers.  He and Frazier believe that you can coach that aspect of the game, that turnovers aren't just luck.  Expect a few more touchdowns from Tampa Bay's defense this year.  Of course, there are plenty of turnovers with little chance of resulting in immediate touchdowns, so it will be up to the offense to capitalize on takeaways more often than not.  If Jeff Tedford's offense can pack more punch than the one ranked 32nd in the NFL last year, those takeaways should result in more points.