STORY HIGHLIGHTS
Rookie WR Mike Evans could set several Buc records and help his Rookie of the Year cause in Weeks 14-16
Buccaneer passers have dropped below 60% in completion percentage so far this year and would be well-served to get back to that mark
Losing teams have a tougher time placing players in the Pro Bowl, but the Bucs surely have some deserving candidates

The Tampa Bay Buccaneers were officially eliminated from playoff contention on Sunday with their 34-17 loss in Detroit. At 2-11, they are capped at a maximum of five wins in 2014, and that's certainly not how management, players or coaches saw this season playing out. The only statistic that truly matters in the NFL is wins and losses, and the Buccaneers didn't hit their goal in that regard. Given the bottom-line nature of the business, there's not much concern in the football offices at One Buccaneer Place for any other numbers on the team's stat table.
That feeling is probably shared by a percentage of Buccaneer fans, as well. If you're like this author, however, you can't totally ignore the interesting peaks in that stat table, nor fail to take note of some individual achievements even during a losing campaign. We don't have to celebrate the good numbers in a bad situation, but we can certainly acknowledge them, and maybe even take heart in what they might mean for the near future.
Plus, Buccaneer players are still fighting, this late in an unexpectedly difficult season, and if that fight happens to result in some positive statistical outcomes by season's end, then let's give them credit for that.
"This is one of the roughest years that I've been a part of and the thing I can take out of it is the fact that our guys played hard," said WR Vincent Jackson, who caught 10 passes for 159 yards on Sunday. "Guys are still fighting, nobody's pointing fingers in this locker room, this organization, and that's saying something. It's the quality of men that we have here. Lovie [Smith] said, when he closed us in after the game, 'We're not a good team right now and it's unfortunate because we have great players.' We need to find a way to just play the game better, play the game smarter, play a complete game. So, we're going to go back, just like we've been doing since Week 1, we're going to correct our mistakes tomorrow and come back ready to work on Wednesday."
In that spirit, allow me to present five statistical goals we would still like to see the Buccaneers accomplish by season's end. With three games to play, all of these accomplishments are all still quite attainable, no matter what the Packers, Panthers and Saints might have to say about it. These are stats worth chasing, and if they happen to result in a three-game winning streak to end the season, all the better.
1. 12 or more touchdown receptions for Mike Evans
Wide receiver Mike Evans was far from satisfied with his performance on Sunday in Detroit, saying after the game that he didn't block up his usual (very high) standards, and that he regretted losing his composure a bit at one point while arguing for a pass-interference call. Evans even said it might have been his worst game of the year.
Well, the prolific rookie, who never seems to shy away from blunt self-evaluation, scored two touchdowns in that "worst game," giving him 10 on the season. He finished with four catches for 45 yards, and even that was a bit misleading because he drew a huge 38-yard pass interference call in the fourth quarter that temporarily gave the Bucs a chance to get back in the game. Rookie or not, there has only been one receiver in the entire NFL (the Giants' Odell Beckham) who has had more receiving yards since the start of November than Evans, and nobody has come close to his eight touchdowns.
It's that latter number we're interested in. Evans has 935 receiving yards on the season and is a good bet to finish up somewhere between 1,000 yards (a rare landmark for a rookie) and the team-record 1,193 yards that Michael Clayton had as a rookie in 2004. Where he has a much better chance of placing his name in the Bucs' record books is in the end zone.
Mike Williams caught 11 touchdown passes in 2010 to set a new Buccaneer single-season record. Since Williams happened to be a rookie, that's also in the books as the team's best rookie total. Evans has a very good chance of topping that mark. He needs just two more scores in the next three games to get it, and given that he has found the end zone eight times in the last six games, that seems quite reasonable.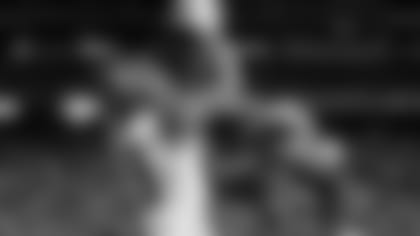 WR Mike Evans is catching TD passes at a rate few rookies have recorded in the past
If he gets to 12 TD catches as a rookie, that will be rarified air. Only Randy Moss (17 in 1998), Billy Howton (13 in 1952) and John Jefferson (13 in 1978) have had more as a rookie.
2. 10 or more sacks for DT Gerald McCoy
A knee injury that for a frightening period of time looked serious kept the Bucs' All-Pro defensive tackle off the field for a while on Sunday. McCoy did return, but the Lions managed to keep him out of the sack column, which few opposing teams have done recently.
Before Sunday's game, McCoy had racked up 6.5 sacks over the Bucs' previous six games. That run put him in position to do something the team has been waiting to see happen for almost a decade. With just 1.5 more QB takedowns, McCoy would break the team's nine-year drought on double-digit sack artists. The last Tampa Bay player to hit that plateau was Simeon Rice, who had 14.0 in 2005.
McCoy came into Sunday's game ranked second among all NFL defensive tackles in sacks in 2014, and tied for first at the position over the last two seasons combined. The fact that he didn't pad his totals on Sunday didn't mean he wasn't disruptive. He will remain one of the highest-rated DTs in the league after the game and will be a serious candidate to duplicate his All-Pro status whether or not he gets that last 1.5 sacks to get to 10.
Still, we want to see McCoy get to that mark, because it's a milestone that great pass-rushers must eventually hit. He finished with 9.5 sacks last year and we don't want to see yet another near-miss. Chances are, McCoy will soon render that a moot point.
3. A 60% completion rate for Buccaneer quarterbacks
Josh McCown started the first three games at quarterback for the Buccaneers but went down with a thumb fracture in that third outing. Second-year passer Mike Glennon started the next five contests, including a couple at the end as McCown was apparently close to full health. Eventually, the Bucs went back to the veteran, who has opened the past five games.
The Bucs have won one game each with McCown and Glennon at the helm, and there are various stats that seem to favor each one. One area in which McCown had a clear edge for much of the year, however, was in completion percentage. The Bucs anticipated that McCown would shine in this regard after he completed 66.5% of his passes during a very strong run of about a half-season as the Chicago Bears' starter in 2013.
Before the Bucs' last two games, McCown had a completion rate of 60.4% on the season. He had finished at 62.8% in four of his first five starts. However, in losses to the Cincinnati Bengals and Detroit Lions, McCown completed 35 of 68 passes, a rate just barely over 50%. That's uncharacteristic for the veteran and one of the reasons that the team has averaged just 15 points in those two losses.
As a team, the Buccaneers now sit at a 57.7% completion percentage on offense. That might not seem too bad, but passing games have become far more efficient and productive in the modern NFL. Coming into Week 14, the league's 32 teams had combined for a completion percentage of 63.0%. To fall below 60% these days is to be operating at a level that isn't likely to produce good results in the long run.
The Bucs would like to finish the 2014 season strong with their passing attack, especially considering how much talent they have at the wideout position. To get to 60% and build some momentum for the 2015 campaign, the team will need to step it up a notch. If one projects a total of 30 passes a game over the final three weeks, the Bucs would need to complete 64 of those 90 total throws to make it up to 60%. That's a tall order, of course, but in the current NFL it's far from outrageous.
4. 15 or more interceptions for the Buccaneers' defense
Tampa Bay's defense has 11 interceptions through 13 games, and even in an era that favors passers, that's not enough. Over the first 38 seasons in franchise history, the Buccaneers averaged 18 picks per campaign. Furthermore, they have a coach who has emphasized this issue and gotten results. Lovie Smith was either the St. Louis Rams' defensive coordinator or the Chicago Bears' head coach from 2001-12, and during those nine seasons his teams averaged almost exactly 20 interceptions per campaign.
Barring a pretty remarkable finish, the Bucs aren't getting to 20 picks this year. Cleveland, with 17 picks, has the best chance to hit that mark. Again, the current NFL landscape favors the passing offenses, so there's no shame in finishing below 20 picks these days. The Bucs, however, would like to prove that they are above average in this category, as befitting a Lovie Smith team.
Through 13 games, Tampa Bay is right in the middle of the pack in interceptions, tied for 14th among the 32 teams. We'd like to see them finish the season in the upper echelon, thereby setting the stage for a defense that looks more like a Lovie Smith unit in 2015. Four picks over the next three games is not unreasonable, and that would get them to 15 and maybe into the league's top 10.
The key, as always, is to take advantage of the opportunities when they present themselves. The Bucs did not have an interception in Detroit but they had several passes that looked ripe for the takeaway, only to fall incomplete.
"It's tough to see that," said Lovie Smith. "Their guys got a couple great interceptions for them. When you go on the road, how we're set up, those ones that we get our hands on we have to be able to capitalize on it."
5. 2 Pro Bowlers for the Buccaneers
We finish with one that the Buccaneers' can't really control. Buccaneer fans can help control it by turning in a Pro Bowl ballot or two online, but time is running short. Players and coaches will be casting their ballots in the next couple of weeks.
The unfortunate truth of the matter is that 2-11 teams usually have difficulty placing individual stars in the Pro Bowl. So far, no Buccaneers have turned up as leading vote-getters at their positions in the NFL's periodic updates of the all-star balloting.
Still, one hopes that voters – whether they be fans, coaches or players – can at least recognize the Pro Bowl-level work that some of the Buccaneers have been putting in. To get too specific about Tampa Bay's entire roster would risk suggesting that some players on the team are worthy of selection while others are not, and that is not our goal. Still, these are objective facts: Gerald McCoy was a Pro Bowler the last two years. Lavonte David was not a Pro Bowler in 2013 but he was an Associated Press first-team All-Pro, which is an even more exclusive honor. Vincent Jackson, Logan Mankins, Dashon Goldson, Doug Martin and Alterraun Verner have all been Pro Bowlers in the past. WR Mike Evans and CB Johnthan Banks are among league-leaders in certain statistical categories and look like emerging stars.
No, the Bucs won't be sending all of those players to the Pro Bowl, or even most of them. But we can hold out hope that the team has representation in the annual all-star game from at least a couple Buccaneer standouts.