STORY HIGHLIGHTS
In addition to improvements up front, the Bucs' offense needs to commit fewer penalties in Week Two
Tampa Bay's coaching staff expects to get some big plays from the return game in 2014
The Bucs are asking a lot from their rookie skill-position players this year

Tampa Bay Buccaneers Head Coach Lovie Smith said it in his day-after-game press conference on Saturday and then again after another training camp practice on Sunday: Teams usually see significant improvement from Week One to Week Two in the preseason.
The Buccaneers are banking on that happening in 2014, because their first game wasn't wholly satisfying. More so than coming down on the wrong side of a 16-10 final, since wins and losses aren't terribly important in August, Smith's first Buccaneer team will be seeking improvements in several fundamental areas. The goal, as Smith also said on Saturday and Sunday, is to be ready for the Carolina Panthers in Week One of the regular season. They are not ready now, thus making the next three preseason games – and the weeks of practice in between – critical.
Here are five numbers from the Bucs' preseason opener in Jacksonville, and why it is important that they begin to get better next Saturday in Miami.
1. 3.0 sacks and 5 QB hurries allowed.
We'll start with the obvious one. Tampa Bay's offensive line struggled in the opener, and for that reason it was tough to get a particularly good read on the rest of the team's rebuilt offense. New starting quarterback Josh McCown, in particular, had little time to see plays develop and deliver passes with confidence, set feet and a clear line of sight. Of course, McCown and company aren't going to get a very robust playbook during any preseason games, so we shouldn't expect too many fireworks this August, but that crew can certainly do better with at least baseline protection from the front.
It's easy – and somewhat accurate – to focus on the two guard positions, since the other three spots are set and the Bucs feel very good about LT Anthony Collins, C Evan Dietrich-Smith and RT Demar Dotson. But the line as a whole struggled in Jacksonville and certainly those three certain starters would like to fare better in Week Two. It's something of a domino effect, of course; it's difficult for anyone on the front line to look particularly good when the five blockers are not playing well as a unit.
The Buccaneers have already made one change, moving Jamon Meredith out of the right guard spot and potentially giving the start to first-year man Jace Daniels. They will continue to experiment with different combinations throughout the month, whether in games or on the practice field. But this much is certain: The Buccaneers will not get much going on offense in the first two weeks of the season against the powerful defensive fronts of Carolina and St. Louis if they don't do a better job of giving the quarterback time to throw. Three sacks and five hurries doesn't seem like overwhelmingly bad protection numbers, but much of that occurred while the first-team offensive line was on the field in the opening half.
2. 21.5-yard kickoff return average.
The Buccaneers' gave kickoff return opportunities to Jeff Demps, Solomon Patton and Mike James, but none of those three young players really lit it up. All four of Jacksonville's kickoffs made it into the end zone, but none deep enough to discourage a return. In general, the Bucs got about 20 yards per attempt, which meant they were starting drives inside their own 20; with that in mind, simply kneeling in the end zone would have been more effective.
Of course, the Bucs don't want their return man – whoever it is that wins the job – to spend the whole season kneeling on the ball. They want a handful of big plays, and they would like to see somebody step up as that sort of playmaker this summer. The player who does will immediately increase his chances of making the 53-man roster by a significant amount.
Kickoff return men can't always be blamed for poor field position. Sometimes the blocking scheme doesn't work well or a particularly determined coverage man fights his way through or the kickoff is so high and deep that there's no time to find a lane. According to Lovie Smith, however, that wasn't case on Friday night. He indicated that there were several opportunities for the Bucs' return men to break free and they just didn't take advantage.
Demps, Patton and James might not be the only ones who get a chance to break one on Saturday night at Raymond James Stadium. In practice, the rotation on kickoff returns during special teams periods sometimes features seven or eight different candidates. There's a good chance a few new players get an opportunity in Week Two; somebody is bound to improve upon Friday's numbers.
Smith said on Saturday that his defenders got their hands on three potential takeaways, but capitalized on none of them. These weren't necessarily easy opportunities; the short pass that rocketed through Da'Quan Bowers' hands in the second comes to mind. That would have been a particularly impressive play by Bowers had he reacted quickly enough to hold on to the football – as it is, he got the pass defensed on a third down – but it's clear that Smith expects his defenders to make such plays. He has high standards in that regard.
Those standards have always paid off. Smith's defenses in Chicago were known not only for takeaways but for scoring off those picks and fumble recoveries. Every NFL coach emphasizes the importance of turnovers, but Smith is particularly adamant on the issue and he's produced results. He is simply not going to be satisfied with a defense that can't make the most of takeaway opportunities.
The Bucs lost that opener in Jacksonville by six points, and seven of the Jaguars' points came via a pick-six (and a 33-yard extra point, as it were). The Jaguars had the game's only two turnovers, and if you ask Smith, that was the clear difference in the game. Again, wins and losses aren't particularly important in August, so the turnover-differential lesson from Friday is pretty easy to swallow. But it needs to improve by September, and Saturday would be a good place to start.
The Buccaneers had huge penalty problems in 2013, it's true. They ranked third in both penalties and penalty yards, and they often seemed to come in bunches. They had 23 of them in their first two games alone and averaged over eight flags a game during their season-opening eight-game losing streak.
Of course, the team has a new coaching staff in 2014, which certainly could make a difference. Lovie Smith's nine teams in Chicago were generally middle of the pack in avoiding turnovers. The 2012 team ranked 16th and that was, in fact, almost exactly the Bears' average ranking in penalties during Smith's nine years at the helm.
The new staff didn't make a difference in the first preseason game, however, as the Bucs were flagged 11 times for 103 yards. The offensive line committed two penalties on the team's first possession of the season, which obviously kept that drive from going anywhere. In the fourth quarter, with the game tied at 10-10, a 48-yard completion from Mike Kafka to Austin Seferian-Jenkins was erased by a holding penalty.
In this case, of course, it's fair to put some of the blame on the fact that this is the preseason. It's hard to be totally sharp 15 days after the start of training camp, with 80-90 different players shuttling in and out of the game. One would expect a higher rate of penalties in August, and indeed Jacksonville drew eight flags of their own. Still, we're talking about numbers that need to improve, and the Buccaneers need to get progressively sharper as the preseason moves along. Hopefully that will begin with a lower penalty total on Saturday against Miami.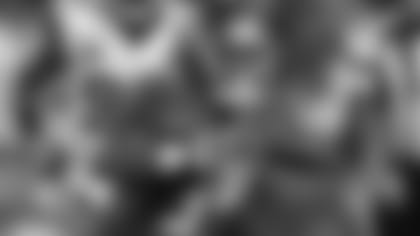 RB Charles Sims is one of four rookies the Bucs are counting on to produce big numbers on offense in 2014
5. 84 combined yards from 2014 draftees Mike Evans, Austin Seferian-Jenkins, Charles Sims and Robert Herron.
This isn't a terrible number, really. If your team's draft adds close to 100 yards to the offense per game, you've probably done well. The Buccaneers, however, almost certainly need more from their 2014 draft class than that.
In this case in particular it's important to note that this should not be considered criticism. The Buccaneers played so many people on Friday that their offense could have literally come from anywhere on the roster. Louis Murphy was the leading receiver and Bobby Rainey was the leading rusher. Tommy Streeter caught the Bucs' only touchdown pass. Your preseason statistical leaders are almost never the same players that drive the offense during the regular season.
That said, we can certainly hope as fans to see more from the team's 2014 draft class on Saturday. Mike Evans, in particular, did not play a particularly large number of snaps in the opener; one can expect that to change as the preseason develops. Seferian-Jenkins did play quite a bit, and his numbers would have been noticeably better if not for that aforementioned penalty. Sims tied for the team lead with six carries and was just one off the team lead with three targets in the passing game, so Smith and his crew are obviously trying to learn more about him. Most of Herron's playing time came late.
Evans, Seferian-Jenkins and Sims are almost certain to be prominently featured in the offense this fall. Herron could carve out a decent role, as well. If all four of those rookies are seeing significant minutes, they will have to at least double their yardage total from the preseason opener for the Bucs' offense to be effective.