STORY HIGHLIGHTS
QB Josh McCown's high completion percentage is something the Buccaneers were lacking in 2013
The Bucs are doing a much better job of scoring off turnovers so far in 2014
P Michael Koenen could be poised to deliver another 40+-yard net punting season, as he did in his first year as a Buc

The top quarterback in the preseason a year ago, as measured by passer rating, was Seattle's Tarvaris Jackson, and the team with the most potent aerial attack overall was the Houston Texans.  Houston also boasted the NFL's best run defense last summer, while Jacksonville linebacker LaRoy Reynolds was the leading preseason tackler around the league.
The point is probably obvious.  You know how the Texans' season turned out (specifically, they ranked 15th in passing offense and 23rd in rushing defense) and you probably don't recall seeing much of Tarvaris Jackson in the regular season (he threw 13 passes for Seattle).  You may not have heard of LaRoy Reynolds, who played in 12 games as a rookie and had 13 tackles before ending the year with a  four-game suspension.
As we know from the last two One Buc Mailbags, it's difficult for NFL fans (including this author) to keep in mind how little correlation there is between preseason statistics and a team's fortunes in the regular season.  In the case of the Tampa Bay Buccaneers, a lackluster preseason opener followed by a modest improvement in Week Two led some to despair, or at least some nagging doubts.
Perhaps the Buccaneers' dominant performance in Buffalo last weekend – especially the 24-0 whitewash by the starters in the first half – cleared those dark clouds for many fans, but of course we shouldn't overdo our preseason optimism either.  One superior half of football does not a playoff team make.
What we can do is hope.  We can see Mike Evans bounce off a tackle and run another 30 yards and hope we'll be seeing a lot of that in the fall.  We can see the Bucs' defensive line swarming all over E.J. Manuel and hope this is the year the team's once-great pass-rush reignites.  And so on.
In that spirit of hope, let's look at a handful of numbers the Bucs have put up so far and what they could mean IF they carry over into the games that count.  Below are five (admittedly cherry-picked) statistics from the first three preseason games we'd like to see duplicated in the regular season.  If all of these improvements do prove to be more than mirages in the hazy August heat, the Buccaneers will be a much better team in 2014.
1. Josh McCown's 74.1% completion rate.
Last year, NFL passers as a group completed 61.2% their passes.  That set a new single-season record and it's part of a trend that is showing no signs of abating.  The top 13 seasons in NFL history in league-wide completion percentage happen to be 2001-13 (though not exactly in chronological order); furthermore, 2007 was the first time the league finished at 60% or better, and it's happened every year since.
Last year, the Buccaneers ranked 30th in the NFL with a completion percentage of 56.6%.  Rookie Mike Glennon, performing quite admirably under very difficult circumstances, threw most of those passes at a 59.4% rate (Josh Freeman's 45.7% rate in the first three games helped bring down the team total).  In terms of yards, the Bucs finished last in the league in pass offense.
Obviously, the team has made many changes since then, starting with a new G.M. and coaching staff, which brought in a new starting quarterback and surrounded him with some intriguing new weapons.
That quarterback is Josh McCown, who has completed 20 of his 27 passes so far this spring.  That is far too low of a sample size to prove anything, which again is why we don't get too excited or too depressed about preseason statistics.  Still, the Buccaneers believe the passing attack will be run efficiently under the guidance of McCown, who completed 66.5% of his passes with the Chicago Bears last year.
Not only is McCown an accurate passer, but he's surrounded by a group of pass-catchers with a common feature: a large "catch radius."  That's a football term that has seen a spike in popularity this year, especially around Buccaneer practices, where 6-5 targets with long arms and great athleticism abound.  Not every McCown throw will be perfect, but Vincent Jackson, Mike Evans and Austin Seferian-Jenkins don't always need perfect passes to make a play.  In the Bucs' second preseason game against Miami on August 16, Glennon released a pass in Evans' direction just as he was being hit by a Dolphins defender, knowing that he just had to get the ball in the right vicinity. The result was a 41-yard gain.
Finally, McCown and/or Glennon will have a better chance of putting up a satisfactory completion percentage if their tight ends and running backs are adept route-runners and pass-catchers.  Backs in particular are often outlet valves when the quarterback can't find anyone open downfield, and those short passes should have a high percentage rate.  Even with rookie Charles Sims out with an ankle injury, the Bucs appear to have some sure-handed backs in Doug Martin, Bobby Rainey and Mike James.
2. Team's 75% touchdown rate following turnovers.
We haven't seen the best of Lovie Smith's takeaway-obsessed defense yet.  The Bucs have forced just four turnovers in three games and have a -1 giveaway/takeaway ratio overall.  If Smith and his staff get the results they want, the Bucs will be among the league leaders in takeaways, and last year the best teams in that category averaged around two per game.
What the Bucs have done so far is fulfill the second half of Smith's formula – when the defense has taken the ball away, the result has usually been a quick touchdown.  Three of the Bucs' four takeaways so far have resulted in touchdowns, either on the ensuing drive or scored directly by the defense.
On the flip side, Tampa Bay's defense has done an excellent job of limiting the damage when the Bucs' offense has lost its grip on the football.  Jacksonville, Miami and Buffalo have combined to turn their five takeaways into a total of 10 points on one touchdown and one field goal.  Thus, the Bucs have scored more than twice as many points off their takeaways than their opponents have, despite having one fewer.
If this trend were to continue in the regular season, it would be a significant turnaround from last year.  One of the most anomalous stats the 4-12 Buccaneers posted last year was a +10 turnover ratio that ranked seventh in the entire NFL.  Since that statistic is so closely correlated to wins and losses, it's a surprise to see a team doing well in the turnover game and poorly in the standings.  The six teams above the Buccaneers on that list all made the playoffs.
The problem was what the Buccaneers (and their opponents) did with those takeaways.  Here's a look at the touchdown and scoring percentages off turnovers for both Tampa Bay and its foes last year, and what those numbers look like so far in the 2014 preseason:
As you can see, the Buccaneers have improved in both categories while keeping their opponents to inferior numbers in both categories.  That represents a complete and very important turnaround from 2013…or at least it will if these preseason numbers are harbingers of the same sort of success in the regular season.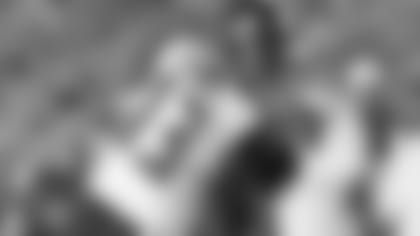 Rookie WR Mike Evans can run deep routes past defenders, but he can also add yards after the catch on shorter throws
3. Mike Evans' 19.2 yards per catch.
The Buccaneers struggled in the passing game last year in part because it lacked YAC.
YAC, of course, is short for "yards after catch," and that's something Tampa Bay had difficulty generating in 2013.  In fact, the Bucs ranked last in the NFL in that category, with an average of 4.0 yards gained after the reception.  That contributed to the team's 10.9 yards per reception figure, which ranked 28th in the league.
Now, on the face of it, that hasn't changed much this summer.  The Bucs' pass-catchers are averaging 10.6 yards per grab, which is actually a bit down from last year.  There is one very serious sign of hope, however, and one number that is not likely to stay down.
The Buccaneers will start the 6-5 duo of Vincent Jackson and Mike Evans at the flanks of their offense.  In his first NFL action, Evans is averaging 19.2 yards per catch, albeit on a very small sample size of five receptions.  Meanwhile, Jackson leads the team with five receptions but is averaging just 9.7 per.
Don't expect either number to remain the same in the regular season.  Unless you think Evans is going to finish first or second in the NFL in yards per catch as a rookie (possible, but not something you'd want to be on), his total is likely to come down a bit.  Jackson, on the other hand, has averaged 19.2 and 15.7 yards per catch in his two seasons as a Buccaneer and has a career mark of 17.4.  His total will go up.
Meanwhile, the Buccaneers will kick off the shackles of a sub-vanilla preseason playbook and spend less time spreading the ball around to reserves, players who either won't see significant playing time or won't have a roster spot after Saturday.  Jackson and Evans have caught one-quarter of the team's receptions so far; that number should go up.
When it does, expect Evans to make a difference in the Bucs' YAC and overall yards per catch.  He already has one 41-yard play on which he ran for more than half of that after bouncing off a would-be tackler.  His first touchdown came on a beautiful double-move vertical route, and that too should be a featured part of the Bucs' offense.  Jackson is supremely talented and is likely to be the Bucs' leading receiver again this year, but Evans may actually have greater potential as an open-field runner after the catch.
4. Michael Koenen's 42.4-yard net punting average.
Tampa Bay signed former Atlanta Falcons punter Michael Koenen to a sizeable contract in 2011 (Lovie Smith often notes how well-compensated the team's kicking duo is), and he immediately produced one of his best years.  The Buccaneers liked his two-way impact on field position – in addition to punting he was also one of the best touchback producers on kickoffs in the NFL – but he was particularly strong on fourth downs that year.  His 45.1-yard gross average and 40.3-yard net average were both career highs.  That gross was the second-best single-season mark in team history (at the time) and that gross was and is a team record.
Koenen has been quite good the last two years, as well, especially in comparison to franchise history.  In three seasons he has recorded three of the five best gross averages in franchise annals, and the two net averages.  Last year's 38.3-yard net was second only to his 2011 record.
By league-wide standards, the Buccaneers could use a little more out of the punting game, and Koenen can deliver it, especially if Lovie Smith and Kevin O'Dea pair him with a stellar punt-coverage team.  Last year, the Bucs ranked 23rd in the NFL in gross punting and 26th in net punting.  One shouldn't get too picky about those rankings; a mere one-yard improvement in net would have personally moved Koenen up from 26th to 18th in the league.
Still, there were 15 teams that crossed the 40-yard barrier in net last year, as Koenen did in his first Buccaneer season.  Three teams were at 42 yards or better – St. Louis, Miami and New Orleans.  Through three preseason games, Koenen and his coverage units have an outstanding 42.4-yard net.  Koenen has put eight punts inside the 20 while hitting only one touchback.  Patrick Murray has added two punts at a 41.0-yard clip, which may indicate that the Bucs do indeed have the makings of a good coverage squad.
It might be a bit much to expect Koenen and company to maintain a 42.4-yard net all year; only St. Louis' Johnny Hekker (44.2) topped that mark last year, while Miami's Brandon Fields equaled it.  But a bump back up to 40 would give the Bucs another small edge in that always-ongoing field position battle.
5. Doug Martin's four catches for 33 yards.
Now, those seem like underwhelming numbers, right?  Stick with me.
Last year, in a season mostly less to injury and the team's overall offensive atrophy, Martin caught 12 passes for 66 yards, averaging 5.5 yards per reception.  Since he played in seven games, that works out to a little less than two catches per game.  Had he played in all 16 contests, that pace would have taken him to about 27 catches by season's end.
The Buccaneers drafted West Virginia running back Charles Sims in the third round in April in large part because he was such a gifted pass-catcher out of the backfield.  The team believed he could alleviate some of Martin's workload between the tackles and also see action on third downs, where he'd be a threat in the passing game.  Unfortunately, Sims suffered an ankle injury in practice in August before he could carve out that role, and now he'll miss at least half the season.
The Bucs still have plenty of depth at tailback, but it remains to be seen if any one of them can step up to give the offense the type of receiving numbers it anticipated getting from Sims.  Perhaps Martin is starting to answer that question.
Martin played sparingly in the first preseason game and a little over a quarter in the second one.  He and the rest of the starters saw all the action last Sunday in Buffalo.  All told, Martin has probably played about one game's worth of snaps, and in that time he's caught four passes.  Extrapolate that rate over a full season and you have 64 catches.  The Bucs would certainly love to get that kind of passing-game production from any of their backs.
Quarterback Josh McCown says that Martin has been working diligently on his pass-catching skills and he's now starting to see plays that look promising in practice unfold the same way in games.  Martin doesn't have to catch 65 passes to make the Bucs happy, but he did haul in 49 of them as a rookie in 2012.  A 50-catch season seems well within reach, especially after seeing his performance in the preseason.