STORY HIGHLIGHTS
Tampa Bay's defense kept the game in reach in the first half with good work on third downs
The Bucs committed 15 penalties on Sunday, and some of them came at particularly bad times
While it wasn't enough for a win, Gerald McCoy and Lavonte David contributed several big plays

The Tampa Bay Buccaneers did not win their Week Five contest in New Orleans; rather, the Saints prevailed, 37-31, on an 18-yard touchdown run by Khiry Robinson in overtime. Neither did the Buccaneers leave the Bayou with any sort of "moral victory;" that's a concept players and coaches refuse to acknowledge.
The cold truth is that Tampa Bay is 1-4, two games out of first and returning to Tampa for a home game/bye week/home game stretch they hope to use to get back into the NFC South race. Sunday's game, as thrilling as it was, will be solidly in the rear-view mirror by Tuesday.
That doesn't mean we are forbidden from analyzing what happened Sunday afternoon in the Mercedes-Benz Superdome. There are reasons the Buccaneers hung in through 60 minutes of a shootout against a Drew Brees-lead team that hasn't lost at home since 2012. And there are reasons that, despite holding an 11-point lead with 10 minutes to play, they weren't able to close it out before overtime. Every play counts, but in the ebb-and-flow of 60 minutes of alternately brilliant and disappointing football, here are five reasons the Bucs ended up in overtime on Sunday in the Superdome. Some are good, some are bad.
1. Tampa Bay's defense made big plays on third down early.
Thanks to a handful of penalties and dropped passes, Tampa Bay's offense was ineffective through much of the first half, even though quarterback Mike Glennon was enjoying reasonably good protection and throwing the ball accurately. Unable to sustain any of its first four drives, the Bucs' offense left it up to the defense to keep Brees and company in check.
That's a steep challenge, especially in the Superdome, and Brees wasn't letting up on the accelerator. Throwing on 11 of the Saints' first 14 snaps, Brees led his team into the Bucs' red zone on three of their first four drives. Three times, however, Buccaneer safety Mark Barron broke up passes intended for tight end Jimmy Graham, two of those on third down, and that forced the Saints to settle for a pair of field goals early. New Orleans did turn that third red-zone chance into a touchdown, but what could have been a 21-0 blowout was instead a game still within reach. Tampa Bay's 10-run rally before halftime essentially erased all of the Saints' early domination and gave the Bucs a chance to gain control in the third quarter.
2. The Buccaneers committed 15 penalties.
There's just no way around this one. The penalties – all 15 of them for 113 yards – were killers.
"[They] really hurt us," said Buccaneers Head Coach Lovie Smith. "I can think of about three penalties that, you are not trying to do them, of course, but those [hands to the face] are ones that you just can't make. Like every game, there are some calls that go against you."
Indeed, there were penalties that went against the Saints in crucial moments, such as the third-down roughing-the-passer flag on linebacker Junior Galette that kept Tampa Bay's go-ahead drive in the third quarter alive. But the infractions were a particular problem for the Buccaneers down the stretch, as they tried to hold on to an 11-point lead with 10 minutes to play.
It began after the Saints had scored on Pierre Thomas' 27-yard run with nine-and-a-half minutes to play. At that point, the two teams had just traded four touchdowns, and Tampa Bay's offense was in a groove. The Bucs still led by five points, and another touchdown drive very well could have put the game out of reach. Instead, Demar Dotson was flagged for holding to start the next drive, and suddenly it was first-and-20 at the 10. A botched snap, a few more penalties and a missed assignment on the line and suddenly it was a three-point game after Galette's sack and safety.
The Saints followed that safety with a field goal drive to tie it, but the Bucs still had a chance to win it in regulation. An apparent completion to WR Louis Murphy would have made it second-and-one at the 43 with plenty of time to get in field position; instead, a holding call on Logan Mankins made it first-and-20 back at the Bucs' 24.
"Any penalty is hard to take," said Mankins. "I'm not going to say anything bad about the referees because I'll get fined and anyone else can sit here and criticize them. But, I guess, what we have to do is avoid situations like that where things can get called because they only end up hurting the team."
While this is a look at how Sunday's game got to overtime, it's worth noting that an illegal-use-of-hands call on Johnthan Banks in overtime – on a confrontation far away from where the pass eventually went – erased a third-and-10 incompletion near midfield. The fact that Banks' penalty was away from the play doesn't make it invalid, but it does make it hurt a little bit more.
"That's part of the game, the penalties," said Saints Head Coach Sean Payton. "Outside of that first drive in the second half, we were able to keep them in a negative situation. I thought the field position differential in that fourth quarter was significant. It seemed like we played a lot of that quarter on their side of the field."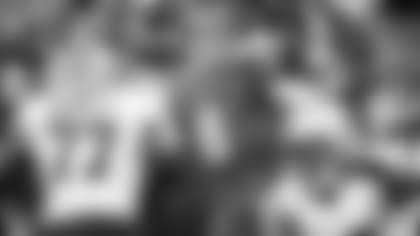 QB Mike Glennon threw two critical touchdown passes for the second week in a row
3. Mike Glennon showed impressive composure.Second-year QB Mike Glennon
Glennon was sacked just once, and that was on the fourth-quarter safety that may not have been such a terrible turn of events. Had Glennon thrown an incompletion there, the Bucs would have been punting from their one-yard line, and it's likely the Saints would have started in Tampa Bay territory, down by five. The safety did pull the home team within three points but also allowed the Bucs to push them farther away from the end zone.
There were times, however, that the Saints' pass-rushers made the pocket uncomfortable, and the Bucs' second-year quarterback was consistently impressive in his response. He often made small moves up in the pocket – a la Drew Brees – to buy just a little more time, and he was able to pull a number of good plays out of his hat while scrambling. The best of these was his 34-yard lob to Vincent Jackson on second-and-20 to start the fourth quarter. The Bucs had just absorbed a holding penalty, and on second-and-20 Glennon was quickly flushed from the pocket. As he rolled left, he saw Jackson break off his route and head straight upfield, with CB Corey White a step behind. Glennon threw back across the field and created the perfect rainbow that Jackson caught in stride and took down to the Saints' 10. Two plays later, Glennon hit Herron on a nine-yard touchdown pass.
This wasn't an isolated instance, even if every pass didn't work in the Bucs' favor. On third-and-20 from the 24 – after the aforementioned Mankins holding penalty – Glennon scrambled up and to the right and threw into a very tight window to Louis Murphy just pas the first-down sticks. Murphy wasn't quite able to make the diving catch without the ball hitting the ground, but it was nevertheless an impressive attempt by Glennon.
4. Lavonte David and Gerald McCoy made a couple big plays.
Listen, nobody is going to be singing a defense's praises after it gives up 511 yards. It is particularly notable that the Bucs had no sacks of Brees despite his 57 drop-backs on the afternoon. However, if it wasn't for one big play each by the Bucs' two best players, this game probably would not have seen overtime.
In the third quarter, after the Bucs had taken a 17-13 lead on Bobby Rainey's nine-yard touchdown run, the Saints faced a third-and-six at their own 30. Brees dropped back to throw and looked to his left. Even as the pocket started to collapse, he tried to get a throw off but McCoy was able to hit his arm, resulting in a bloop over the middle of the field. Danny Lansanah easily intercepted the up-for-grabs pigskin and returned it 33 yards for a touchdown.
After the two teams traded touchdowns, Thomas's scoring run began the Saints' comeback. After the safety, Bees and the Saints took over at their own 40-yard line with six-and-half-minutes to play. You wouldn't have blamed a New Orleans fan for assuming that Brees would use his team's obvious momentum to drive for the go-ahead score.
Instead, the Bucs held just enough to avoid going behind. After Gaining a first-down at the Bucs' 28 on a pass to Travaris Cadet, Brees threw to tight end Benjamin Watson, who was immediately tackled by Lavonte David after a gain of just two. On the next play, Brees threw out to his right to Thomas but David was there again to trap him for an eight yard loss. David also tackle Thomas on the next play, after an eight-yard gain, which at least stopped a potential TD drive, even if Shayne Graham did tie it with a 44-yard field goal.
5. When it was all said and done, the Bucs were hurt by time-of-possession again.
The Buccaneers lost the time-of-possession battle to the Saints, 38:32 to 27:04. That's not your usual even number because there was a five-and-a-half minute drive in overtime, all on New Orleans' ledger. Even before that, however, the home team had a clock advantage of nearly six minutes. That has been an ongoing issue for Tampa Bay this year.
In fact, the Bucs have been on the wrong side of the time-of-possession battle in all five of its game this year. That's the first time since the last five games of the 2011 season – when the Bucs were mostly uncompetitive – that they have seen that happen in five straight weeks. It might have come back to hurt them at the end of this one, with the Saints scoring the game's last 17 points.
"At the very end, in overtime, our defense just ran out of gas," said Banks. "We were out on the field a real long time and the Saints drove down the field and ended the game. This is a real hard loss for us because we were right in it and we never quit."