If we learned anything from last weekend's rookie mini-camp at One Buccaneer Place, it's that Mike Evans is going to be very popular among Tampa Bay Buccaneers fans.
Or rather, he already is; his popularity is just rapidly picking up steam. On Friday, Evans, the first-round pick out of Texas A&M made an eye-opening, one-handed catch down the middle of the field, which was captured brilliantly by team photographer Matt May. May stitched together a "sequence" shot of the play, I winged that picture into the Twitterverse and it promptly spent the next 48 hours delighting one Buccaneer and Aggie fan after another. A&M Head Coach Kevin Sumlin even got a look at the catch and declared it…well, typical.
After that picture proved so arresting for Buccaneer fans, we decided to share footage that the team's video professionals shot for Lovie Smith and his staff. The clip of Evans' catch adds some even more impressive details: the way Evans goes up almost effortlessly for the catch without breaking stride, the fact that he doesn't even need his left hand to complete the catch, the form finish in which he has the ball protectively tucked as soon as he brings it down.
And, yes, it's four days later and we are still discussing an uncontested catch made in mid-May during an all-rookie practice. Allen Iverson would be incredulous.
But here's the thing: That clip of Evans' catch shared on Buccaneers.com is just a very small part of the hours of tape that Tampa Bay coaches and personnel men pored over all weekend, and are likely still referencing this week, even as the team moves on to OTAs. For those men who take the time to go through that tape with a fine-toothed clicker – pausing, rewinding, dissecting with a laser-pointer – there are countless pieces of evidence that will help them make decisions regarding the roster, the depth chart and the areas of performance that need the most practice. Okay, that one-handed Evans clip might get a few more replays than most of the plays, but every snap will be thoroughly evaluated.
Even without the coda of tape study, last weekend's mini-camp was instructive. For us, the real-time evidence on the field was enough to teach us a thing to do. As such, here are Five Things We Learned at the Buccaneers' Rookie Mini-Camp:
1. The scouting report on Charles Sims' pass-catching ability is accurate.
Alright, let's make this clear from the top: West Virginia running back Charles Sims ran for nearly 1,095 yards last year, a year after he had produced 851 yards and 11 touchdowns on the ground for the University of Houston. He's been issued a number in the 30s, not one in the 80s. Buccaneer quarterbacks will hand him the football from time to time instead of making him run for it.
Nevertheless, it was Sims' pass-catching abilities that Lovie Smith raved about after the draft. Draft guru Mike Mayock called Sims, "as good a receiver out of the backfield as any running back in this draft," and it's not likely the Bucs would have used a third-round pick on a more conventional runner given their already-loaded backfield.
Those talents were definitely on display this past weekend. Sims ran very crisp routes, frequently got open and caught everything in sight. Near the end of the second day of practice, he turned upfield on a wheel route and left two defenders in the dust as he sprinted down the right sideline. Quarterback Brett Smith threw a high, deep pass that Sims let drop over his left shoulder and into his hands without breaking stride.
It was a great way for Sims to end his first NFL mini-camp; now he'll mix in with veterans Doug Martin, Mike James and Bobby Rainey in the upcoming weeks of OTAs and the Bucs will figure out how to distribute the football to their crowded stable of backs.
"Charles Sims is an excellent football player, has excellent hands, which he's been able to show to us," said Smith. "We had a good running back, but we felt like Charles would bring something else to the group and I'm talking about a pass-catcher out of the backfield. He has excellent hands, great quickness, different dimension, has a little bit more size and little bit more height than some of our guys, but you can't have too many good running backs. We'll let it play out, but he'll give us a little bit more in the passing game than what we've had."
2. Nate Askew is an interesting prospect.
After finally getting their hands on Evans with the seventh overall pick in the draft, the Bucs were suddenly a lot more forthcoming about their long-running interested in the talented receiver. Before the draft, Smith said, they tried to play it coy, using their pre-draft visits on other players and not staring too openly at the Texas A&M Pro Day.
The good news was, there was plenty of other things to keep them distracted during that Pro Day. The Bucs had four former Aggies in their rookie mini-camp, obviously including Evans as well as tryout player Toney Hurd, a cornerback. The other two were linebackers who were signed as rookie free agents after the completion of the draft. Askew and Jenkins shared defensive drills over the weekend, but the former had about as much in common with Evans as he did with Jenkins.
Askew used to run with Evans at College Station, playing wide receiver until converting to defense before the 2013 season. In fact, Evans remembers his teammate besting him in at least one area that is important for wide receivers.
"He was the fastest guy on the team at one point, then he bulked up a little bit, got heavier, and then I probably was the fastest," said Evans with a laugh. "He's a great athlete. He can jump high, he can run, he can make plays, he can cover guys in the slot."
Evans' conversion to linebacker went well, as he quickly became a starter and even ended his career with a game-sealing interception in the Aggies' Chick-fil-A Bowl victory. While he thought that impressive conversion and his impressive measurables would get his name called on draft weekend, the end result was that he got an opportunity to choose his starting point in the NFL. It may not be much of a surprise that he decided to join a team that has a former linebackers coach at the helm (Smith) and a former Pro Bowl linebacker coaching the position (Hardy Nickerson). If Askew can learn some of the finer nuances of playing linebacker in the NFL in the next few months, he might just be that undrafted free agent who ends up making an impact.
It's too early to tell if Askew has a good shot at making the team, but it's not too early to pinpoint the converted linebacker as one of the lesser-known players to watch in training camp.
"It's hard [to evaluate linebackers in mini-camp], you can a lot more from some of the other skill athletes," said Smith. "But for Nate he's big, strong, fast, but he's green. He came in at A&M as a receiver and now having to make that move he has potential…but potential is scary sometimes. He has a long ways to go, but it will be fun watching him."
(By the way, if you watched that video above, be aware that I personally learned something this weekend, and that is the correct pronunciation of Robert Herron's name. It's not a homonym of that stately wading bird so common here in the Bay area; rather it's pronounced hair-RON. I obviously did not watch enough University of Washington football last fall.)
3. The receiver competition will be interesting.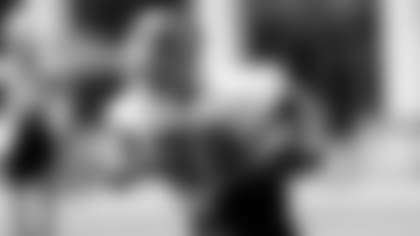 WR Solomon Patton arrives in Tampa as an undrafted free agent but should get a very real opportunity to make the 53-man roster
As Smith notes above, it's difficult to properly evaluate players at some positions until training camp, when real contact is allowed. However, wide receivers don't need live hitting to show off their speed, cutting ability, explosiveness off the line or sure hands. As such, it was a tiring but productive weekend for the quartet of Evans, Herron, Aaron Burks and Solomon Patton.
Burks and Patton were both signed right after the draft, so there were no tryout players in the receiver group at camp. That means that, barring any additional moves, the coaches were looking at a third of the wideout group that will actually be going to training camp in July. And, for the most part, those four looked good.
Evans was the clear standout, but of course it would have been disappointing if that had not been the case. Herron put together some good tape, too, showing off his speed as well as an impressive leaping ability on at least one contested pass. Patton's good speed was obvious at times, too.
Evans and incumbent Vincent Jackson seem like the obvious starting duo, but the competition for the slot-receiver job – as well as fourth, fifth and maybe even sixth spots on the depth chart – appears wide open. After watching the four rookies hold up pretty well against the rest of the all-rookie field, it will now be interesting to see them side by side in OTAs with such veteran hopefuls as Louis Murphy and Lavelle Hawkins. The rest of the team's current 12-man receiving corps consists of players who entered the NFL as undrafted free agents, like Patton and Burks, or late-round draft picks, like Herron. That's no knock on those players – Skye Dawson, Chris Owusu, Eric Pate, Russell Shepard and Tommy Streeter – but it should give Patton and company confidence that they have a real shot to win a spot.
4. Mike Evans and Austin Seferian-Jenkins intend to be humble and work hard.
Again, it's likely that Evans will start right out of the gate, and second-round tight end Austin Seferian-Jenkins has a chance to do the same. But both rookies arrived in Tampa with the intent of putting their heads down and working hard each day. Seferian-Jenkins was limited in what he could do over the weekend by a sore foot, but he was still one of the last players off the field on Saturday as he tried to get in as much work as he could.
"I think my approach is to be the best I can be every day and maximize my opportunities," said Seferian-Jenkins. "That's not my position to tell if I'm going in [to the game] or not. My job is to maximize my opportunities, and we'll see if my maximization of my opportunities would warrant me getting on the field early and making an impact."
Seferian-Jenkins said the thing that separates the great tight ends from the merely good ones in the NFL is their work ethic, while Evans volunteered the information that he was the only Buccaneer player to throw up during a conditioning test earlier in the week. Evans admitted during his introductory press conference that he's been known to engage in a little smack talk on the playing field from time to time, but he doesn't appear to take himself too seriously outside the lines.
Buccaneer fans won't really know how they feel about the 2014 NFL Draft for a couple years, but here's betting that it won't take them long to grow fond of both Evans and Seferian-Jenkins. Both are clearly very talented players, but both are also determined to work as hard as necessary to get the most out of those talents.
5. Brett Smith must have a rubber arm.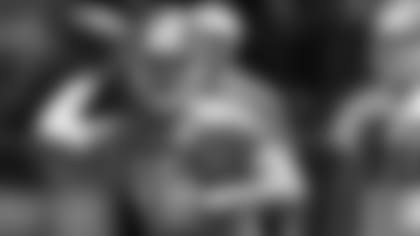 Wyoming rookie Brett Smith was the only quarterback in the Bucs' camp last weekend
Among the 50 players who took part in the rookie mini-camp, three were punters and two were placekickers. There were even three long-snappers taking turns. This did not include the veteran trio of kicker Connor Barth, punter Michael Koenen and long-snapper Jeremy Cain, who have to be considered the strong favorites at each of those positions. Obviously, the Bucs are leaving no stone unturned when it comes to lining up options on special teams.
All those legs and only one arm. Wyoming's Brett Smith, an undrafted free agent signing from the previous weekend, was the only quarterback in town, so he was a very busy man. That workload might have contributed to a sometimes shaky first practice on Friday but Smith was sharper on Saturday and overall he had a very useful weekend. For the rest of the way, he'll have Josh McCown, Mike Glennon and Mike Kafka to share the workload, not to mention their NFL wisdom.
Smith might have been tired by the end of the weekend, but his coach believes it was a good experience for him.
"For a player coming in, an undrafted player coming in, you want to show coaches what you can do," said Lovie Smith. "What better way than take every rep out there today? I talked to him before and he said he was good to go and he did a decent job of performing today."