STORY HIGHLIGHTS
The Bucs didn't want to start the season 1-7 but now have a chance to post one of the best second-half turnarounds in franchise annals
Tampa Bay's defense is good at getting run stuffs but Atlanta's offense is equally adept at avoiding them
Rookie WR Mike Evans is making the most of his opportunities, and those opportunities are on the rise

Statistics can help illuminate the game of football…or they can take us down a misleading path. As Tampa Bay Buccaneers Head Coach Lovie Smith said: "I believe in stats, but it's [which] stats."
Smith, for instance, doesn't pay much attention to the NFL's defensive rankings, since they are based on yards, which he considers a meaningless measure. When he shares defensive stats with his team, he focuses on points allowed, takeaways, scoring on defense and red zone proficiency.
Here on Buccaneers.com, we unabashedly love stats, but we also understand the need to wield them wisely. Sometimes, we can get a better feel for why the team is performing as it is by going a little deeper into the numbers. And sometimes we can simply point out something we consider interesting, and hope you will find it interesting as well.
That's our goal with Football Geekery. Each week, we're going to give you a sampling of statistical and or historical analysis, hopefully in a way that is relevant to the Buccaneers' current state of affairs. This week we look at how previous Buccaneer teams have compared in the second halves of their seasons as compared to the first. We also pinpoint one potential battle against Atlanta on Sunday that will pit strength against strength and relay some good news about rookie wideout Mike Evans from the folks at ProFootballFocus.com. Let's get started.
Like some Buccaneer coaches before him, Lovie Smith likes to equate a full football season with a single game, the NFL's 16-game slate being very mathematically agreeable to such a comparison. Four games is a quarter, eight games is a half. As such, Smith's 2014 Buccaneers team has reached halftime, and if there is a locker room speech that could turn things around, now's the time.
As the Bucs have already experienced this season, the second half can sometimes be wildly different from the first half. That can be good (Week Five at New Orleans) and that can be bad (Week Nine at Cleveland). As a franchise, the Buccaneers have also seen some significant second-half swings in both directions. The 1999 team sputtered to a 4-4 start then went 7-1 down the stretch and eventually advanced to the NFC title game. The 1995 team started out 5-3 (and actually "Five-Dash-Two" through seven) as Head Coach Sam Wyche fought to hold on to his job, then slumped to 2-6 in the second half and on came Tony Dungy in 1996. More on that '96 season in a moment.
Last year, in the second and final season of Greg Schiano's tenure, the Buccaneers went winless in the first half of the season and then won four of their next five. It was in the heady days after that fourth win that we used Football Geekery to take a look at the best second-half turnarounds in league history. The Bucs (and actually, at the time, also the Jacksonville Jaguars) were in position to potentially affect the greatest turnaround in league history. They needed to win their final three to do that, but still could have finished among the nine best second-half rebounds by taking just one of those three.
Alas, Tampa Bay lost the last three, thereby improving from 0-8 in the first half to 4-4 in the second, a winning-percentage jump of .500 that nevertheless tied for the best mark in franchise history. The season it tied was that 199 campaign we teased, in which Dungy's first team started out 1-7 but went 5-3 down the stretch.
The Buccaneers have never opened a season 8-0, so there has always been room for some improvement after the campaign's midpoint. How often has the team enjoyed a noticeable jump in winning percentage in the second half? And just how common is it, for the Buccaneers at least, for the season's second half to be radically different from its first half, in either direction? Let's take a look.
The Buccaneers are in their 39th season. In the table below, there are 36 previous Buc seasons; we skipped the strike-shortened 1982 and 1987 seasons because both of them featured an odd number of regular season games and thus no point at which to break them exactly in half. Those 36 seasons are ordered by the difference in winning percentage from the first half to the second, beginning with the biggest improvements.
-.500
That's a big table, but there are some noticeable trends. The distribution of seasons that got better or worse (or stayed the same) is pretty even; 16 of the 36 seasons saw a better second-half winning percentage, eight stayed the same and 12 got worse. Given that exactly 18 of those teams had losing records at the midpoint – which would at least allow more room for improvement, you'd expect the "improved second halves" to be a little more plentiful.
The Buccaneers have hit the halfway mark with a 1-7 record in four previous seasons; the 2014 team will be trying to emulate the 1996 group. That one, as mentioned, won five games in the second half, but the 1991 and 2009 squads saw only incremental bumps to 2-6 and the 1986 matched their start with a 1-7 second half.
The 2014 Buccaneers hope to win all of their second-half games. Even if they only win half of them, that would be a winning percentage jump of .375, something the franchise has accomplished on just three occasions (1996, 1999 and 2013). Even two wins, while it would be completely unsatisfying to Smith and his team, would mean the team had shown second-half improvement for the second year in a row. That hasn't happened to the Buccaneers since 2001, which was actually the end of a three-year run of that sort of in-season pattern.
There isn't much of a franchise-long pattern of seasons either improving or declining in the second half, save for a run in the mid to late-90s. Having more success in the second half was something of a calling card for Dungy's teams. Of the six teams he helmed, four got better after "halftime" and the other two stayed the same.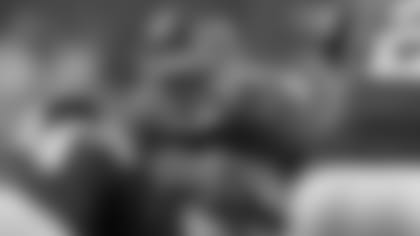 LB Lavonte David has more run stuffs over the past two seasons than any other player in the NFL
2. Something's Gotta Give
There are not a whole lot of similarities between the 2013 and 2014 Buccaneer teams, in terms of personnel, approach or the statistics they've produced. There is one area, however, that was a notable strength for Tampa Bay last year and remains that way in 2014: producing negative plays on defense against the run.
Similarly, this week's opponent, the Atlanta Falcons, have been quite good at avoiding negative rushing plays both last year and this year. That is one area that will be a matchup of strength on strength Sunday at Raymond James Stadium.
In 2013, the Buccaneers' defense led the entire league with 77 negative rushing plays, five better than both St. Louis and Washington. The per-team average around the league was 52 such plays. Tampa Bay isn't on top of the list this year – so far – but it's close. Oakland leads the way with 48 negative rushing plays on defense, with the Buccaneers and the Rams tied for second with 40. In terms of total yards lost on those plays, St. Louis leads the way with 95 and the Bucs are second with 90.
Meanwhile, Atlanta's offense generated the seventh-fewest number of negative rushing plays in 2013, with 43. This year, the Falcons are even better, suffering just 15 such plays through eight games, the second-lowest total in the league. That puts Atlanta on pace for just 30 on the year, which would have been seven fewer than the lowest total in 2013.
A look at the individual numbers show that all of the Falcons' running backs have done a good job of staying out of bad backfield situations, though Jacquizz Rodgers has been the best in that regard. Here are the four running backs who have logged carriers for Atlanta this year and their "run stuff" percentages:
11.5%
Opposing them, of course, are some of the best "run stuff" generators in the NFL. Bucs LB Lavonte David is second in the NFL in that category, with 8.5, while DE William Gholston is tied for 10th with five and DT Clinton McDonald is tied for 17th with four. Last year, David tied for the NFL lead in that category with 14.5; the co-leader was his teammate, DE Adrian Clayborn, who is unfortunately on the Bucs' injured reserve list. Over the last two years, nobody in the NFL has been better than David in stopping running backs behind the line of scrimmage.
For our last bit, we'll let the hard workers at Pro Football Focus do all the heavy lifting.
Subscribers on the PFF web site get access to Premium Stats, which includes updated gradings and rankings of every player in the league, sortable by a number of categories. One of those categories is position, which allows the reader to compare the effectiveness of every player at any given position, as long as one trusts the PFF grading system. And that system is nothing if not thorough.
There is an interesting sight for Buccaneer fans in the wide receiver table. Since it is a subscription page, we won't cut-and-paste all the data, but here's the part that Tampa Bay fans will enjoy: rookie Mike Evans has the 11th-highest cumulative grade of all the receivers in the NFL. He is second among all rookies to Cleveland's Taylor Gabriel, an undrafted rookie who caught the winning touchdown pass against the Bucs last Sunday.
It is certainly no surprise to see such names as Antonio Bryant, Jordy Nelson and Demaryius Thomas in the top 10, and Evans' raw counting numbers aren't in the same vicinity as those receivers yet. But his PFF grades indicate that as he gets more opportunities – as he did with the 11 targets that he turned into seven catches for 124 yards and two touchdowns in Cleveland – Evans could certainly join the league's elite.
The overall PFF grade is a combination of grades in the passing game, in the running game (end arounds, etc.), in run blocking and in avoiding penalties. Evans grades positively in the passing game and in run blocking, has no data for the running game and is neither positive nor negative in the penalty category. Beyond that, PFF also tracks about a dozen other categories, from the percentage of targets that become catches to yards per route run to drop percentage. That last category has been a particular strength for Evans, as he is credited with just two dropped passes so far. While he is credited with creating only one missed or broken tackle so far this year, Evans has also not fumbled, which helps his overall grade.
Lovie Smith has mentioned on several occasions that he believes Evans is getting better every single week in his rookie campaign. If that trend continues over the second half of the season, he should finish as one of the brightest young receiving prospects in the game.