STORY HIGHLIGHTS
For the first time in team history, the Bucs will not have a single defensive player start every game of the season
The Bucs have generally protected halftime leads well, though they've let the last two slip away
Louis Murphy could come up big for the Bucs Sunday if the Lions focus on Vincent Jackson and Mike Evans

Statistics can help illuminate the game of football…or they can take us down a misleading path. As Tampa Bay Buccaneers Head Coach Lovie Smith said: "I believe in stats, but it's [which] stats."
Smith, for instance, doesn't pay much attention to the NFL's defensive rankings, since they are based on yards, which he considers a meaningless measure. When he shares defensive stats with his team, he focuses on points allowed, takeaways, scoring on defense and red zone proficiency.
Here on Buccaneers.com, we unabashedly love stats, but we also understand the need to wield them wisely. Sometimes, we can get a better feel for why the team is performing as it is by going a little deeper into the numbers. And sometimes we can simply point out something we consider interesting, and hope you will find it interesting as well.
That's our goal with Football Geekery. Each week, we're going to give you a sampling of statistical and or historical analysis, hopefully in a way that is relevant to the Buccaneers' current state of affairs. This week we begin by noting how few players are in line to start every game for Tampa Bay this season, and how that compares to the rest of team history. In addition, we look at the Bucs' ability to protect halftime leads of various sizes through the years and employ the DVOA stats on Football Outsiders to get a look at where the Bucs and Lions pass defenses might be at least a little vulnerable. Let's get started.
NFL coaches rarely speak long on the impact injuries can have on their teams' fortunes, rarely going far past the unofficial league motto of, "Next man up." That's understandable. In a sport in which virtually every team has some injury concerns, it's not considered good form to dwell publicly on your own issues. Neither is it particularly constructive; the time is better spent preparing that "next man up" for duty.
Of course, whether or not it is discussed, it is obvious that certain injuries, and/or a certain number of injuries can impact a team's ability to succeed. The players at the top of a team's depth chart are there for a reason; reserves sometimes step in for an absent starter and prove to be a revelation. And sometimes they do not.
"You can go through a year – you can look at a lot of statistics – and be injury-free, that has as much to do with winning and losing consistently as that turnover ratio and penalties that I talk about," said Smith.
The Buccaneers have had their share of injuries in 2014, and that has likely been a contributing factor to the team winning far fewer games than it had expected to win. That is not to say that it has been the main factor, or even that the Bucs would be playoff contenders if they had experienced fewer breaks and sprains along the way. That's an answer we'll never know, and it doesn't serve much of a point to dwell on it.
However, it is possible to look at the Buccaneers' experience with the injury report this season in ways that might be of some interest, at least in terms of historical perspective. What has been unusual about the Bucs' overall collection of injuries in 2014 is not how deep they have cut, but how wide.
With four games to go in the season, the Buccaneers have four players on season-ending injured reserve: DE Adrian Clayborn, CB Mike Jenkins, FB Jorvorskie Lane and G Kadeem Edwards. The first three were considered starters or potential starters at the beginning of the season but Edwards had not played in a game before he went down with a practice-squad injury.
That total of four players on I.R. could go up by season's end (hopefully not), but as it is, compare it with the final injured reserve numbers for the team over the previous five seasons: 15 in 2009, 13 in 2010, 11 in 2011, 13 in 2012 and 16 in 2013.
However, the Buccaneers' weekly injury reports tell a different story. In that regard, the 2014 season has been as frequently interrupted by on-field ailments as any campaign in recent Buccaneer history. That's best illustrated by this point: Only four players have started all 12 games for Tampa Bay so far. That means, of course, that a maximum of four players will finish the season with a full complement of starts. And that happens to be the lowest number a Buccaneer team has completed a season with since 1993.
Now, it's fair to point out that starting jobs don't always change hands due to injury. The Bucs might have had a 16-game starter at strong safety this season, for instance, if Mark Barron had not been traded to the St. Louis Rams. At some positions, such as strongside linebacker, the specific alignment the team is in to start a game can also affect whether or not a player is credited with a starter. Still, injuries are the most common reason for a change of starters during a season, and the same factors apply from year to year so the comparison is still valid.
Below is a chart of the 40 seasons in Buccaneer history showing how many players started every game for the team in each season. For the 1987 season, in which replacement players took the field for three games during a players' strike, we considered only the 12 non-replacement games. Just to see what it would look like, we also threw the winning percentage for each season in a third column. (The "FSS" header stands for "full-season starters.")

As you can see, only the 1983 campaign featured fewer full-season starters than the current year, and of course the 2014 number could still change. The average per season is 9.2, with a high of 16 during the 2000 season.
Is there a correlation between number of 16-game starters and the final winning percentage? A weak one at best. The 1986 team only had 8 full-season starters and only had two victories when it was all said and done. However, the 1985 team had posted the same winning percentage while taking 13 starters from beginning to end, one of the highest numbers in the chart.
If we can say anything, it's that the Bucs' 10 playoff seasons do seem to have higher numbers across the boards. Those 10 teams had an average of 11.8 full-season starters, which is quite a bit above the average of 8.3 put up in the other 29 seasons.
You may have noticed that we did not specify which four players have started every game for the Buccaneers so far this season. That's because we were saving that to point out one final curiosity here at the end. The four Bucs who haven't missed a start are wide receiver Vincent Jackson, right tackle Demar Dotson, right guard Patrick Omameh and left guard Logan Mankins.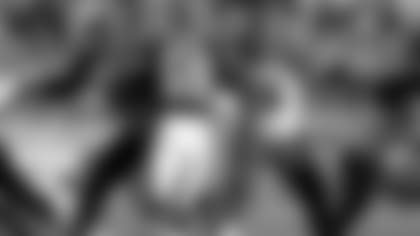 Demar Dotson (69) and Logan Mankins (70) are two of the four Buccaneers who have started every game so far this season
You'll notice that none of those four men plays defense. No Buccaneer defenders have started every game this season. Of the nine opening-day starters on defense who are still with the team (excluding Barron and current New England Patriot Jonathan Casillas), all nine have missed at least one game this season due to injury. The last holdout lost his grip on the streak last week when DT Clinton McDonald had to sit out with a hamstring injury. This marks the first time in team history that the Bucs will go through a season without at least one defensive player starting every contest.
The Buccaneers have lost a series of close games in 2014, most recently a 14-13 defeat at the hands of the Cincinnati Bengals last Sunday. Tampa Bay opened a 10-0 lead to start the game but eventually went down, 14-10, before their own rally fell just short. That marked the second straight week in which the Bucs' opponent rallied to erase a 10-point lead, as the same advantage in Chicago ran into a series of critical turnovers and an eventual 21-13 loss.
In the Bears game, the Bucs took that 10-0 shutout into the intermission, while the Bengals managed to score their first seven points before halftime. Either way, the Bucs had a lead of three or more points at the break, something that has happened three times this season. Tampa Bay led 13-7 at Washington in Week 11 and eventually pulled away for a 27-7 win.
A sub-.500 record in games in which the Bucs lead by at least a field goal at halftime is uncommon in team history. The last time it happened was in 2009, when the team lost its only such game while finishing 3-13 overall. Otherwise, it had not previously occurred since 1987, when the Bucs successfully protected only one of four halftime leads of three or more points. It was more common in the earlier years of the franchise, as it also happened in 1985 (1-4), 1984 (3-4), 1983 (1-3) and 1976 (0-1).
Overall, the Bucs have played in 218 games in which they've enjoyed a halftime lead of three or more points and have won 160 of them. That's a winning percentage of .734.
Not surprisingly, that winning percentage goes up when we consider only games in which the Buccaneers were winning by at least seven points at halftime, though perhaps not as dramatically as one might think. Tampa Bay is 111-28 all-time in such contests, for a winning percentage of .799.
Only the Chicago game falls into that category in 2014, and obviously the Bucs are 0-1 in such games this year. Again, the team was last sub-.500 in those games in 2009, losing once. And again, the other comparable seasons in team history were all much earlier: 1987 (1-3), 1985 (1-3), 1983 (1-2) and 1976 (0-1).
The Chicago game also falls into our next category: Games in which the Buccaneers were winning by 10 or more points at the break. This subset is smaller, of course, with just 96 games all-time. The Bucs have won 79 of those for a winning percentage of .822. That 2009 game comes up again – a 10-0 lead at Washington devolved into a 16-13 loss – but before that the Bucs had turned in losing records in such outings in just two other seasons: 1987 (1-2) and 1983 (0-1).
The Buccaneers are only just under .500 this year, as one more qualifying halftime lead and one more win would get them back to even. They have four more chances to do so; history suggests if they can get such a lead again they are likely to hold on.
Passing yards could be hard to come by on Sunday at Ford Field.
As we noted in our scouting report of the Detroit Lions on Thursday, the Buccaneers are about to take on the NFL's number-one ranked defense in terms of points allowed and second-ranked crew in terms of yards allowed. The Lions have been especially good against the run this year – historically, even – but their pass defense hasn't been too shabby, either. The Lions rank 12th in passing yards allowed, seventh in yards per pass play and seventh in sacks. Football Outsiders ranks Detroit's pass defense third in the NFL behind those of San Francisco and Buffalo.<
Meanwhile, Tampa Bay's pass defense, after some very rough outings early, has been among the league's best over the last six games. The Buccaneers have given up 196.0 net passing yards per game during that time, ranking fifth in the NFL. The team also ranks fifth in sacks, sixth in interceptions and tied for sixth in touchdown passes allowed in the same stretch.
The counter to those forbidding statistics is a group of fairly outstanding receivers. Detroit has the player widely regarded as the NFL's best receiver in Calvin Johnson plus breakout star and 1,100-yard man Golden Tate. The Buccaneers have Vincent Jackson, he of the 2,600 yards in 2012-13, and star rookie Mike Evans, an over-the-top force during the month of November. Both teams also selected a promising tight end high in last year's draft (Detroit's Eric Ebron and Tampa Bay's Austin Seferian-Jenkins) and both have a group of running backs adept at catching the ball out of the backfield.
So which of all of those players has the best chance to break through against these tough defenses on Sunday? We can make something of an educated guess by looking at the second chart on that FO page linked above. The second chart breaks down each team's pass defense by how well it does against five different types of targets: #1 WRs, #2 WRs, Other WRs, TEs and RBs. There are some interesting results for the Buccaneers and Lions, as seen in the chart below.
The numbers in the chart refer to DVOA, which is a catch-all statistic Football Outsiders has developed called Defense-Adjusted Value Over Average. You can read more about what goes into DVOA here, but in this chart it is sufficient to know that negative numbers are better for the defense.
-18.0%
Deciding who this favors means determining which players are the #1 and #2 receivers. As good as Tate has been, it's pretty obvious that it's Johnson for the Lions. Jackson might still validly be considered the Buccaneers' #1, and in fact he has 107 targets this year to Evans' 90, but the rookie has taken over the team lead in receptions, yards and touchdowns, so we'll give the title to him for this exercise.
As such, it could be a difficult day for Evans, particularly if the Lions pay extra attention to him as the Bucs' last two opponents have seemed to do. Detroit ranks first in the entire NFL in DVOA against #1 receivers. On the other hand, the Lions are "only" 11th against #2 receivers, so if Jackson is given that sort of treatment he might have a better chance to pile up the numbers.
It's also possible that the Lions will focus on both of those big receivers on the outside and leave more opportunities open for Murphy working out of the slot. The Lions are right in the middle of the league in dealing with "Other WRs." Seferian-Jenkins is questionable for the game anyway, but if he played he'd run into the NFL's ninth-best pass defense against tight ends, by DVOA. In this category, the Lions appear most vulnerable to running backs, so it could be another Bucs rookie, Charles Sims, who has a big day.
As for the Buccaneers' DVOA numbers, they obviously reflect the full season, not just the last six games. As such, the team doesn't rank particularly high against either first or second receivers. However, even with those early games included, Tampa Bay has fared relatively well against other WRs and tight ends, and is ranked 10th in the league against running backs. Detroit has thrown a good number of passes this year to RBs Reggie Bush and Joique Bell but might want to focus on its two stud receivers this week.