STORY HIGHLIGHTS
Mike Evans and his fellow 2014 first-round receivers are breaking new ground with their collective performance
The Bucs have had mixed results on Halloween but have very much enjoyed playing two days later, on Nov. 2
The Browns have committed to the running game this year and they have most enjoyed running over their offensive tackles

Statistics can help illuminate the game of football…or they can take us down a misleading path. As Tampa Bay Buccaneers Head Coach Lovie Smith said: "I believe in stats, but it's [which] stats."
Smith, for instance, doesn't pay much attention to the NFL's defensive rankings, since they are based on yards, which he considers a meaningless measure. When he shares defensive stats with his team, he focuses on points allowed, takeaways, scoring on defense and red zone proficiency.
Here on Buccaneers.com, we unabashedly love stats, but we also understand the need to wield them wisely. Sometimes, we can get a better feel for why the team is performing as it is by going a little deeper into the numbers. And sometimes we can simply point out something we consider interesting, and hope you will find it interesting as well.
That's our goal with Football Geekery. Each week, we're going to give you a sampling of statistical and or historical analysis, hopefully in a way that is relevant to the Buccaneers' current state of affairs. This week we start with some projections for what could prove to be the greatest crop of first-round rookie receivers in league history. We also check out how the Bucs have fared on Halloween and which dates are truly spooky for the team, and suggest that the Browns' rushing attack will be working the edges of the line quite a bit on Sunday. Let's get started.
The pool of prospects for the 2014 NFL draft was ludicrously deep at the wide receiver end, and five teams took advantage of that available talent in the first round. It looks like all six could be happy with their finds, as the wideout Class of 2014 is living up to the hype so far.
Buffalo started the run with Clemson's Sammy Watkins at #4 and the Bucs jumped on Texas A&M's Mike Evans at #7. The New York Giants were next at #12 with LSU's Odell Beckham, followed by Oregon State's Brandin Cooks to New Orleans at #20 and Florida State's Kelvin Benjamin to Carolina at #28. Currently, Watkins and Benjamin are leading the with nearly identical totals (though in one more game for Benjamin): a 38-590-5 line for the former and a 40-589-5 line for the latter. Cooks has been a big part of the Saints offense with 43-410-2 production while Evans has been a steady producer for a depressed Bucs offense at 25-336-2. Beckham took a while to get playing time, missing the Giants' first four games due to a hamstring injury, but has put up 10 catches for 106 yards and three scores in his three games.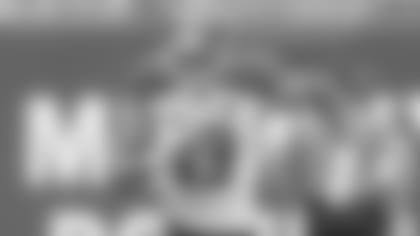 The Bucs got Mike Evans with the seventh overall pick in May, and they're definitely not the only team happy with its first-round receiver this year
Together, those five first-round rookies have produced 156 receptions for 2,031 yards and 17 touchdowns. Even if all five hung up their cleats for the rest of the year and didn't play another down, that would still rank as the 12th-best combined production of any class of first-round receivers since the 1970 AFL-NFL merger, as ranked by catches. Here are the top 12 (the column labeled "WRs" refers to how many receivers were taken in the first round that year):
17
That 1996 class was led by first-overall pick Keyshawn Johnson and also included future stars Marvin Harrison, Eric Moulds, Terry Glenn and Eddie Kennison.
Here's the list sorted by yards, and now we have to go 14 deep to get to the Class of 2014 as it currently stands:
17
Now the Class of 2004 is on top, and that group was led by a Buccaneer, Michael Clayton, who had 80 catches for 1,193 yards and seven touchdowns. There were a record seven first-round receivers that year, which helps that group's numbers; the others are highlighted by superstar Larry Fitzgerald and also include Roy Williams, Lee Evans, Reggie Williams, Michael Jenkins and Rashaun Woods. Unlike the Class of 1996, this one had little staying power beyond Fitzgerald.
There are a couple other changes in the order but the top three are still '96, '04 and '09 (Percy Harvin, Jeremy Maclin, Michael Crabtree, Hakeem Nicks, Kenny Britt and Darrius Heyward-Bey). That's been an up-and-down group, in large part due to injuries.
Sorting one more time for touchdown catches, we see the current group jump up to #9. Here are the top 10:
16
The top three remain the same, the Class of 1978 takes a big jump up. That group can thank San Diego's John Jefferson, who accounted for 13 of its 21 touchdowns. The Class of 2014 could make headway on this list very quickly. In fact, it would only take five touchdowns from that group to jump it up to a tie for third; heck, that could happen this weekend!
In checking up on this topic, I came across an article on BleacherReport.com by Alessandro Miglio, posted just two days ago, making very much the same point, although he looks at the entire Class of 2009, not just the first-rounders. I came to this topic independently and did my own research (using Pro Football Reference, as he apparently did as well), but I have to give credit to Miglio for getting there first.
Miglio's analysis goes deeper into the performances of a handful of the season's brightest rookie stars and is a good read for that alone. He gives each receiver an end-of-year projection that, in some cases, differs from the numbers I'll be mentioning below. For each of the five first-rounders, I determined his pace based not on how many games he had played in but how many games his team had played. For instance, Beckham has only played in three of the Giants' seven games and could play in a maximum of 12, but his time missed due to injury is part of the pace he has established. One could make an argument for diving Beckham's 10 catches by his three games played and figuring out his pace over the maximum he could play in, but for this exercise I'm going the simpler route. The numbers are still impressive.
Also, the Bleacher Report article was posted before Carolina's Thursday night game, in which Benjamin had just two catches for 18 yards, bringing his pace down a bit.
Here's what the five 2014 first-rounders are on pace to finish with, based on what they've produced in their team's total number of games and listed in draft order:
As you can see, if this year's Fab Five can keep up their respective paces, this would essentially be the best combined performance by one season's worth of first-round receivers ever. The reception and touchdown totals would top those of the 1996 and 2004 seasons, respectively, and the yards would fall just a bit behind the tally of the '04 group. With Watkins coming on strong, Beckham back from injury and even Evans trending upward after missing about a game-and-a-half with a hamstring injury, it's perfectly reasonable to believe this group will out-perform its collective midseason pace.
Halloween fell on a Friday this season, and since that's a shorter day of work for coaches and players than Wednesday and Thursday, many Bucs got home in plenty of time to take their families trick-or-treating.
That's been a more complicated issue in some previous seasons, particularly the four in which the Buccaneers played on Halloween. So, has that spooky holiday been particularly scary for the Buccaneers through the years? Eh, not so much.
The Bucs have played four times on October 31, winning twice and losing twice. Most recently, they won a high-scoring thriller in Arizona in 2010, with the Bucs getting a pair of pick-sixes from Aqib Talib and Geno Hayes. RB LeGarrette Blount probably looked like an apparition to Arizona defenders when he hurdled completely over one of them near the beginning of a 48-yard run. Tampa Bay also won on the afternoon of Halloween in 1993, when they took a 31-24 decision from the Falcons in Atlanta.
Fittingly, the Buccaneers had to play on October 31st during their inaugural season of 1976, when every Sunday was like trick-or-treating at the house that hands out toothpaste. Kansas City came to town and took the Bucs' bag of candy, 28-19.
Perhaps a Halloween game is only truly spooky if it's played at night...and that has only happened to the Bucs once. It's a night they would prefer not to remember, back in 1999. The Bucs were off to a rough 3-3 start and struggling quarterback Trent Dilfer had been benched in favor of Eric Zeier as the team headed to Detroit. The results weren't pretty; Zeier mainly threw checkdowns to Warrick Dunn and the Bucs lost, 20-3. The game moved one prominent local columnist to predict the Buccaneers would not win another game the rest of the year. Instead, they followed with a team-record six straight wins and made it all the way to the NFC Championship Game.
So what date on the calendar truly feels like Halloween to the Buccaneers? That would be October 9, a date on which Tampa Bay has played seven times and lost them all. That takes the (razor-embedded) cake over October 23, October 30 and December 17,all days on which the Bucs are 0-6 all-time.
On the flip side, November 10 must feel like Christmas morning to the Buccaneers, as they've played four times on that date and won them all. The most victories the Bucs have on any given date have come on November 24, on which the Bucs are 5-1. They also own 4-1 marks on September 23, November 2, November 11 and November 19.
Sometimes these Football Geekery entries are more of the "curious observation" type than true stat-crunching, and certainly this is one of those cases. Still, it's good to know what dates make the Bucs happy. Especially when they are about to play on one of those dates in Cleveland this weekend.
3. Watch the B and C-Gaps.
As noted in our Cleveland Scouting Report on Thursday, the Browns are a team that seem determined to run the ball. While they rank 24th in the NFL in yards per carry at 3.8, they have called rushing plays on a higher percentage of snaps than every team except the Dallas Cowboys and Houston Texans. Though it won't differ much from their usual weekly strategy, the Buccaneers will certainly head into FirstEnergy Stadium with a focus on stopping the run Sunday.
To do that, they will probably need to mind the B-Gap, the term most teams use to refer to the space between the offensive tackle and offensive guard. The C-Gap is the term for the space outside the tackle and, if one is stationed there, inside the tight end. The Browns seem to have their best success when they utilize the blocking of their tackles, and of course they have one of the best in the business on the left side in Joe Thomas.
Overall, Cleveland has called 220 rushing plays this year. According to Statspass, 84 of those have headed left, 108 have headed right and only 28 have gone up the middle. Cleveland, in fact, has run the ball up the middle fewer teams than all but the Atlanta Falcons (17), Baltimore Ravens (24) and New Orleans Saints (24). They have run it to the right more often than every team except Baltimore, suggesting confidence in tackle Mitchell Schwartz.
According to FootballOutsiders.com, Cleveland has run the ball best when it has done so around the offensive tackles. The FO analysts break down runs in five directions: left end, left tackle, mid/guard, right tackle and right end; presumably the first and last categories are plays like wide sweeps. Using a FO stat called Adjusted Line Yards, the chart shows that Cleveland has gained an average of 2.15 ALY trying to sweep left and 3.10 trying to sweep right. Going up the middle, the Browns are getting 3.53 per carry. It's over the tackles where they have really made their hay, getting 4.76 per tote to the right and 4.22 to the left.
Thus, Tampa Bay's defense should be prepared for a large number of runs aimed at their defensive ends and outside linebackers.