STORY HIGHLIGHTS
DT Gerald McCoy's imminent return from a hand injury should help the Bucs in several ways
CB Alterraun Verner has started out well as a Buccaneer but could now add in some big plays
G Logan Mankins' toughness makes him a player for younger Bucs to emulate and follow

Okay, I get it. Enough already. Your Tampa Bay Buccaneers are 0-3 and you don't want to be told that everything is rainbows and puppies. Being a fan is an emotional investment, for some more than others, and the emotions after a loss like Thursday's game in Atlanta are going to be – like defensive tackle said– shock and anger. There's nothing wrong with that; if the losses don't hurt than the eventual victories aren't going to feel as good.
Until the Buccaneers turn things around, there will be plenty of angry fans who don't want to hear a word about silver linings or bright spots or a light at the end of the tunnel. Again, that's understandable.
But here's the thing: The Buccaneers themselves can't afford to think that way.  Tampa Bay players and coaches didn't expect to be 0-3, don't believe they have the talent of an 0-3 team and don't think they will be 0-4.  Their shock and anger has to be directed at finding solutions and getting the season on track.
So don't read on if you don't want to hear about it (although, really, you've already come this far, right?). Without ignoring what has happened through the first three weeks of the season, let's contemplate how this turnaround can happen, if that is indeed what is on the horizon.
Specifically, who will lead the way? If the 2014 season is to be saved, somebody is – or several somebodies are – going to have to make the difference. Obviously, leadership will come from the top, from Lovie Smith and his staff, but what about in the locker room?
Below are four players who can lead the way from 0-3 to a season that will eventually give us some emotions other than shock and anger. Now, your quarterback is almost always at the top of such a list, but Josh McCown's thumb injury puts that position in a little bit of flux right now. LB Lavonte David is another obvious choice, but our lists begins with one such pick and after that we wanted to dig a little bit deeper.
This one is kind of obvious.  McCoy isn't just one of the team's five captains, he's clearly the main team leader and the man most likely to serve as spokesman in the locker room. He is definitely the type who would gather some core teammates around him – think Warren Sapp, Derrick Brooks and John Lynch in that San Diego hotel room in 1996 – and get them all to draw a line in the sand. If locker-room leadership really can make a significant difference in a situation like this, it's going to come from McCoy.
There are things, of course, that aren't affected by speeches. Injuries are one very prominent example, and the Buccaneers have had more than their share. To paraphrase Smith in a recent press conference, most teams run into an injury-heavy game here and there, it was just surprising to have them come so early to the Buccaneers.
So far, the only accidents that have taken a player out for the year are Adrian Clayborn's biceps tear and Mike Jenkins pectoral injury.  Those absences aren't helping, of course, but the Buccaneers can count on getting several other key players back on the field. Perhaps the most important one is McCoy himself. One of two All-Pros on the Bucs' defense (along with WLB Lavonte David), McCoy plays what most consider the most important position in the Bucs' defensive scheme. The Bucs need pressure up front to really operate the way they intend to, and McCoy is the key to that. He may be slowed for a couple weeks by his casted hand, but there's no reason to believe he won't return to his dominating self. He was certainly dominant when he played during the preseason.
The Bucs' defense was abysmal in Atlanta, but it was pretty strong during the first two weeks before a rash of injuries finally caught up to it. It's not hard to envision that crew sorting things out and being the type of defense it appeared to be coalescing into when the season began. The losses of Clayborn and Jenkins won't help, but McCoy remains the key to the whole thing, and he should be back in the middle of the scheme soon.
McCoy is always a gregarious speaker when the media gathers around his locker, but he also seemed a little irritated on Friday. Some of that was clearly due to his belief that he was being unfairly compared to Sapp, who also dealt with a broken hand during the 1999 season. Some of it was probably due to the unpleasant experience of watching Thursday's game from the sideline (and sitting for a couple extra hours on the airport tarmac afterwards). Well, you know what? An irritated Gerald McCoy might be a very good thing for the Buccaneers. He doesn't really need any more motivation in order to dominate, but it certainly wouldn't hurt.
It's quickly becoming clear that Mankins is a football warrior. He arrived in Tampa with a reputation for toughness, and he has certainly lived up to that billing. He didn't miss a game after sustaining a knee injury in the opener, and he gritted his way through another knee issue on Thursday that briefly took him off the field.
The Buccaneers' offensive line was quite good against St. Louis and their loaded defensive front in Week Two.  No position was particularly effective on Thursday night, but the O-Line was certainly not the biggest issue.  It could be one of its biggest strengths in the final 13 games, especially after veteran newcomers Mankins, Anthony Collins and Evan Dietrich-Smith forge a more solid chemistry.
The Bucs haven't really established much of an offensive identity yet. Lovie Smith says that's a process, especially with a new team, and your identity sometimes takes a while to emerge. For the Buccaneers, given the promise of the offensive line and a deep group of running backs (once Doug Martin and Charles Sims return), the eventual answer is probably going to lie in a consistent rushing attack.
Mankins arrived just before the season started and, as the newest player in the starting lineup, is not necessarily trying to assert himself as a leader yet. He was a leader for the New England Patriots, however, and over time he will likely be a player that others turn to for guidance and inspiration. If he does become a leader, and his most impressive trait is his toughness, than that could rub off on the rest of the team.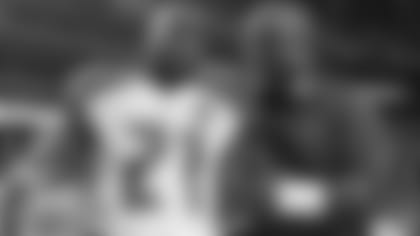 CB Alterraun Verner can provide the Bucs with big plays and another leader in the locker room
Is Verner a potential leader for the team?  That's not yet clear, or necessarily crucial, but the former Tennessee Titan has been one of the Bucs' most accessible players to the media during this tough start. He hasn't shied away from anything and that's a promising sign.
He's on this list, however, because he has a chance to emerge as one of the team's very best players. Obviously, no Buccaneer is satisfied with his play yet, and that certainly includes Verner. He graded out as the top cornerback in the league on ProFootballFocus.com in the season's opening week and yet said in the week that followed that he thought his performance was merely adequate. The lopsided loss in Atlanta hurt everybody's season grades, including Verner, but he remains the 19th-ranked cornerback in the league, just below Darrelle Revis. Assuming the Bucs don't have too many more games like that one, he's a good bet to move back up the list.
The Bucs need leadership in the weeks to come, but more than that they need big plays, especially on defense. The team has just one interception through three games, and that was against backup Falcons QB T.J. Yates in garbage time on Thursday night. Verner's a Pro Bowl cornerback who has already shown he's a quality addition to the Buccaneers' defense. Now if he can add some big plays, the Bucs' defense will start to resemble the one Smith and General Manager Jason Licht envisioned when they put that group together.
Buccaneer players elected Jackson as a team captain before the season, and surely a central reason was his approach to the game. He has an impeccable work ethic and is completely devoted to his craft. He is definitely a leader by example. Jackson wants to excel at the highest level, and he's managed to do just that in each of his first two Buc seasons even as he approaches 32 years of age. That takes hard work.
So far in 2010, the numbers aren't there, but there's a lot of untapped potential in the Bucs' offense as a whole. Jackson, who averaged 75 catches, 1,300 yards and 7.5 touchdowns in 2012-13, is on more of a 50-500-5 pace right now. That's not likely to last, no matter who is at quarterback. As for that issue, if McCown's thumb injury pushes second-year player Mike Glennon into the lineup for any extended period of time, there is already established chemistry between him and his number-one receiver. Jackson caught a career-best 78 passes last year, and that was with Glennon starting 13 games.
Like Mankins, Jackson is serious and tough.  He plays the game hard and is not one to give up when the situation becomes difficult.  The Buccaneers' younger players need that kind of example in the locker room.  More than that, they need the type of numbers Jackson is used to producing on the field.  That would make a big difference in the weeks ahead.