STORY HIGHLIGHTS
The Bucs have tried several different guard combinations early in camp and are sure to audition several more
Tampa Bay's coaching staff has embraced the challenges presented by Florida's summer weather
The roster decisions at running back have only become more complicated since the start of training camp

Tuesday was a day of rest for the 90 men enduring the heat of the Tampa Bay Buccaneers' 2014 training camp. It was well deserved; two-a-days may be a thing of the past, but a 150-minute, up-tempo workout in the Florida heat is nothing to take lightly.
Moreover, there is a long way to go, so it makes sense to give the players a chance to recharge. That said, four very useful practices are already in the books, four practices that were conducted before not only the watchful eyes of the Buccaneers' coaching staff but thousands of visiting fans. This is the only time of the year that fans get to see their team's on-field preparations up close and in person, and it can be very informative.
If you've visited any of the team's first four practices, you've probably noticed some players standing out and some portions of the team's strategies taking shape. You've seen circus catches and dropped passes. You've seen a defensive lineman blow past his counterpart in one-on-one drills, and an offensive lineman putting up a wall on the next rep. You've seen what has and has not pleased new Head Coach Lovie Smith.
Well, here are a few things we've seen. Here are four lessons we've learned during the first four days of training camp practice:
1. There are indeed two guard spots to fill, and the it may be a while before those jobs are locked down.
The Bucs announced on Friday that they were mutually parting ways with Pro Bowl guard Carl Nicks, and Nicks said he had, "made the decision to step away from the game." Nicks had exhausted every possibility in his efforts to return to the game after two seasons mostly lost to a toe injury and a subsequent infection.
As a result, we now know for certain what many thought might be the case when camp opened: There are two starting offensive guard spots that need to be filled. The team is set on the edges with tackles Anthony Collins and Demar Dotson and in the middle with center Evan Dietrich-Smith, but we've all head the adage about chains and their weakest links. The Buccaneers need to find competent answers for left and right guard or it's hard to imagine the offensive line being the strength that Lovie Smith and Jason Licht envision it being.
It appears the search will be exhaustive. Jamon Meredith got extensive time at left guard with the first-team unit at the beginning of camp but it was rookie Kadeem Edwards who saw the majority of that duty on Monday. Oniel Cousins got the first look at right guard but it was Patrick Omameh who drew much of the front-line work at that spot during the offseason. Smith and his staff are likely to try several other combinations before training camp is up.
"We drafted a couple of young players and we have some young players in general that will get an opportunity to prove what they can do," said Smith.
It's also possible that the solution for at least one of those guard spots isn't in the building yet. That was the point Licht made while speaking to Insider on Friday, suggesting that the team could eventually turn to the waiver wire or perhaps a trade possibility. "If it's not them," said Licht, "we have other avenues that we can find players, too."
2. Florida summer weather is messy, and the Bucs aren't running from it.
Two things greeted the Buccaneers not long after they took the field for that first camp practice: the Nicks announcement and a series of nearby lightning strikes. The latter forced the team off the field for about an hour and essentially sliced that first workout in half. Cue the doomsayers, who had questioned Smith's decision to hold many of his camp practices in the late afternoon.
Somehow, however, the Bucs have survived. They didn't miss another minute of practice over the next three days –despite starting one at 4:30, one at 2:00 and another at 1:00 – and they got in 100% of the padded work they had scheduled for Sunday and Monday.
That doesn't mean, however, that the weather became a non-issue after Friday. In fact, it was very much an issue over the next three days, but one the team embraced. Smith isn't the first Buccaneer coach to say that training in the Florida heat gives his team an advantage early in the season, but he's backing it up by purposely starting his workouts at the time of day when the Bucs will often be kicking off. Tampa Bay's first two home games in September start at 4:05 and 4:25, and it will likely still be quite hot when the team plays 1:00 games at Raymond James Stadium against Baltimore and Minnesota in October.
"The heat in Tampa is no joke," said Smith to open his Monday post-practice press briefing, still wiping sweat from his forehead. "We'll be playing, of course, at this time, so we have to practice along these lines. The guys have been working hard getting used to this environment with the pads on. Each day, we continue to get a little bit better."
The lightning will return and there will be some practices in the rain. It's inevitable in Tampa in July and August, and Buccaneer headquarters have been hit by passing storms at all times of the day in the last week. It is likely that somewhere along the line, the Bucs will lose all or part of another practice to the rain. That's practically a training camp tradition; Jon Gruden's teams used to stage walk-throughs in hotel ballrooms on stormy days at Disney. But that's just another obstacle that Smith wants his team to face and overcome.
3. The coaching staff will face a difficult task when it's time to sort out the running backs for the 53-man roster.
Doug Martin looks as sharp as ever and says his surgically-repaired shoulder is completely sound. The sharp cuts of Bobby Rainey and the hard-charging style of Mike James look the same this summer as they did last fall during their respective star turns in the backfield. Rookie Charles Sims can catch the ball and run between the tackles.
So the Bucs are four-deep in tailbacks that look like they deserve regular-season carries. That's nothing new; we knew that coming into training camp. Sorting out those four could be hard enough, but now there are several other players complicating matters, most notably Jeff Demps and Jorvorskie Lane.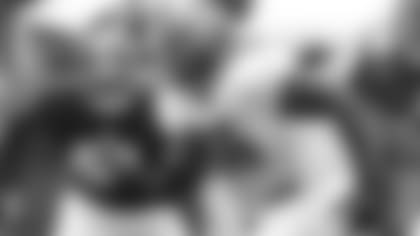 FB Jorvorskie Lane could serve the Bucs' backfield well as a lead-blocker and a short-yardage ballcarrier
Neither Demps or Lane are going to challenge Martin or his primary backup for a significant share of the carries. However, both have looked promising in the early days of camp – albeit in completely different ways – and that just makes the numbers game harder to figure out when it comes to the Bucs' backfield.
Demps, of course, is the former Olympic sprinter who might be the fastest player currently in the NFL (Lovie Smith thinks so). The question he must answer is whether the rest of his NFL skill-set is developed enough to turn that speed into a legitimate weapon. It has certainly looked that way in the early days of camp, particularly on a couple of sideline routes that turned into long completions. If Demps can do that kind of thing in a game – create and exploit a mismatch with a linebacker – it's going to be hard to leave him off the 53-man roster, no matter how impressive the other running backs prove to be.
The obvious standout feature for Lane is his size. He's listed at 5-11 and 258 pounds but he has played at higher weight than that in the past, particularly while serving as a lead ballcarrier at Texas A&M. Lane is unlikely to find that kind of role with any team in the NFL, but he certainly knows what to do with the ball in his hands and that could make him a powerful weapon around the goal line. Lane ran one in during a red zone drill on Sunday, in fact, and looked quite nimble doing so. If he can provide adequate lead blocking for the tailbacks and make a few plays of his own from time to time, the Bucs might make room for a fullback on the roster and in their offense.
Can they keep as many as six running backs on the 53-man roster? That's a heavy load at that position and would probably have to be balanced with less depth at either receiver or tight end. Smith and his staff have a long time until they have to make those decisions, but the team's stable of running backs isn't making it any easier on him.
4. Everybody is so darn happy!
Lovie Smith's Buccaneers will face some adversity this season. Heck, it could come as soon as Wednesday, when the team hits the practice field again. The NFL is wildly unpredictable, even for teams with meticulously-detailed coaching staffs.
Nicks' departure could be considered that first dose of adversity, one supposes, but it's pretty obvious that the Buccaneers were preparing for that possibility. Despite that bit of sadness, the mood at One Buccaneer Place is incredibly upbeat. Chalk it up to the honeymoon period of a new coaching staff, but this is a team that truly seems to believe it is ready for a playoff run.
There have been no fights on the practice field yet.  Most coaches disapprove of practice fights, knowing that they waste time and create injury risks.  Still, they can break out in any camp because the addition of pads and real contact drives up the intensity level.  It usually doesn't take long for one lineman in the trenches to take offense to something one of his competitors does.  The Bucs may have moved on from some of the players who more commonly found themselves in practice field scuffles – Jeremy Trueblood, Donald Penn, Aqib Talib, etc. – but there is usually somebody among 90 players who is more prone to that sort of thing.
So far, however, nothing. Meanwhile, Gerald McCoy, usually a great barometer for the team's emotional state, has detected a different feel surrounding this team than what he experienced in his first four years.
"There's a lot more excitement right now than there has been in long time," said McCoy. "What the fans have been looking for for the longest is the old Bucs."
Cornerback Anthony Gaitor returned to the team on Monday – he had been released back in May after three injury-hampered seasons in Tampa – and that meant a whole lot more smiles on the practice field.  Anthony Gaitor is always smiling.  Around here, for now at least, that just means he's fitting right in.