STORY HIGHLIGHTS
The Buccaneers have had trouble holding on to fourth-quarter leads this season
Tampa Bay's defense has started to create more third-and-long situations, but some have backfired
With Bobby Rainey, Charles Sims and Doug Martin, the Bucs should be able to mount more of a rushing attack

The Tampa Bay Buccaneers lost to the Atlanta Falcons on Sunday to fall to 1-8 on the season, and perhaps simply due to cumulative effect, this one seemed to hit particularly hard. The Buccaneers haven't had many happy postgame locker rooms this year, but a series of close losses has made the frustration mount.
It's clear that Buccaneer players and coaches believe they have the talent and dedication to be better than 1-8, even if they accept that their record is what they deserve. Whether it was Josh McCown baring his emotions at the postgame podium or the loquacious Gerald McCoy suddenly at a loss for words or Lovie Smith acknowledging the "broken-record" nature of the weekly press conferences, everyone in Buccaneer red was saying pretty much the same thing late Sunday afternoon. Rookie tight end Austin Seferian-Jenkins, who caught the touchdown pass that put the Bucs up by a point early in the fourth quarter, had an assessment that was as good as any.
"We're 1-8 and I think we're better than this," said Seferian-Jenkins. "I think everyone can agree on that. It's frustrating, not only for the fans, for you guys, but for the players and coaches because we put in a lot of work six days out of the week and to come out here and put [it] on the field, it's unfortunate when you come off the field and you've come up short and you have eight losses."
The Bucs have taken a lead in the fourth quarter of six of their nine games. One of those was at Pittsburgh in Week Four, and that lead came with seven seconds to play, leaving the Steelers without time to counter. In the other five games, the Bucs saw their opponents make the necessary plays to have the lead at the end. That may be the most painful aspect of the entire season, and it's one thing that the Buccaneers are determined to bring to an end. That and three other frustrating issues that can be eliminated – and will be eliminated, as players and coaches clearly believe – are below.
1. Holding on to fourth-quarter leads.
A team that can make the plays necessary to get a lead in the fourth quarter can also make the plays to keep it. While there is certainly something to be said for performing when pressure is at its highest as opposed to making plays earlier in the game, NFL teams are too evenly-matched in terms of talent for such a streak to make much sense. Fire up your favorite "win probability" calculator on the internet and you'll find something like a 53% chance of victory even with only a one-point lead and 14 of the 15 minutes in the fourth quarter still to play.
And the Buccaneers want to be in that situation. After Seferian-Jenkins' touchdown put the Bucs up 17-16, they felt good about their chances of taking that lead home. However, a penalty helped Atlanta get good field position to start the ensuing drive, and another penalty turned a field goal opportunity into a touchdown and before long the Bucs were on the wrong end of the score again.
"If I had a choice … we have the Tampa Bay Buccaneers on the football field, with the lead?" said Smith, the head coach. "Yes, we're supposed to win at home. Simple as that. You're supposed to win on the road when you have the lead in the fourth quarter. We haven't. We'll keep searching to try to find reasons why to correct that. We're not there yet."
Football players and coaches call this concept "finishing." The Bucs haven't finished well this year, save for the Pittsburgh game. And yet, they have often been close. Tampa Bay was driving for the potential winning score in Cleveland last week before a second-and-one at the Browns' 40 suddenly turned into a fourth-and-11. A dropped pass and a conversion-erasing penalty were part of the frustrating sequence, and the Bucs eventually stalled and lost by five. Against St. Louis in Week Two, rookie WR Mike Evans made a big catch at the edge of field goal range, with the Bucs trailing by two, only to see the game end on a 10-second runoff when he couldn't get up fast enough from a big hit. In the Superdome in Week Five the Buccaneers had what appeared to be a critical stop early in overtime only to see the Saints' winning drive extended by an off-the-ball penalty.
At some point, that crucial mistake is going to be eliminated. It almost has to be. This kind of fourth-quarter run is not typical.
"As you talk about the amount of times we've had fourth quarter leads, that's saying we're a pretty good football team – that's saying we have an opportunity to be a lot better football team than where we are right now," said Smith. "But it doesn't matter how you do it. Right now, the fourth quarter should be a strength of ours and right now, it's a weakness."
From 1996-2011, the Buccaneers played 112 games in which they took a lead into the fourth quarter. They won 99 of them. Now, that is not exactly the same as "having a lead" in the fourth quarter, because in some percentage of those games Tampa Bay surely had a large lead to protect for 15 minutes. Still, it's a similar issue and it's startling to realize that the Bucs are 2-6 in that same category over the last two years, 0-3 in 2014.
"We're so close," said Evans. "Almost every game we're so close. Unfortunately, we're always on bottom. I don't know what it is anymore. We just have to keep doing us. Have to keep making plays and stop beating ourselves."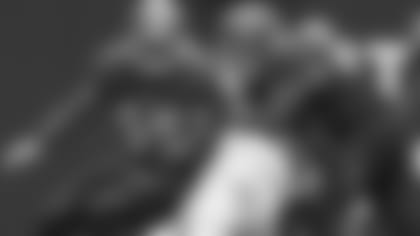 The Bucs' defense has improved recently on third downs but has strangely had a tougher time on longer third-down plays
2. Getting stops on third-and-long.
Tampa Bay's defense has struggled on third downs throughout the 2014 season, and that has been particularly true when key players in the secondary or on the front line have been missing due to injury. But in recent weeks a very strange trend has developed.
Over the last three games, all contests that came down to a few plays in the fourth quarter and all Buc losses, opponents have converted on 17 of 41 third-down tries, a success rate of 41.5%. While that isn't a fantastic number for Tampa Bay's defense, it's better than the 49.4% allowed through the first six games. What's strange is that the Bucs have started to do a better job of creating long third-down situations, only to have them backfire.
Over that three-game period, opponents have converted five of seven tries of three yards or fewer, which is to be expected. However, in the four to six-yard range that would seem to be a much more even match between offense and defense, Buc opponents have made good on just two of 10 tries, or 20%. One would expect those numbers to continue to fall as the third downs got longer, but instead Buc opponents have succeeded on five of 15 from seven to 10 yards (33.3%) and, amazingly, five of nine from beyond 10 yards (55.6%).
On Sunday, the big one came midway through the second quarter. The Bucs' defense had forced a third-and-12 right at midfield and had a chance to get the ball back for the offense. Instead, Matt Ryan threaded a pass between Lavonte David and Johnthan Banks and into the hands of Julio Jones, who broke free for a 39-yard gain. The Falcons got a field goal out of it, which helped them take a three-point lead into halftime.
"We have to get ourselves out of those situations and try to find a way," said Smith. "We realize what our record is. It's a broken record, really, with me talking to you and telling you how much better we're getting and we're making progress – got to find a way to get a win."
The Buccaneers lost the turnover battle on Sunday for the fourth time in nine games this season. They've won that battle once and been even four other times.
In reality, though, the Bucs' three giveaways were not crushing blows to the team's efforts on offense. Rookie running back Charles Sims fumbled a ball away in Atlanta territory in the third quarter but a quick stop by the Bucs' defense and a great punt return by Marcus Thigpen essentially put the ball right back where it had been just a few minutes later. The second of Josh McCown's two interceptions was a classic end-game giveaway, a "might-as-well" bomb on fourth-and-17 with a 10-point deficit. The first of those interceptions was costly, in that it occurred in the end zone with two minutes to play, but even if the Bucs had scored there they still would have needed to make several more plays to erase the fill the rest of a 10-point hole.
What hurt more was the zero on the other side. The Buccaneers did not take the ball away from the Falcons' offense all day, and really didn't come close. As such, they started only one drive with great field position, after the Thigpen return, and only two drives began past their own 20. The Bucs put up 373 yards, which is becoming relatively average in today's NFL but would still usually lead to more points. However, five of Tampa Bay's nine drives fizzled out between its own 42 and the Falcons' 22. Better starting position would likely have turned several of those drives into points.
It seems hard to believe that the turnovers would continue to elude the Buccaneers' defense. Tampa Bay has taken the ball away 12 times through nine games, which puts the team on pace for 21 by season's end. Over the franchise's first 38 years, it averaged 32 takeaways per season, and that obviously includes some long stretches in which the team was not particularly good. Meanwhile, Lovie Smith's nine teams during his tenure as the Chicago Bear's head coach averaged just over 34 takeaways per season. Every NFL coach understands the importance of turnover ratio, but there is no doubt that Smith considers that issue one of the most important – if not the most important – part of the formula for his team's success.
And, if there's a formula for creating turnovers, it probably starts with putting pressure on the quarterback. The Bucs had just one sack of Ryan on Sunday after getting three the week before in Cleveland. The absence of Michael Johnson surely hurt in that regard and hopefully the Bucs will have him back in the lineup soon.
"Defensively, not enough pressure on them, no takeaways," said Smith after Sunday's game. "Losing the turnover ratio as a football team, of course, that hurts you quite a bit."
4. Running the ball with more consistency.
The Bucs threw the ball on the first four plays from scrimmage on Sunday, and it's worth nothing that they did so against the 32nd-ranked pass defense in the NFL. Smith wants to field a balanced offense, but every coach looks to take advantage of the opponent's weakness. It was for the same reason that the Bucs threw so many high sideline passes last week in Cleveland, utilizing their tall edge receivers well against the Browns' smaller corners.
In Cleveland, the Bucs ran for 113 yards, but almost all of that was in the first half thanks to a great performance by Bobby Rainey, filling in for the injured Doug Martin. Tampa Bay also got 92 yards against the Falcons, but that was misleading as 39 of them came on McCown scrambles. Promising rookie Charles Sims, playing in his first NFL game, got the most carries with eight, gaining 23 yards. Mike James ran very well in a series of short-yardage situations, getting 16 yards on four totes. Rainey ran only six times for 14 yards.
There is plenty of talent there, and that will be even more true when Martin returns from his ankle injury. It simply wasn't paying off on Sunday, so the Buccaneers relied on McCown, who threw for 301 yards and, as mentioned, extended some drives with his feet.
"Without going into detail [without] watching the video, if you don't have production from your running game, you're going to start with the offensive line first and everybody involved in that," said Smith. "From there, though, as a running back, when you get a couple of holes, you need to make someone miss and be able to get yards that way."