STORY HIGHLIGHTS
Mike Glennon and Mike Evans hooked up for a series of big plays in Cleveland
The Bucs' offense was good on third down during the first half but fell off after halftime
Tampa Bay's rushing attack had a good day in Cleveland but didn't add much in the second half

The Tampa Bay Buccaneers dropped a 22-17 decision to the Cleveland Browns on Sunday and, like most of Tampa Bay's losses this season, it came down to a couple of decisive plays at the end. Of course, the end-game didn't negate everything that came before it during the first 55 minutes of play, and when the Buccaneers review the game tape on Monday they'll find plenty to enjoy and just as much that will make them cringe.
"Outside of two games, we are coming down to the last two minutes with a chance to win," said quarterback Mike Glennon after Sunday's loss. "Six games we are close at the end and we have only been able to win one. We need to do better in those situations."
What's remarkable about this particular game, however, is how many of their successes and failures fell into the same categories. Where the Buccaneers made some of their greatest strides in Week Nine, they also encountered some of their biggest problems. It seemed like there were two sides to every coin on Sunday in Cleveland; let's take a look at four of those coins in particular.
1. The Mike Glennon-Mike Evans connection.
Heads. Was there anything better on Sunday, both in terms of the Bucs' quest for victory Sunday and the franchise's long-term goals, than the way second-year quarterback Mike Glennon and rookie wide receiver Mike Evans hooked up all afternoon?
Glennon completed 17 passes for 260 yards against the Browns, and very close to half of that belonged to Evans, who had a career-high seven catches for 124 yards. One hundred percent of Glennon's touchdown passes ended up in Evans' hands. After the game, Glennon pointed out that the Browns chose to put Pro Bowl cornerback Joe Haden on veteran receiver Vincent Jackson (who still caught six passes for 86 yards) and that was almost daring him to look for the rookie. That was just fine with the Bucs' quarterback.
"Mike really stepped up," said Glennon of his rookie teammate. "Like I have been saying, he's getting better and better every week. When a team puts a guy like Joe Haden on Vincent Jackson, that's okay because we are pretty good on the other side. It's going to be interesting to see how teams start playing us. They are really going to have to pick and choose what they want to do with those two guys. [Evans] played a really good game. You can see why he was drafted so high and what he is capable of doing. He definitely played a very good game."
Both times Evans scored, it gave the Buccaneers a lead. His second TD grab – both were for 24 yards – was the kind that showed off his freakish athleticism and body control, as he essentially twisted away from the defensive back near the edge of the end zone and caught the ball over his right shoulder, dragging both feet to make it count. Evans also had a 31-yarder to start the Buccaneers' final ill-fated drive and appeared to have sustained that drive with a fourth-down catch before it was erased on an offensive pass-interference call.
Tails. Glennon hit Evans seven times on a total of 11 targets, which is a perfectly acceptable success ratio. As an example, Jackson's six catches came on 12 targets, and #1 Browns receiver Andrew Hawkins caught three passes on eight targets. In other words, Glennon was looking to his rising rookie star an appropriate amount, and not forcing it.
And yet, what could have been.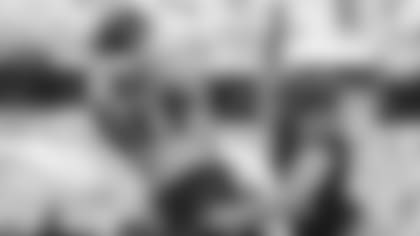 Rookie WR Mike Evans had two touchdown catches in Cleveland, including an acrobatic over-the-shoulder grab in the third quarter
Before Evans got his two scores in the second half, he appeared to have a shot at two before halftime. On the second drive of the game, the Bucs reached Cleveland's 37 and Evans went deep down the right sideline on second down. It looked as if he would have a good shot at a TD catch if the ball was delivered in front of him, but it tailed out to his back shoulder and he was unable to make what was nearly a circus catch at the five.
On Tampa Bay's next drive, Glennon bought time with a move up in the huddle on a first down from the Bucs' 31 and caught sight of Evans streaking deep down the middle of the field. The rookie had several yards on Haden and very likely would have scored on a perfectly-delivered ball, but the pass came up short and, as Evans slowed down, Haden caught up and was able to deflect it to safety Donte Whitner for an interception.
It's noteworthy that both of those throws came in the same direction, and that all three of the game's long touchdown tosses went into the opposite end zone. It's possible that wind played a factor in holding both throws up. That's okay; this is not an exercise in assigning blame for plays that wrong. It's simply worth pointing out that, while the connection between Mike Glennon and Mike Evans was perhaps the best thing the Bucs had going on Sunday in Cleveland, it also included some of the biggest missed opportunities of the day.
2. Offensive third-down conversions.
Heads. The Buccaneers' offense has struggled on third downs in 2014. Through seven games the Bucs were converting just 32.9% of their tries, one of the lowest marks in the league. That was a particular problem just one week earlier against Minnesota, in a game that went to overtime after the Bucs converted on just one of 12 tries. Tampa Bay has had trouble sustaining drives and staying even in the time-of-possession battle, largely because third downs have gone so badly.
Not so in Cleveland…at least during the first half.
The Bucs looked like a brand-new team on Sunday, consistently coming up with the plays they needed to keep drives alive. It might be a Glennon scramble or a perfectly set-up screen pass to Bobby Rainey or a simple power run on third-and-one, but the Bucs had the answers.
At halftime, Tampa Bay had converted four of seven third-down tries, including a third-and-11 that resulted in Evans' first touchdown catch. That had a lot to do with the team putting up a season-high 228 yards in the first half, and controlling the ball for nearly 19 of the first 30 minutes. It was only 10-9 at the time, but it's fair to say that this is the formula Lovie Smith and company have been searching for.
Tails. The Buccaneers' offense finished the game with four third-down conversions in 12 tries, which was just a tiny bit above their season average coming in. You can do the math, considering the numbers mentioned above. Tampa Bay did not convert a single third down after halftime, and that was one of the main reasons that the team lost its offensive momentum and came up with just 137 yards after the break. What was shaping up as easily the best offensive day of the afternoon for Tampa Bay turned into merely a good one and, of course, it was not good enough in the end.
Particularly painful were three short third downs near midfield in the second half; in fact, those plays may have been the difference in the game.
The first one seemed troubling but was actually the least damaging of the three. RB Mike James, who almost never loses yards on his carries, came in to convert a third-and-one at the Cleveland 40 midway through the third quarter and was trapped in the backfield before he could even get started. The Bucs punted after that two-yard loss, but a good kick and a three-and-out gave it right back to the offense in good field position and the result was Evans' second touchdown.
However, the Buccaneers would surely like to have another crack at a third-and-two at the Tampa Bay 48 two plays into the fourth quarter. That one resulted in an incomplete pass in Louis Murphy's direction. The Bucs had a one-point lead at the time but the Browns would score not long after when an exchange of punts worked out very much in the home team's favor. The bigger problem, of course, was the third-and-one that Tampa Bay failed to convert on its last drive, this one also a pass in Murphy's direction. That set up fourth-and-one, the results of which are described above.
Heads. The Buccaneers allowed Cleveland to convert on five of 14 third-down tries in Sunday's game, for a 35.7% rate that is actually Tampa Bay's best mark of the season so far. That's not misleading, either. The Bucs' defense was quite good on third down for much of the afternoon, such as when rookie defensive end Jacquies Smith turned away a goal-to-go opportunity early in the second quarter with a sack of Brian Hoyer.
Tails. Unlike what happened on offense for the Buccaneers, this wasn't a tale of two halves. The Browns were two-of-six before halftime and three-of-eight afterward. No, the split here was far more unusual. For some reason, Tampa Bay's defense had trouble stopping extremely long third down tries.
Cleveland converted a total of five third downs on Sunday. Amazingly, three of those five were on attempts from 14 yards or further. Consider that all season Tampa Bay's defense had allowed five third-down conversions of more than 10 yards, and then a Browns offense that mostly struggled in that capacity was able to pick up three of them from long range.
And, unfortunately, they hurt, the first, a third-and-17 conversion on Cleveland's first drive, set up a 49-yard field goal by Billy Cundiff. The second came with just 15 seconds left in the first half and allowed Cundiff to try (and hit) a 43-yarder rather than a low-percentage long-range blast. The final third-and-long conversion kept alive a drive that eventually ended in a Buccaneer interception, but that doesn't tell the whole story. After pinning Cleveland deep with a punt early in the fourth quarter – while leading by a point – the Buccaneers' defense got a pressure from Gerald McCoy and a tackle-for-loss from Major Wright to make it third-and-16 at the three-yard line. Hoyer converted with a 28-yard completion to Miles Austin; had the Bucs' defense held there, the offense very well could have had a short field to try to build on its lead.
Heads. Tampa Bay's running game was good on Sunday, no doubt about it. The Bucs were facing the league's 30th-ranked rush defense and they took advantage earlier, with Bobby Rainey repeatedly ripping off runs between five and nine yards. A longer Rainey run, for 21 yards over left guard in the second quarter, was the big play that set up Mike Evans' first touchdown.
By halftime, the Buccaneers already had 96 rushing yards and were averaging 5.3 yards per carry. Most of that was provided by Rainey. The ground game was working on two levels – one, the offensive line was giving Rainey a chance to get past the line of scrimmage before he got hit and, two, Rainey was then making second-level moves to tack on extra yardage.
Tails. The second half was a different story.
Tampa Bay gained just 17 yards on the ground after the break. Rainey, who had 80 at halftime, finished with 87. The tried eight plays on the ground and averaged just over two yards per carry. There was the aforementioned failure on a third-and-one run near midfield in the third quarter. The Bucs ran on each of their first two first-and-10 situations in the second half, but got a total of negative-one yards on those two plays. They ran on another first-and-10 near the end of the third quarter and got three yards from Mike James, then threw incomplete on third-and-two.
Tampa Bay's longest run of the second half was a four-yarder by Rainey. The team did not elect to run on any of three plays after reaching second-and-one at the Cleveland 37 on its last drive. It's fair to say that game situations dictated some of the play-calling in the second half, and the Bucs played well enough on offense to be in position to win it at the end. Still, Tampa Bay might have had a better shot at making its third-quarter lead stick if its running game was as effective in the second half as it was in the first.