STORY HIGHLIGHTS
Rookie WR Mike Evans had a huge day against Washington but the Bucs had several other standout players Sunday
DE Jacquies Smith had two of the Bucs' six sacks and also forced a fumble
T Anthony Collins provided good protection and LB Orie Lemon stood out on special teams

As you may have heard, young Mike Evans had *a day* on Sunday in Landover, Maryland. It would be a stretch to call it a "coming-out party" for the Tampa Bay Buccaneers rookie receiver, since he was coming off back-to-back games in which he racked up at least 124 yards and one touchdown. Somehow, though, Evans managed to up the ante, leading the Buccaneers to victory over the Washington Redskins with seven catches for 209 yards and two touchdowns.
There is a lot to be mined out of those numbers, including the fact that Evans is the first rookie since Randy Moss in 1998 to record three straight games with at least 100 receiving yards and at least one touchdown. That's a nice connection for Evans because, as he almost sheepishly told us just a couple days ago, Moss was his football hero growing up.
You can continue to break down Evans' performance on Sunday and over the last three weeks in a number of ways, and it's a pretty fun exercise, to be honest. He broke the Bucs' single-game receiving yardage for a rookie, for instance, and he's the youngest player in NFL history with a 200-yard receiving game, and he's the first Buc with two 50 -yard catches in the same game since Antonio Bryant in 2008 and…whew!
Seriously, it goes on and on. At one point on Sunday, when Evans was loping all over FedExField, it was legitimately hard to keep up with the slot-machine numbers.
So, Mike Evans was great on Sunday, and almost surely the game MVP. But the Bucs wouldn't have won27-7 without several other players turning in outstanding efforts. And, as much as we'd like to keep flinging out Evans notes like an oscillating lawn sprinkler, what we're here to do now is look at some of the other Sunday stars for Tampa Bay. How did the Buccaneers end up with their most dominant effort of 2014, the kind of game they've been trying to play all year? Well, the four men below had a lot to do with.
A quick note: We're going to spot you QB Josh McCown, because you don't have a huge day for any receiver if the football distributor isn't on his game, as well. Evans' two touchdowns were scored on beautiful touch passes from McCown; in both cases, the rookie receiver never had to break stride. We'll also spot you All-Pro defensive tackle Gerald McCoy. McCoy had 1.5 of the team's six sacks and it's a safe bet that he was a key part of the swarm on several of the other takedowns of Robert Griffin III. Picking McCoy would seem like cheating. And, finally, we'll lay off CB Johnthan Banks. Any time you have a pick-six, you're not exactly under the radar. So with that said…
Here are "Four Stars from Sunday's Game NOT Named Mike Evans:"
The Bucs had a season-high six sacks on Sunday, and the most impressive part was that six different players, all defensive linemen, pitched in on that total. Leading the way was Smith, who came into the game with one career sack.
Smith took Griffin down twice, and they were both big plays. Early in the second quarter, Marcus Thigpen muffed a punt and the Redskins recovered at the Bucs' 17. They got a first down at the six but then committed a penalty and surrendered a 10-yard sack to McCoy. The result was a third-and-goal from the 20, which is obviously not a high-percentage play. Still, Washington could have easily completed a short throw underneath to set up a chip-shot field goal. Instead, Smith flew in for the quickest of the Bucs' six sacks on the day, burying Griffin for a loss of nine that made the resulting field goal try a 47-yarder. Kai Forbath missed it by a hair, and the Bucs held on to their 13-point lead.
Smith's second sack wasn't as much of a game-changer, in that it came in the fourth quarter with the Bucs up by 20 points. Still, it was just as much of a momentum shifter. The Redskins had gotten off to a good start with a 12-yard Morris run and a nine-yard Griffin scramble, reaching midfield. That's when Smith struck again, dropping Griffin for a loss of six on first down. Moments later, it was fourth-and-17 and the Redskins punted despite being three scores down.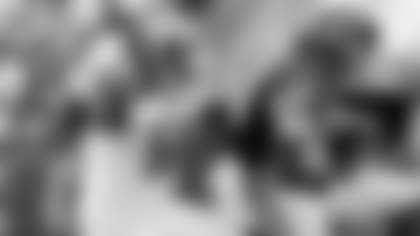 DE Jacquies Smith had two of the Bucs' six sacks and also forced a fumble Sunday against Washington
Smith also had a hand in a one of the Buccaneers' three key turnovers, and it was the result of a hustle play. Washington's most successful dimension on offense was swing and screen passes to running backs Roy Helu, Jr. and Alfred Morris. With about four minutes to go in the second quarter, Helu caught a short pass out to the right and sped upfield for a gain of 13. Smith, who had started the play on pass rush, pursued Helu from behind and managed to knock the ball out of his hand. Akeem Spence recovered for the Buccaneers to erase a scoring threat.
Collins returned to the Bucs' starting lineup after missing two games due to a foot injury. As usual, he finished the game with no statistics; such is the life of an offensive linemen in game that generates a never-ending stream of numbers.
It is possible, of course, to use film to break down the effectiveness of any player on the field during a football game, including offensive linemen. Buccaneer coaches will do just that on Monday, and for the fans there are such resources as Pro Football Focus and Football Outsiders. At some point, grades will be assigned to the five Buccaneer offensive linemen.
In the meantime, consider this: No offense is going to be even remotely effective without good work from the men up front. Josh McCown threw for 288 yards and two touchdowns, and he couldn't have done it without the proper protection on most of his drop-backs. McCown was sacked twice, but that wasn't indicative of a serious amount of pressure. One came on what might be considered a lucky swipe of the hand by Trent Murphy on a forced fumble in the first quarter, and the second occurred in what is often called "garbage time." In this case, it's a fair title. On first-and-10 from the Washington 40 with seven minutes to play, McCown faked a handoff to RB Charles Sims and then tried to spin and roll in the opposite direction. The ruse didn't work as Washington's defense was all over it, and McCown alertly slid to the ground to kill the play. The statistical result was a two-yard sack.
Otherwise, McCown usually had time to throw, against a defense that came into the game with 23 sacks, and Collins had a lot to do with that. That was the storyline, in fact, on the play that put the game away. On second-and-20 from the Tampa Bay 44, the Bucs snapped the ball and faced a big blitz from McCown's blindside. The Bucs' offensive line picked it up and McCown had enough time to see Evans sprinting downfield with only a linebacker in pursuit. Here's how McCown described the play:"
"That was completely [the] offensive line. The way that that reads out is a little different typically. What we saw is a way that they cheated the coverage, and doing so left [wide receiver Mike Evans] on a linebacker. The thing is if you can have an extra click, you can do that. You don't have time to see all that happen. That's hats off to the [offensive] line, they allowed that to happen."
The Bucs' offensive line gave McCown time to throw all day, but did commit a handful of penalties and didn't create much of a rushing attack. That said, Collins did a very good job of protecting McCown's blind side and he was not responsible for any of the O-Line penalties.
Butler's entire stat line from Sunday's game read like this: four solo tackles. That hardly seems like a star turn on a day that included a 200-yard receiving game, six sacks, three turnovers and one defensive touchdown.
But let's look at Sunday's numbers in another way. Let's look at what we don't see in the final stat tables.
The Buccaneers came into their Week 11 road contest ranked __ against the pass, and with starting left cornerback and 2013 Pro Bowler Alterraun Verner sidelined by a hamstring injury. They were facing a top-10 NFL offense that featured a quarterback good at extending plays, a receiver (Pierre Garcon) who had 113 catches last year and perhaps the NFL's best deep threat (DeSean Jackson).
Given all that, it's rather stunning that the Buccaneers gave up a season-low 167 net passing yards. Griffin threw for just over 200 yards, but a good chunk of that came on short passes to running backs that were essentially long handoffs. Helu, Morris and RB Silas Redd combined for 102 of Griffin's 207 gross passing yards. Meanwhile, Jackson and Garcon had a combined five catches for 41 yards.
The outstanding pressure that the Bucs' defensive line generated was obviously a gigantic help for Butler and the rest of the secondary. Still, both ends of that Buccaneer defense frequently stress how the pass rush and the pass coverage are connected. Surely some of Tampa Bay's pressure up front on Sunday was the result of good coverage downfield. We'll give the credit here to Butler, since we've already skipped Banks; Butler can accept the award on the behalf of the Bucs' entire secondary, which had its best afternoon of the season on Sunday, even without Verner.
You'd have to be paying close attention to the Bucs' 2014 transaction list to be familiar with Lemon and his role on the team. The Bucs grabbed the third-year linebacker off Kansas City's practice squad on October 23, when Brandon Magee was ailing and the team needed depth at the position and on special teams. Lemon played in the next three games, notching one kick-coverage tackle.
The Bucs liked Lemon as a mid-season fill-in because he had familiarity with their systems. He had played parts of two seasons in Dallas in a very similar defensive scheme, and he had also crossed paths with Tampa Bay Special Teams Coordinator Kevin O'Dea in Kansas City. It was believed that Lemon could step right in and hold his own.
He did more than that on Sunday at FedExField, racking up three solo tackles on special teams. That's more important than it sounds. Punter Michael Koenen had a good day on the Redskins' turf, dropping two punts inside the Washington 20 and hitting five of his six kickoffs into the end zone. However, Washington return man Andre Roberts chose to take most of those kicks out of the end zone, which meant the Bucs had to do a lot more on kick coverage than usual.
Cue Orie Lemon. Three times Roberts took a kick out from at or near the goal line, each time cutting hard up into an apparent gap in the middle of the field. On each occasion, Lemon came around from the edge and dropped Roberts before he could break out into the open.
Lemon is the only Buccaneer who has had three solo special teams tackles in a single game this year, and that's more important than it sounds. Note this: Tampa Bay's average drive start on Sunday was its own 33-yard line, while Washington's average drive start was its own 23-yard line. That's a significant difference.  And on a day when Koenen's kickoffs weren't forcing as many touchbacks as usual, Lemon helped make sure that wasn't a problem; his three tackles led to an average kickoff drive start of the 20-yard line for Washington on Sunday.