STORY HIGHLIGHTS
The Bucs' Week 17 game could be critical to the final outcome in the NFC South
Mike Evans is in the running for Offensive Rookie of the Year and could be part of an historic Buccaneer duo
LB Lavonte David filled up a stat line Sunday in Charlotte and has a chance to finish the season strong

Your Tampa Bay Buccaneers are 2-12 with just over two weeks to go before the new year. You didn't see this coming. The Buccaneers definitely didn't see this coming. By this point of the year, we were supposed to be agonizing on Sunday afternoons over whether we should get our holiday shopping done or watch the Bucs battle for an NFC South title and a playoff berth.
That's not the case, and if that happens to make your shopping season a little easier, so be it. But there are reasons to stay tuned in over the next two weeks, even if you're disappointed in the season as a whole. These are practical things, not trumped-up reasons for you to feel better about 2-12. No matter how you feel about the way the Buccaneers have performed in 2014 or how they're set up for 2015, we can all root these four potential outcomes.
So consider this a viewing guide for the next two weeks. As you root for your Buccaneers to finish the season with wins over the Green Bay Packers and New Orleans Saints, you can also get behind these four people or groups in order to make everybody in Buc-land happy:
4. The Titans, Jaguars, Raiders, Redskins and Jets
As soon as the 2014 season is over, the Buccaneers' unhappy win-loss record will flip into a positive, at least in terms of the 2015 draft. Right now, Tampa Bay is locked into one of the top six picks in the first round, and obviously that draft placement can have a big impact on what the Buccaneers add to their roster for next season.
That fact is of exactly zero relevance to Lovie Smith and the rest of Buc management over the next two weeks. The Buccaneers wanted very badly to win in Charlotte on Sunday night and they will be doing all they can to finish the season on a two-game winning streak. Tanking isn't really an issue in the NFL – just review how the 2-11 New York Jets and 2-11 Tennessee Titans fought to the end on Sunday – and it is certainly no consideration at One Buccaneer Place. The absolute best-case scenario for the Buccaneers is a 4-12 finish to the season.
What the Buccaneers cannot control, and likely won't pay much attention to, is how the other teams at the bottom of the NFL standings finish out the last two weeks. There are three other 2-12 teams heading into Week 16, with the Tennessee Titans and Jacksonville Jaguars playing each other in Florida and the Oakland Raiders playing host to the Buffalo Bills. In addition, the 3-13 Washington Redskins will play at home against Dallas (a heated rival) and the 3-13 New York Jets will travel to Miami.
What Buccaneer fans should be rooting for over the next fortnight is for the those five teams to win as much as possible over the next two weeks. Personally, I can't root for the Buccaneers to lose; winning every Sunday still feels critically important, no matter what it means in the standings or the next year's draft order. But there's nothing wrong with hoping that all the other teams in the potential top five of the draft do well at the same time.
3. Mike Evans and Vincent Jackson
We're not here to suggest that you revel in some corner of the Buccaneers' stat table while ignoring the most important number in the "wins" column. There are a variety of Tampa Bay players who could hit statistical milestones over the next two weeks, but we won't dwell on all of those possibilities.
That said, there is enjoyment to be had in rooting for a strong finish from perhaps the best pair of wide receivers in franchise history. If you're willing to take heart in any numbers from this season, we suggest you start right here.
First, there's the franchise pride in watching Evans chase the NFL Offensive Rookie of the Year award in an incredibly heated competition. Wide receivers are usually not the front-runners for this honor – players at that position have won it just three times in the last 20 years – but this year the wideouts clearly have the upper hand. In fact, it seems likely that the award will go to either Evans, New York Giants WR Odell Beckham or Carolina Panthers WR Kelvin Benjamin.
After the Week 14 games, Beckham had the yardage lead over the other two, with 972 to Benjamin's 952 and Evans' 948. Evans had 11 touchdowns to nine each for the other two. Evans was posting 16.1 yards per catch to 14.2 for Benjamin and 13.7 for Beckham. The Giants receiver had the league in yards per game, at 97.2.
One could make an argument for any one of the three at this point…but maybe we won't have to. When all 16 games have been played, one of the three might stand out above the rest, and we can certainly root for that young man to be Mike Evans.
Meanwhile, Evans has just 17 more yards than his teammate, Vincent Jackson. Evans needs 52 yards and Jackson needs 69 over the next two games to reach 1,000 on the season. At this point, it seems like a very good bet that both players will hit four digits in that category. If so, they will be the first pair of Buccaneer receivers to accomplish that feat in the same season. And that's definitely worth rooting for, as a significant statistical accomplishment and as a good sign for the future of the Bucs' passing game.
2. The New Orleans Saints
The Buccaneers could have dealt a serious blow to the Carolina Panthers' division title hopes with a win in Charlotte on Sunday, and they nearly pulled it off. Instead, the Panthers improved to 5-8-1 and technically moved into first place with their victory, because the Atlanta Falcons lost to fall to 5-9 and the 5-8 New Orleans Saints are waiting until Monday night to play at Chicago.
Next Sunday, Carolina stays home to play the Cleveland Browns, who lost 30-0 in Week 15 behind the first start from rookie QB Johnny Manziel. Considering that result, and with the Browns having lost three and four and slipped to the very fringes of the playoff race, it's likely that the Panthers will be favored in that game. After that contest, the Panthers travel to Atlanta, to face a Falcons team that will be coming off a tough and critical game at New Orleans.
Any number of win-loss combinations could happen next week, but the best-case scenario for the Buccaneers is that the Panthers take down the Browns and the Saints re-discover their Superdome magic against the Falcons. If that were to happen, Raymond James Stadium would suddenly be a very important place on the final day of the 2014 regular season.
Ever since being officially eliminated from the playoff hunt in Week 14, the Buccaneers have talked about matching the playoff-level intensity of their foes who are still in the running. They certainly did so on Sunday in Charlotte, even if the final outcome wasn't to their liking. What could be better than facing a team on the final weekend of the season that believed it absolutely had to win in order to get into the postseason. As we noted in last Friday's Football Geekery column, true spoiler situations have been few and far between in Buccaneer franchise history.
Buccaneer fans should be rooting for the Saints to keep winning so that, if Carolina takes down Johnny Football, everything will be on the line on December 28 at Raymond James Stadium. The Bucs will be kicking off at the same time that the Panthers kick off at Atlanta, so the entire division will be in action with the title very much up for grabs. As much as the Bucs would like to have a shot at that crown, it would at least be entertaining to help determine how it all plays out.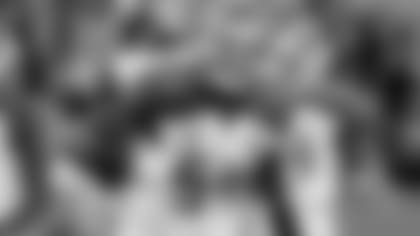 LB Lavonte David earned first-team All-Pro honors in 2013
Gerald McCoy was chasing double-digit sacks, and probably had a great chance of getting there, before suffering a knee injury early in Sunday's game at Charlotte. If you're a Buccaneers fan and want to root for anything beyond what happens on the field, the relatively low impact of McCoy's injury would be a good place to start.
McCoy is one of two core players on Tampa Bay's defense who were chosen as first-team Associated Press first-team All-Pros last year. The other was outside linebacker Lavonte David, who didn't get a Pro Bowl invite due largely to the conflation of his position with that of pass-rushing 3-4 OLBs. David was justly recognized by AP voters for a season in which he ranked among the league's tackle leaders and also had six sacks and five interceptions.
David was well on his way to being the NFL's tackle leader in 2014; he was tied with Carolina's Luke Kuechly at 116 after 11 weeks, and Kuechly's team was heading into their bye week. However, a hamstring injury then knocked the Bucs' All-Pro out for two weeks, and he lost a quarter of play in Detroit in Week 14 after he hit his helmet on a Lion receiver's knee. Even with that disadvantage, David came into Week 15 tied for third in the NFL with 121 stops, 11 behind Kuechly's 132. David made up some ground on his Panther competitor in the Bucs-Panthers game, getting 12 stops to Kuechly's six.
Even with those two missed games, one shouldn't put it past David to lead the NFL in tackles. That's a worthwhile goal in itself. What was more significant about his performance on Sunday is that it also included a series of big plays. David registered a big third-down sack on a rare blitz, he broke up a pass downfield, he forced a fumble (that unfortunately was recovered by the Panthers) and he had two tackles for loss.
David was a big-play machine in 2013. He has been just as strong of a performer in 2014, but that aforementioned injury and a relative lack of splash plays has made his current season seem a bit less impressive. David's sack on Sunday was his first of the season; perhaps his first interception will come next Sunday. Anything that would draw more attention to how dominant David can be would be a good thing for him and the Buccaneers. It might even lead to his first Pro Bowl berth, and/or a repeat of his All-Pro honors from 2013.