Jens Ellermann (right) with his wife Linn (left) at a Bucs home game.
---
For the past 21 years, Jens Ellermann has developed an annual tradition of traveling across the Atlantic to see his favorite team, the Tampa Bay Buccaneers, take the field. Ellermann, who resides in Germany, has planned his vacations around the Bucs' schedule for more than two decades, with this year's trip being his honeymoon with his wife, Linn. The two were married in September.
Jens grew up playing football in Germany as a quarterback and safety. As his interest in the sport grew, he was drawn to the United States to see NFL action with his own eyes.
"I started to be a Buccaneer fan 21 years ago," Ellermann said. "That's when the connection with the Buccaneers starts. I played American football in Germany and after I was 18 a friend and I decided to come to America to watch some NFL games. We started coming down here to Tampa and we kept coming down. We've developed some good friends down here over the years. Raymond James Stadium now feels like home."
Jens and Linn arrived in Tampa a few weeks ago and were present at the Bucs' games against the Raiders and Falcons. They will remain in Tampa through the weekend, taking in the Bucs' Week 10 game against the Bears before returning home.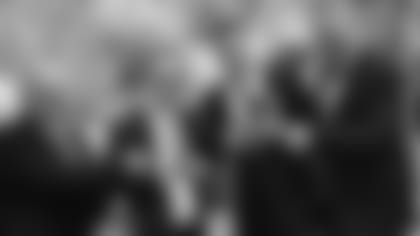 Ellermann (second from the right) pictures at his wedding.
---
While in Tampa, both Jens and his wife participated in the Buccaneers' annual Treasure Chests 5K Run/ Walk. Jens won the Master's division and, with that, was selected to participate in the coin toss before the Bucs' Week 8 game against the Raiders.
"It was really funny, because our plane landed that Friday and in Germany is was 30 degrees," Ellermann said. "In Tampa it was 80. It was tough to run that.
"For me, it was an unbelievable feeling to go out on the field with the players and be a part of the coin toss. I probably missed some of it because I was so excited, but it was great."
Jens and Lenn will have been in Tampa for 19 days before they return home, and hope to see the Buccaneers improve to 4-5 before they do. It will be Jen's 50th Bucs game.
"We leave on Tuesday," Ellermann said. "We'll be here for the Chicago game. Hopefully, we'll be there for a win at Raymond James."