STORY HIGHLIGHTS
The Bucs want to play a more physical brand of defense and the return of S Dashon Goldson should help with that
Goldson has missed two-and-a-half games with an ankle injury but was back in practice on Wednesday
Strong coverage in the secondary on Sunday would help the Bucs pressure rookie QB Teddy Bridgewater into mistakes

The Tampa Bay Buccaneers' defense has struggled far more than was expected through the first 37.5% of the season, and there is one change in particular it plans to make for the remaining 62.5%. The Buccaneers, that is, are determined to play a much more physical brand of football.
As it so happens, the Buccaneers are getting hard-hitting safety Dashon Goldson back in the mix just as they begin that effort. Cue Mr. Goldson, as Bender said to Claire in The Breakfast Club: "Wouldn't I be outstanding in that capacity?"
"I'm definitely going to put it on my shoulders as one of the leaders and the experience I've got," said Goldson on Wednesday, after his first practice since an ankle injury in Pittsburgh knocked him out of the next two games. "I'm definitely going to take a lot on my shoulders going into the rest of the season [and] set the tone."
Goldson, of course, is known as a hard-hitting presence in the secondary, and even if some poorly-targeted shots led to a series of fines last year he still has the ability to be a clean but intimidating force for the Buccaneers.
"He's one of our best players," said Head Coach Lovie Smith. "Yeah, we haven't been as physical as I'd like for us to be – as we would like to be. He's a physical player. Leadership, experience, all of the above. We came into the season, he was one of our guys. So now to kind of have the team that we envisioned coming in, he's a big part of that. We haven't played the pass as well as we need to – that's been documented."
Goldson was limited in practice on Wednesday and he wasn't yet ready to say he would be in the lineup or at 100% on Sunday against the Minnesota Vikings. That's clearly what the Buccaneers are hoping for, though, and Goldson was encouraged by his first work since late September.
"It felt good," he said. "It felt great to be back out there. I've got to work out the kinks – been out for a little bit – but it definitely feels good being out there with my teammates, preparing for a football game. We're coming off the bye week and we're going to focus on what we can control from here on out. We've got Minnesota this week and the rest we'll prepare for them later."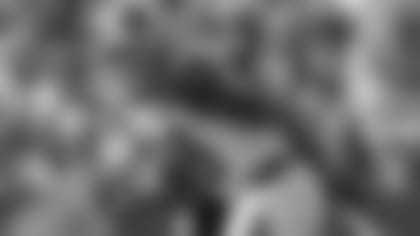 S Dashon Goldson has missed the Bucs' last two games with an ankle injury
Goldson said he still believes the Buccaneers' defense can be a force in 2014 if everybody involves focuses on knowing and executing their assignments. Tampa Bay's defense has surprisingly sunk to the lower regions of the league rankings, and while Goldson has missed about two-and-half of the games that made that happen, he was on the field for the team's disappointing Thursday night game in Atlanta. What he's seen from the tape of that game and the ones that followed is what many of his teammates have echoed since the start of the bye week: There have been too many individual breakdowns – by nearly everyone at some point or another – for even a talented group to succeed.
"We definitely know we have to take it day-by-day, and especially play-by-play," said Goldson. "I know everybody says that, but if you really look at the film we take our turns busting plays and not doing our responsibilities, and it shows. You've definitely got to play sound football across the board to give ourselves a chance.
"[We have to] make sure guys keep their poise. When things get up on us, we can't lose our heads. Focus on what we learned up to that point and then rely on your basics and the fundamentals."
If he does indeed suit up on Sunday, Goldson will be returning just in time to help his team try to take advantage of an inexperienced quarterback. In three starts, Vikings rookie Teddy Bridgewater has displayed some of the impressive potential that made him a first-round pick in this year's draft, particularly in his 313-yard starting debut against Atlanta in Week Four. In the last two games since returning from an ankle injury, however, Bridgewater has been sacked 13 times and picked off five times.
That doesn't automatically mean the Buccaneers' defense will rack up more picks and sacks this week – they've had no sacks the past two games and only four interceptions on the season – but it certainly seems like the opportunity is there. Goldson says it will be up to his group on the back end to provide the type of coverage that will lead Bridgewater into trouble.
"I think coverage is going to be vital this week," said Goldson. "We're playing against a young guy and he doesn't have all the answers yet, but he's definitely talented and has a lot of potential. With guys like that, you definitely want to let the coverage work for you and let the rush get to him. We've got to take care of each other back there, the cover guys let the rush get there, and the rush take care of the coverage."