STORY HIGHLIGHTS
The Brooks DeBartolo Collegiate High School announced its new capital campaign to build an athletic complex Friday
NFL Commissioner Roger Goodell, the keynote speaker at the event, is a big supporter of Derrick Brooks' educational efforts/
BDCHS, founded in 2007 by Brooks and Edward DeBartolo, Jr., has received an A grade from the FDOE for four straight years


The Brooks DeBartolo Collegiate High School, founded in Tampa in 2007 and originally housed in an old Circuit City store, is named after its co-founders, Derrick Brooks and Edward DeBartolo, Jr. Brooks is a former star linebacker for the Tampa Bay Buccaneers and a soon-to-be-inducted Hall-of-Famer, while DeBartolo is the famous former owner of the San Francisco 49ers, patriarch of an NFL dynasty.
Given that combined pedigree, Brooks knew that some in the Bay area community would assume that their intention in creating the school was to one day build a Florida prep football juggernaut. Instead, BDCHS weathered some early growing pains, eventually found a more suitable location and in relatively short order developed into an academic powerhouse. In fact, BDCHS is one of only two high schools in all of Hillsborough County that has received an "A" grade from the Florida Department of Education in each of the last four years.
Now, however, the school's namesakes believe it's time for athletics to catch up with academics on their campus, and as such they have kicked off a capital campaign to build an athletic complex on campus. BDCHS currently fields teams in 16 sports, but all save two of them are forced to play all their games at other schools. Providing an athletic facility for these student-athletes, says DeBartolo, is necessary to make it "a true high school."
There is enormous support for this endeavor, in the Bay area community and beyond, and that was most notably evident at Friday's Brooks DeBartolo Collegiate High School Champions' Breakfast, which just happened to feature NFL Commissioner Roger Goodell as its keynote speaker. Other attendees included Buccaneers Co-Chairman Bryan Glazer, Head Coach Lovie Smith and General Manager Jason Licht; Tampa Mayor Bob Buckhorn; Hall of Fame President and Executive Director David Baker and former 49ers stars Keena Turner and Eric Wright.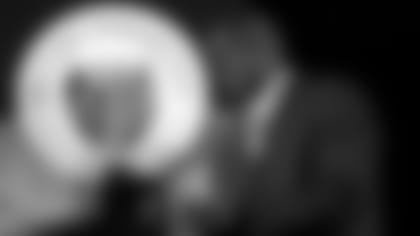 BDCHS co-founder Derrick Brooks said he was humbled by the support for his school by the likes of NFL Commissioner Roger Goodell
"I'm very humbled that you can get people – leaders, the Commissioner, Lovie – to go out of their way to give their time to give back to our cause," said Brooks, who admitted to getting emotional on Thursday night as he contemplated Friday's event. "We've embarked on an educational journey and when I look at how we started, we're educating our kids but our parents and kids have really poured [their hearts] into an athletic program. And we've got to catch up. We've got to use an athletic program to catch up to our athletic program, and that truly embodies the word 'student-athlete' in my mind."
The Champions' Breakfast recognized seven community leaders that had been researched and identified by BDCHS students, but also served as the official kickoff for that capital campaign. The event drew thousands of supporters to a downtown Tampa ballroom and included a heartfelt and frequently funny turn at the podium by Brooks as well as a lengthy question-and-answer session with the NFL commissioner. Goodell openly discussed a variety of league-related topics, from Super Bowl sites to playoff expansion, but it was clear his primary purpose in attending the event was supporting the development of BDCHS and schools like it. Despite an endlessly busy schedule, Goodell said he didn't hesitate to accept when Brooks called with an invitation.
"I have great admiration for him, not just as a player but as a man," said Goodell of the 11-time Pro Bowl linebacker. "He's a friend, he's somebody that I admire and respect tremendously. What he's doing in this community, it's really quite extraordinary. To partner with Eddie DeBartolo – I think they're really making a difference in the community. It's something that I'm very proud of, and I want to make sure I'm supporting both of them."
DBCHS moved to its new location not far from downtown in 2012 and has since seen its enrollment balloon from 172 students to more than 430, strengthening Brooks' resolve to offer a more complete high school experience for his charges. Smith, whose own experience in high school athletics set him on the path that led to his success in the NFL, understands the importance of that.
"Yes, it's very important," said Smith, who was Brooks' position coach with the Buccaneers from 1996-2000. "We do have to support sports because it teaches so much about character, being a team player. I feel like everywhere there's a school you should have some type of great athletic program, so it's good to help raise some funds to help out the program there."
Smith and the others are helping what both Brooks and DeBartolo termed "a labor of love." DeBartolo said the school is putting the athletic complex project on the fast track, and that he and his partner would ensure that the Phoenix is competitive in sports.
"[The school] started off slow," he said. "We had the school in a location that really didn't work, but we weren't going to give up on our dream. It is now where it is, we have this campus now and this sports program. Walking through the school, it's heartwarming, it's a dream, even for me and for Derrick, to see the kids and the smiles on their faces, and know they're going to go on and go to college and make something of themselves. Having the commissioner here to help us kick off this campaign, it's unbelievable and it shows you what he and the league office, how they feel about things like this. I think it's great for the community."