STORY HIGHLIGHTS
T Demar Dotson and the Bucs' O-Line would like to finish the season on a strong note after a rough Week 16
Members of the local media presented Dotson with their annual "Good Guy Award" on Tuesday
The Bucs added former Raiders S Shelton Johnson to the practice squad, addressing an area of need

Of the four players who have started every game for the Tampa Bay Buccaneers this season, three are offensive linemen: tackle Demar Dotson and guards Logan Mankins and Patrick Omameh. In addition, center Evan Dietrich-Smith has missed just one outing. (The other 15-game starter is, not surprisingly, durable wide receiver Vincent Jackson.)
That relative lineup consistency came after an enormous offseason shakeup in which four new starters were brought in, leaving only Dotson in place at right tackle. Dotson, who has actually switched to left tackle for the final three games of the 2014 campaign, understands that each offseason is going to bring its own percentage of change. Given the Buccaneers' poor numbers in the running game and – lately – in protecting the passer, it would not be surprising to see some of that change come to the offensive line once again.
And if that is going to be the case, Dotson doesn't want the final impression of his group to be the Green Bay game, which was perhaps the team's least successful effort up front. The Bucs rushed for just 16 yards while allowing seven sacks of quarterback Josh McCown. Fortunately, the current line has another chance to make a much stronger impression.
"I think that we know we've got one more opportunity to put it on film," said Dotson. "This will probably be the last time that we'll all be together as a whole offensive unit. So that means we've just got one more opportunity [to] just go out there and fight and give it everything we've got. So we'll all make the best of it."
Individually, most players on a losing team late in the season understand the concept of "fighting for jobs" in the upcoming campaign. For the offensive line, though, cohesiveness and chemistry are important to how well things turn out on game day. Dotson, Mankins, Dietrich-Smith, Omameh and new right tackle starter Oniel Cousins can all help each other by being at the top of their games in the season finale.
Of course, the level of difficulty in that regard was raised by Dotson switching sides. It was definitely an understandable move by Lovie Smith's staff, with Anthony Collins battling injuries and not performing at the level expected at his signing last March. Smith has said that Dotson has some of the most desirable traits for a left tackle, including size, a long reach and quick feet. That doesn't mean an in-season transition will go off without a hitch, however.
"It's just a lack of reps over there, not working over there and lack of experience over there and not feeling as comfortable as I want to," said Dotson. "That's the biggest thing. But it all takes time and I'll get there. I know I will.
"I was up for the challenge though. Nobody expects me to be perfect – just go out there and fight and keep getting better. It wasn't anything I couldn't handle. So with the right time and work and effort, I'll be good over there."
Dotson has had two games on Josh McCown's blind side now, and neither one was an easy task. Carolina's pass rush features Charles Johnson and several other talented players, while Green Bay brought in a less familiar 3-4 front powered by Clay Matthews and Julius Peppers. The numbers from the Packer game were not good, overall, but Dotson does think he took a step forward.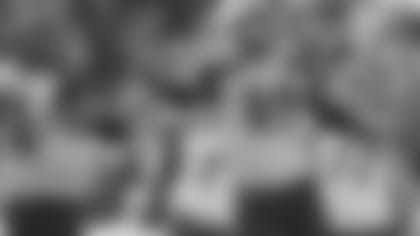 T Demar Dotson and the rest of the Bucs' offensive linemen can help each other with cohesive play in the season finale
"I felt more comfortable than the first time, so I think that I'm starting to get more comfortable," he said. "So a little more reps and keep working at it, I'll keep getting better at it."
The Bucs' hopes of finishing the season with a momentum-building win could hinge on how comfortable Dotson and his fellow linemen make McCown feel in the pocket on Sunday.
* That Dotson was willing to speak with the media about Sunday's rough outing on Tuesday was no surprise. The sixth-year veteran – and now one of the longest-tenured players on the Bucs' roster – has been a consistent presence in the locker room during media sessions this season. In fact, the local members of the Pro Football Writers of America were so appreciative of Dotson's assistance this season that on Tuesday they presented him with this year's "Good Guy Award."
ESPN.com's Pat Yasinskas presented Dotson with the award, which is "designed to recognize the player that's most cooperative and helpful to the media." Defensive tackle Gerald McCoy won the first such Good Guy Award last season.
"Demar's a guy that just shows up, win or lose," said Yasinskas. "He's always honest and accountable and accessible. That's really all you can ask for in a player. He helps us do our jobs, and that helps the fans get to know what's going on with the team."
Dotson's NFL story is an interesting one, as he has developed from a very raw prospect into one of the Bucs' core players. The Buccaneers signed the Southern Miss product in 2009 as an undrafted free agent even though he had played all of six college football games after focusing most of his college career on basketball. He was an intriguing reserve until 2012, when he stepped into the starting lineup at right tackle in Week Two. Dotson became a stalwart there, starting every game at right tackle for the Bucs until two weeks ago, when his ascending NFL career took another turn with a switch to left tackle. Dotson's play over the final three games of the season could convince the team to leave him at that extremely important position in 2015.
Dotson's role as a team spokesman has developed just as steadily.
"Last season, you had Donald Penn and Davin Joseph [in the locker room], and I think Dotson kind of deferred to those guys," said Yasinskas. "Now I think he's taken on more of an elder statesmen type of role this year."
*The Bucs filled one of two open spots on the practice squad on Tuesday, and as usual the move addressed an area on the active roster that recently lost some depth.
Tampa Bay's newest contributor is first-year safety Shelton Johnson, whose only previous NFL team is the Oakland Raiders. Johnson, who played his college ball at Wisconsin, signed with the Raiders as an undrafted free agent in 2013 and spent most of his rookie year on Oakland's practice squad. He did get promoted to the active roster for the final four games of the season, however, and was able to pitch in with one tackle, one fumble recovery and three stops on special teams.
Johnson (6-0, 195) spent the 2014 offseason with Oakland, as well, but was waived midway through the preseason with an injury settlement.
The Buccaneers' corps of safeties was reduced to three players when Major Wright was placed on injured reserve last Saturday. The addition of Johnson gives the Bucs more players to take the safety reps in practice as well as a potential replacement if one of Dashon Goldson, Bradley McDougald or Keith Tandy suffers an injury. In addition, players who finish the season on a team's practice squad are often quickly re-signed to "reserve/futures" contracts to begin the following offseason.