STORY HIGHLIGHTS
Buccaneers RB Mike James, who was born and raised in Florida, wants to help the state get its anti-littering message out
James is featured on a new billboard for the campaign along with the Jaguars' Jonathan Cyprien and the Dolphins' Brian Hartline
The campaign's "Drive It Home" slogan seeks to encourage motorists to bring their trash home to dispose of or recycle

Mike James was born and raised in what he considers a paradise.  He wants his son to be able to say the same thing.
Michael James III, the 11-month-old son of Mike and his fiancée Aubrey, is the reason that the Tampa Bay Buccaneers' second-year running back has joined in Florida's brand-new Roadside Litter Prevention Education (RLPE) Media Campaign.  And if little Michael was the inspiration for James' involvement, Aubrey was the impetus.
"It's something my fiancée has been getting on me about – recycling and making sure the environment is clean," said James.  "Our son is growing, and we want this environment, this Earth, to be natural and clean and healthy for him.  So I want to do my part, not only as his father, not only as a person in this specific community but as a part of this entire world.  I want to help clean things up and make this a great environment for everyone to live in, including my son.  We call Florida a beautiful paradise, and polluting and littering won't help it out."
James spent the weekend in Tallahassee helping to kick off the RLPE campaign, which is built around the theme, "Drive It Home … Keep Our Paradise Litter Free™."  He and fellow NFL players Jonathan Cyprien of the Jacksonville Jaguars and Brian Hartline of the Miami Dolphins are featured on a billboard promoting the initiative.  James said the billboard will be prominent throughout the state, including the Jacksonville, Miami, Tampa and Polk County, where he was a prep star before attending the University of Miami.
James considers himself fortunate to have remained in Florida as his career has developed, and he hopes to keep it that way.  As such, it's important to him to maintain that paradise, for himself and his growing family.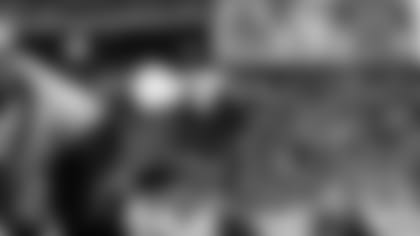 RB Mike James knows how to keep a drive alive on the football field, and he's hoping he can help Florida drive home its message about littering, too
"I was born and raised here," he said.  "I played high school and college ball here, and now I'm in the NFL.  I want to help keep this state clean and beautiful because this is my home.  I plan on living here throughout the rest of my life, God willing."
The anti-littering campaign's clever slogan evokes football and the desire to deliver a clear and strong message, but it's also a very straightforward piece of advice.  According to the Florida Department of Transportation's RLPE release, two out of every five Americans has admitted to littering while on the road.  James says just a little more effort in that situation can make a big difference in the environment, and on the aesthetics of Florida's roadways.
"The slogan is, 'Drive It Home,'" he said.  "Whatever you have in your car, don't throw it out.  Drive it home with you and put it in the trash can or the recycling bin.  Put it somewhere where it can be used to help make the Earth a better place.  Fortunately, I have never found myself [throwing trash out of the car], but even so, it's something I'm paying a lot more attention to now.  Even with biodegradable things, like some food or a piece of candy…sure, it's biodegradable, but what if an animal were to pick it up and it ends up messing with the ecosystem?  And it doesn't look good.  What you do is, you drive it home.
In addition to the representatives from the state's three NFL teams, other professional and amateur athletes from the state are lending their support to the three-year media campaign.  NASCAR drive Scott Lagasse Jr. and PGA Tour Champion Kenny Knox were also in Tallahassee over the weekend to take part in the opening ceremony.  State officials know that high-profile athletes serve as effective role models, helping to spread important messages such as this one to citizens throughout the state.  The RLPE media campaign is aimed primarily at motorists between the ages of 15 and 35.
The RLPE campaign will encourage Florida citizens to:
Set an example and dispose of trash in proper receptacles;
Carry a litter bag in their cars;
Never throw anything out of a car window;
Ensure that trash receptacles are properly covered when placed outside for garbage collection;
Secure their loads when they carry trash or loose items on top of their vehicles; and
Embrace small changes, such as picking up one piece of litter a day.
"Florida is a beautiful state and this campaign will just strengthen our efforts to keep our paradise litter-free," said Lieutenant Governor Carlos Lopez-Cantera. "Let's continue to 'drive our litter home' and keep Florida's roads clean."
For more information on Florida's new Roadside Litter Prevention Education Media Campaign, visit CleanFLRoads.com.