STORY HIGHLIGHTS
While recovering from a fractured ankle sustained last fall, RB Mike James also made an effort to add upper-body muscle mass
James expects to be cleared for a return to action very soon, and he will begin competing with Doug Martin and Bobby Rainey for eventual playing time
Before his injury in 2013, the then-rookie back picked up 295 yards on 60 carries in a four-game span

Very soon, the Tampa Bay Buccaneers' medical staff will clear Mike James to return to practice with his teammates. They'll check the sturdiness of his left ankle, which he fractured on a Monday night last November at Raymond James Stadium. They'll test the strength of the surrounding muscles and tendons and they'll make sure he can sprint, cut and stop without pain. James, who has been running through conditioning drills with his teammates during the first week of the Buccaneers' offseason program, says that day is "very, very close."
It takes no such tests, however, to realize that James has been working hard since his unfortunate injury last fall. All one needs to determine that is a pair of functioning eyeballs.
On Tuesday, as the Buccaneers swung into the second week of their offseason program, James walked into the media studio at One Buccaneer Place sporting a visibly more muscular upper body. While his particular injury obviously kept him from running for a couple months, the second-year running back had no interest in down time. Instead James, who played at about 228 pounds in his rookie season, chose to use the time off his feet to first lose weight and then put it back on in the form of muscle. The result is a new 232-pound frame that is clearly more powerful from the waist up and, he says, just as agile.
"I still feel the same when I'm running," said James. "I don't feel heavy, so that's a good thing. I think I put it on in the right places."
A sixth-round pick out of Miami who was billed as an Earnest Graham-like do-everything back upon his arrival in Tampa, James got a chance to prove he could be an NFL feature back early in his career. He stepped into the primary tailback role at midseason last year after Doug Martin was felled by a shoulder injury. The results were eye-opening: 295 yards on 60 carries over four games, an average of 4.9 yards per carry, an additional 10 catches in the passing game and even a touchdown pass to tight end Tom Crabtree on a gadget play. In Seattle in Week Nine, against the NFL's best defense and in the league's most hostile arena, James ran 28 times for 158 yards, nearly powering the then-winless Bucs to the season's biggest upset. He had another 41 yards on just five carries to start the Bucs' Monday night win over Miami in Week 10, only to go down with his own injury.
What James did best during that span, by his own estimation, was keep the chains moving. He proved to be the type of runner who rarely lost yardage or was stopped for no gain, and that meant fewer second-and-10s and more third-and-shorts. While rehabbing, James obviously decided that he could make that aspect of his game even better if he added more power to his game...and he wasn't exactly a 98-pound weakling to begin with. So he hit the weight room, and he did it with a clear vision in his head.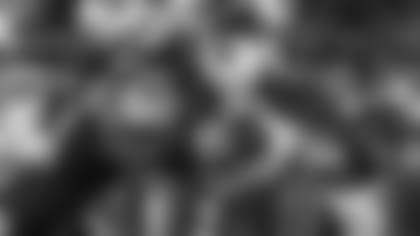 RB Mike James rushed for 158 yards in Seattle in his first NFL start
"You definitely want to be a runner who can create on his own, not only break tackles but make a guy miss," said James. "Maybe I'm not able to get out on the field and do the things I want [while rehabbing], but I can visualize those things. I can do them in my mind and get mentally prepared for them."
James has been back on his feet for months now, running and doing "football-related activities." He says he's still working to get back to top speed, but he's not far from returning to practice. That could be as early as next week, when the Bucs hold their three-day voluntary mini-camp, or it could be a little bit later this spring.
"The healing process is going well," said James. "I've got a good opportunity to do what I need to do to get back in the swing of things and get acclimated with everything. We're just playing it by ear right now, taking everything day by day. I'm doing some different things to make sure the strength [is back]. Health is the most important thing.
"There's no timeline. There's no timeline in life; you don't know how things are going to go, how things are going to play out, but I'm very close."
Martin was recently cleared to return to full activity, as well. He and James will soon join Bobby Rainey on the practice field, as the team seeks to determine how it will utilize it's suddenly loaded offensive backfield. All three backs had at least one 100-yard rushing game last season and all three have a shot to be productive in the Buccaneers' new offense in 2014. Head Coach Lovie Smith has said on several occasions that he believes the team needs to have more than one back involved in the rushing attack, even if Martin is likely to be the lead runner again. Since James was a late-April draft pick last year and Rainey was a midseason pickup, this is the first time all three backs have had a chance to start an offseason together. James said they will all push each other to greater heights.
"It will just raise the level of everybody's competition, make everybody come out and bring their best every day," he said. "That's what we plan to do, and have a good time doing it. I'm not sure [how the carries will be distributed]. By our play, by how we fit into the offense, I guess it will be determined then. We're going to be a run-heavy team, do a lot of running, and hopefully we've got the guys who we can lean on their shoulders so we can do that."