The Tampa Bay Buccaneers lost to the Chicago Bears on Sunday, 48-10, suffering their most lopsided defeat since 2014. As Head Coach Dirk Koetter summarized after the game, "There are three phases in the game, and we weren't good in any of them."
However, as is the case with almost any game, no matter how regrettable, there were some individual achievements of note. Let's take a look at a couple of them.
Jason Pierre-Paul recorded the Buccaneers' lone sack of Mitchell Trubisky, dropping the Bears quarterback for a 10-yard loss in the first quarter, a third-down play that ended Chicago's second drive. It was Pierre-Paul's fourth sack in four games as a Buccaneer, and that puts him in the NFL's top 10 in that category in the first quarter of the season.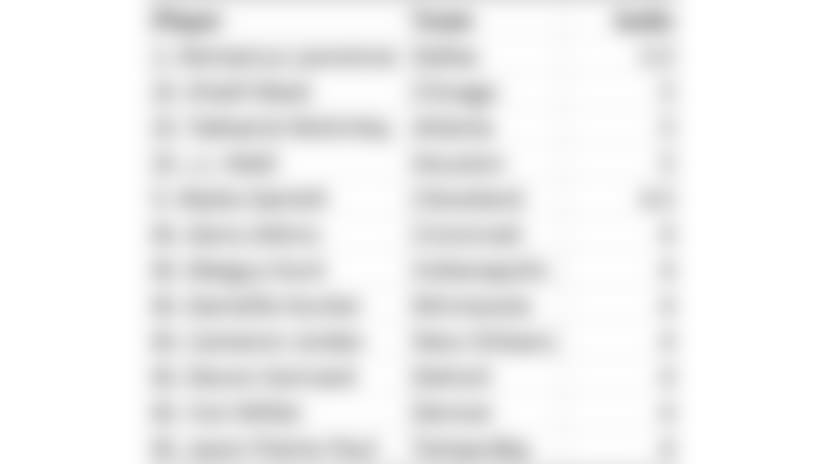 The Buccaneers acquired Pierre-Paul in a trade with the New York Giants in March, and that move has paid instant dividends. Pierre-Paul is nearly halfway to breaking Tampa Bay's drought of individual 10-sack seasons; no Buccaneer has accomplished that since Simeon Rice in 2005. The last Buccaneer to have at least four sacks through the first four games of the season was Jacquies Smith in 2015. The last Buccaneer to hit that mark and then go on to reach double digits by season's end was Rice in 2003.
Pierre-Paul has also hit opposing quarterbacks nine times, which is tied for the NFL lead in that category.
Most Quarterback Hits, NFL, 2018
Pierre-Paul has had at least one sack in each of the Buccaneers' last three games. He's the first Tampa Bay player with such a streak since Lavonte David had a sack in each of the last three games of 2016. Pierre-Paul is the first Buccaneer defensive lineman with a three-game sack streak since Robert Ayers, who did it from Nov. 27 to Dec. 11, 2016.
The Buccaneers' most productive player on offense in Chicago was wide receiver DeSean Jackson, who had receptions of 48 and 42 yards on his way to a five-catch, 112-yard outing. That marked Jackson's third 100-yard game of this season, his fourth as a Buccaneer and his 35th since entering the league as a second-round pick of the Philadelphia Eagles in 2008.
Those 35 100-yard outings are the fifth-most by any player since 2008.
Most 100-Yard Receiving Games, NFL, 2008-18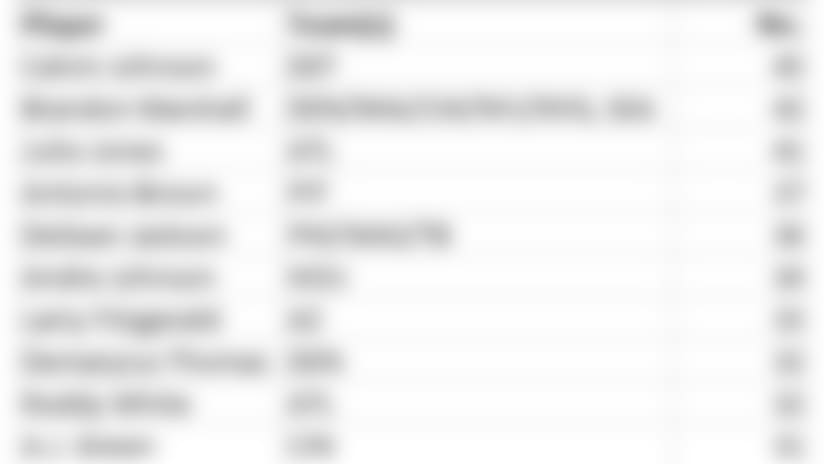 Jackson has 424 receiving yards on the season, which ranks seventh in the NFL but isn't even the Buccaneers' highest total. Mike Evans, who caught six passes for 59 yards on Sunday, just edges that with 426 yards so far. The Buccaneers are the only team in the NFL with two players among the league's top 10 in receiving yards after the first four weeks of the season (prior to Monday night's Chiefs-Broncos game).
Most Receiving Yards, NFL, 2018
Evans has at least six catches in each of the Buccaneers' four games so far. He joins Houston's DeAndre Hopkins, Detroit's Golden Tate and Minnesota's Adam Thielen as the only players in the NFL who have had at least six grabs in all four games so far this season.
This is the first time in Evans's five-year career that he has secured at least six receptions in four consecutive games. In fact, he is just the fourth Buccaneer ever to do so, and the first in 17 years.
Most Consecutive Games with 6+ Receptions, Buccaneers History
Quarterback Jameis Winston relieved Ryan Fitzpatrick at halftime on Sunday, marking Winston's first action of the regular season. In the fourth quarter, he threw a touchdown pass to Cam Brate, the tight end's second score in as many games. Though it was obviously Winston's first TD toss of 2018, it was the 70th of his career, pushing him into a tie for fourth in that category in franchise history. He needs just 11 more to take over the top spot. Winston reached 70 touchdown passes in his 46th career game, faster than any other quarterback in team annals.
Most Touchdown Passes, Buccaneers History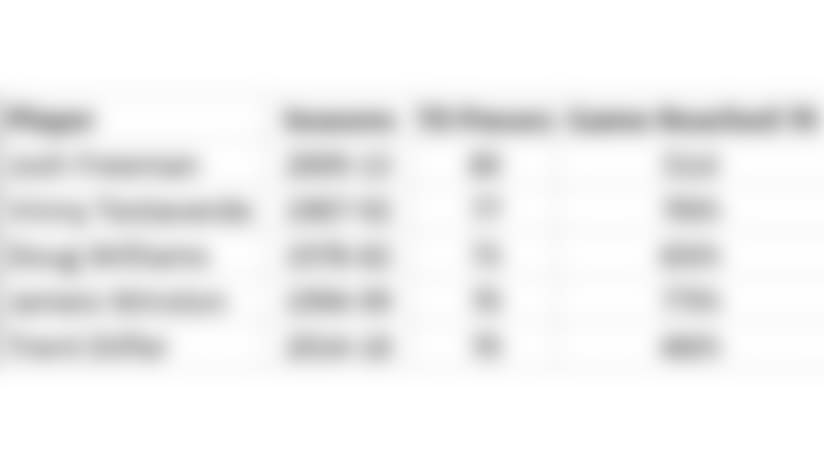 Brate's touchdown catch was the 19th of his career, and he now ranks 10 in that category in team history, behind Evans (35), Jimmie Giles (34), Kevin House (31), Joey Galloway (28), Mark Carrier (27), Mike Williams (25), Dave Moore (24), Bruce Hill (23) and Vincent Jackson (20). Among tight ends, only Giles and Moore have more.
Brate is also among the NFL's leaders in touchdown catches by tight ends over the past three seasons. Brate has 16 scoring grabs since the start of 2016, just one behind league co-leaders Jimmy Graham and Kyle Rudolph in that span.
Most Touchdown Catches, NFL Tight Ends, 2016-18