STORY HIGHLIGHTS
The Bucs haven't had their expected D-Line on the field much, but several key players could be returning soon
DE Michael Johnson was signed to be the complementary edge rusher to All-Pro DT Gerald McCoy
Tampa Bay's injury situation won't be officially updated until Wednesday

The Tampa Bay Buccaneers' 2014 season started with a kickoff that Michael Koenen blasted out of the back of the end zone against Carolina on Sept. 7. That led to a touchback and the Buccaneers' defense taking the field for the game's first real action. When they lined up for that first snap, the Bucs fielded a defensive line of Michael Johnson, Gerald McCoy, Clinton McDonald and Adrian Clayborn.
That was the plan, of course. Tampa Bay had used free agency to add Johnson and McDonald to a unit that already included McCoy, a first-team Associated Press All-Pro in 2013. With Johnson arriving to man right end, Clayborn would move to the left edge and those four would attempt to put the type of pressure on opposing quarterbacks that would lead to a myriad of big plays from the linebackers and the secondary. The Bucs would also try to build a deep stable of linemen in order to keep the rotation fresh, but it was clearly those four that were expected to lead the way.
The Bucs have played a total of 189 defensive plays since that first snap to Carolina quarterback Cam Newton. That's 756 snaps belonging to the four down linemen. Due to injuries, Johnson, McCoy, McDonald and Clayborn have accounted for just 360 of those snaps – less than half. That was not the plan.
To be clear, every team in the NFL deals with injuries. Tampa Bay's next game is against a Pittsburgh team that just lost key defenders Ike Davis, Ryan Shazier and Jarvis Jones for varying lengths of time. The Bucs' defensive line is not unique in its rash of early-season injuries. That said, the Buccaneers would obviously prefer to see their preseason plan back on track, and they might be getting closer to that in Week Four.
McCoy missed the Bucs' game in Atlanta due to a hand fracture that also cost him much of the Week Two home contests against The St. Louis Rams. He has been fitted with a cast and, while Head Coach Lovie Smith won't dispense injury updates until Wednesday, there's clearly hope around team headquarters that their defensive leader won't be out for long. "We're optimistic," said Smith on Monday, not addressing McCoy's situation specifically but the team's health overall. "Sometimes things aren't as bad they're portrayed."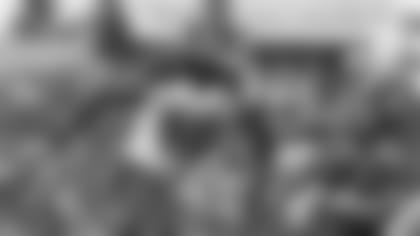 DE Michael Johnson is working through the process of recovering from an ankle injury that has cost him much of the first three games of 2014
As perhaps the Bucs' most impactful player over the past two seasons (Lavonte David would also have an argument), McCoy is very much a known commodity, even if he is fractionally less effective due to his casted hand. Johnson is the new asset, the one that the Bucs hoped would mesh with the existing players to kick-start the defensive front. Clayborn is lost for the year with a biceps tear, so Johnson's pass-rushing presence may be even more important than it seemed when the season was just beginning. Johnson return to full strength – or at least close to full strength after he played just a half-dozen snaps in Atlanta – could be exactly what the Bucs need to get their defense in order.
"We are getting guys back, which we need," said Smith. "All of big guns are out there ready to go and we think we're getting a little bit closer to that."
Again, the Buccaneers didn't have to release an official injury report on Monday after their rain-soaked "bonus" practice, but Smith did mention that several banged-up players were allowed to get a little extra rest with an eye toward getting as many of them as possible on the field for Wednesday's workout. That may or may not have included Johnson, but it's likely the veteran end didn't put too much stress on his recovering ankle on Monday.
"All you can do is continue to do your best to try and come back and be ready to help this team to victory," said Johnson. "I'm going through that process right now and I'm getting better, I'm improving and I'm looking forward to getting back out there with my guys. I'm just working through it. It's a day-to-day thing. I'm just trying to do everything that our staff asks me to do and continue to get better."
Though Clayborn won't be returning this season, Johnson and his new starting mates still have plenty of time to form into the kind of disruptive unit the Buccaneers envisioned. They haven't really had that opportunity yet, but the time is coming.
"There isn't a lot of blitzing," said Johnson. "We have to generate [the pass-rush] ourselves. That comes with just continuing to work, continuing to learn each other and continuing to just get better week-in and week-out. We'll get this thing rolling and when we get to rolling, it will be like clockwork. I'm excited to get to that point but like I said it's a process.
"There are going to be growing pains when you're putting new pieces together, but we're positive, we're continuing to work, continuing to get better and we're going to see it pay off and it will. We're three games in and we've got a long season. Everybody has to stay positive, keep believing and trusting the system, trusting the guys around you and trusting the work and effort that we put in. It's going to turn in our favor."