How would you describe the experience of trying to cover three-time Pro Bowl wide receiver Vincent Jackson on a sneak-attack go-route down the sideline, with strong-armed quarterback Jameis Winston lofting one of his trademark deep balls? Scary? Intimidating? Um…impractical?
"Fun," says Johnthan Banks.
Banks, the Tampa Bay Buccaneers' third-year cornerback, found himself in exactly that situation on the very first play of his team's seven-on-seven period in Friday's training camp practice. Offensive Coordinator Dirk Koetter went for immediate shock-and-awe, throwing bombs on the first two snaps of the drill, with Winston gunning for Jackson on play number one. Jackson appeared to have a step on Banks and his quarterback lofted a pretty rainbow down the sideline, but just before the connection was complete Banks inserted himself into the equation with a leaping, full-extension, land-prone-on-the-ground interception.
Banks held on for the turnover, and that probably influenced his feelings about not only that rep but this particular day at camp as a whole. He's had a lot of good days during this first week of training camp.
"I'm having a lot of fun," said Banks, a second-round pick in the 2013 draft. "I told my wife, 'Honestly, I've never had fun in a training camp before.' Training camp's not supposed to be fun. I'm an older guy now, I know what to expect. I know how to come out here and I know what I'm doing. I want to win a championship. I'm having fun with it. It's not a right that I get to play, it's a privilege and I take that to heart. I just thank God every day for blessing me to be able to do this."
It certainly doesn't seem like a privilege to spend much of your day shadowing Jackson and his fellow 6-5 downfield threat, Mike Evans. But when it results in a moment like the one described above, it's an attitude adjuster, a magical converter of a stifling Florida summer afternoon into an enjoyable day in the backyard.
"That's a confidence builder, coming out here and picking off these guys," said Banks. "That builds confidence, gives you hope, gives you a little swagger about yourself. Coming out here getting picks against guys like Mike [Evans], VJax [Vincent Jackson], first-tier guys, that gives you a lot of confidence."
As Buccaneers Head Coach Lovie Smith pointed out once again after Friday's practice, it's difficult to have an unequivocal win on the training camp practice field. That great play by Banks meant the team's great young hope on offense had an unwanted turnover on his ledger. This particular play, on balance, felt like a positive, however. The six-foot-two Banks simply made an impressive play on the ball that a lot of smaller corners wouldn't have been able to pull off.
"I kind of misjudged the ball a little bit," he said. "I had the guys stacked, but Jameis has a big arm, man. You can misjudge his balls. It kind of went over my head but I'm a long, tall, lanky guy. God blessed me with these long arms and I was able to make a play. I think I made a great play on the ball."
Winston came back from that turnover to have a mostly strong practice, following up what many thought was his best camp outing so far on Thursday. Later, he cited the importance of remaining visibly confident in such situations so that his teammates on offense would stay confident as well, and he gave Banks some deserving credit for that one defensive win.
"It was single-high, I gave my man a shot and the other guy [made a play]," said Winston. "Those guys are good over there. It's about going out there and competing, it's about getting better. It's competition – if you make a mistake you've got to bounce back. That's one thing about being a good quarterback."
As much as the Buccaneers need to see daily improvement from Winston, it's almost as important that the team's defense carries over its upward trajectory from the second half of the 2014 season. It would be naïve to ignore the possibility of a rookie quarterback experiencing some ups and downs over the course of a long season, and it may be up to an improving defense to give the Bucs the week-to-week consistency they need. Few players on that side of the ball improved more during the course of the 2014 season than Banks, and that trend appears to be continuing in 2015.
"I think I have [continued to improve]," said Banks. "I'm growing. I'm still growing, learning how to ball. I'm just buying into the system and coming out here and having fun. I'm confident in myself and my abilities and that's carrying over, allowing me to make plays and letting me be successful in this game.
"I think I've had a good camp. It's so different from this training camp to last year. I know the defense, I know what Coach [Leslie] Frazier, Coach [Gill] Byrd, Coach Lovie [Smith], I know what they expect from the defense, I know what they want. It's just so much easier to come out here and actually compete, have fun, fly around and make plays."
Additional notes from Friday's practice:
Banks may have gotten the upper hand on Winston on that play in the seven-on-seven drill, but he has been seriously impressed with the progress his rookie teammate has been making.
"From Day One of OTAs to now, Jameis has gotten so much better," said Banks. "I was telling the boys in the locker room that he looks like a totally different guy. I'm confident in him and confident in his abilities. He's a smart kid. He's a 20, 21-year-old kid out here competing with 24-year-old guys. I think he's doing an outstanding job and he's going to help us win a lot of ballgames."
It's not unusual for individual players or small position groups to take it upon themselves to get a little extra work in after practice is over. Logan Mankins, for instance, usually runs a set of sideline-to-sideline gassers, often leading a knot of fellow offensive linemen in the exercise. Rookie wide receiver Donteea Dye has a post-practice ritual that's a little more unusual.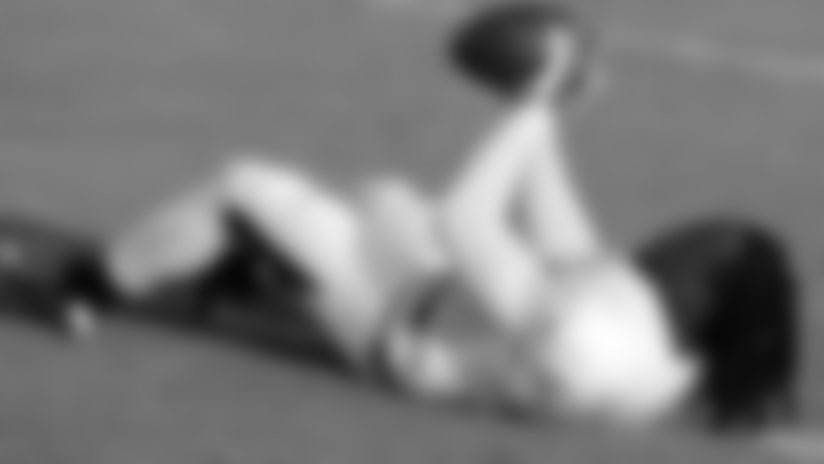 Dye's unique drill begins with him lying flat on his back on the grass. A surrogate quarterback (often somebody from the team's equipment department) walks around Dye as if tracing the edge of a clock, beginning at the 12 position. As he walks, the helper fires low hard passes at the prone receiver, who makes the catch while still lying on his back. Three or four times around the clock and Dye is satisfied with the drill.
"You work on different angles of catching the ball," the undrafted rookie explained. "When you're lying down and somebody throws from behind you, it's kind of like an over-the-shoulder catch. When they're right in front of you, it's kind of like a low ball. You never know where the ball's going to come from. I do it long enough so that I know I've got my concentration down."
Dye first started doing the drill in college, when he saw a teammate at Heidelberg doing it. Now he's brought it to the NFL, and he hopes he has a chance to continue doing it in September and beyond. The Buccaneers appear to have a wide-open competition at receiver behind the first three or four spots and a number of young wideouts, including Dye, have impressed in the early going. Dye could become just the 12th Heidelberg product to play in the NFL, and just the second since the early '80s.
"I feel like there's definitely a real shot, but I've just got to stay consistent and keep my faith," he said. "I think consistency and playing fast is the key for me."
Another rookie wideout, Nebraska's Kenny Bell, looked like he needed help from the equipment crew after practice on Friday, too. Both of Bell's cleats were split open at the top, near the toes.
As it turned out, however, this was not a matter of wear and tear and Bell wasn't ready to ditch that pair of cleats. He had, in fact, cut his shoes open himself. Like most placekickers, Bell purposely wears cleats that are a size too small. Unlike those kickers, he balances that potential discomfort by letting a little air out of the top.
"It's just to relieve pressure from the front of my feet. You'll see a ton of guys do it, especially at the wideout position. We do everything with our feet and ankles, and going in and out of breaks is violent. It's very violent on your feet, so you can get smaller cleats so your foot doesn't slide in that cleat. It just feels better. Then I cut a hole in the top just to give my toe a little breathing room. It's just not a wall my toe's hitting; it's snug, but it's got some give to it.
If the Buccaneers' luck in regards to the weather was bad in the early days of camp, their good fortune on the injury front is a welcome balance.
One week into camp and the team is still very close to full participation in practice.
Wide receiver Louis Murphy (ankle) and defensive tackle Akeem Spence (back) began camp on the active/NFI and active/PUP lists, respectively, and still have not been cleared to practice. The only other players who have missed time during the first six practices are safety Chris Conte, linebacker Quinton Alston and center Josh Allen.
Conte sustained a knee injury during the first camp practice on August 1 and missed the next three. After the players' day off on Wednesday, the veteran defensive back returned to action in a limited fashion, taking part in the early individual-position drills before sitting out the full-team action. On Friday, Conte was sidelined again, and Allen and Alston remained out, but there were no new additions to the injury list.
Rookie Ali Marpet ran with the first-team offensive line for a second straight day on Friday, as the three-way competition for the right guard job continues.
Third-year man Garrett Gilkey got the first two practices, second-year player Kadeem Edwards followed with the next two and then Marpet got his shot on Thursday.
That rotation was expected after Offensive Coordinator Dirk Koetter pegged those three players as the primary competitors for that job. What is interesting is how Gilkey has been deployed in the days that Edwards and Marpet have held down right guard on the first team. Gilkey hasn't simply cycled to the second or third lines at right guard; instead, he has seen significant time at both center and left guard. That suggests that, if he doesn't win the competition at right guard, Gilkey is seen as a good candidate to be the primary game-day reserve for the three interior-line positions.