When the Tampa Bay Buccaneers take on the Atlanta Falcons Sunday at Raymond James Stadium on Monday night, Jon Gruden will provide the color commentary from ESPN's broadcast booth. Gruden has been part of ESPN's Monday Night Football team since 2009.
Immediately prior to that, of course, Gruden was head coach of the same Buccaneers from 2002-08, a stretch that included two division titles, three playoff appearances and the franchise's first Super Bowl championship. To celebrate Gruden's impact on the franchise, the team will hold a halftime ceremony on the field Monday night to induct the former coach into its Ring of Honor. He will become the 12th person to join that prestigious club.
The Buccaneers won 60 games during Gruden's time at the helm, including the postseason. Some are more memorable than others, whether due to noteworthy strategic decisions, dramatic turns of events or – particularly at the end of 2002 – the stakes that were on the line. We've identified 10 of those outings as the most memorable games the Buccaneers played with Jon Gruden as the head coach. See if you agree.
In Part I of our countdown, we'll start with number 10 and work down two number six. Part II will run down the top five games on the list.
Jon Gruden's 10 Most Memorable Games as Tampa Bay Buccaneers Head Coach
10. Tampa Bay 27, Chicago 24 (OT), Sept. 21, 2008
The Buccaneers opened Gruden's final season at the helm with five wins in their first seven outings. After a Week One loss to New Orleans, the '08 Bucs reeled off three straight victories, the most tenuous one a road game in Chicago. Brian Griese, in his second stint with the team and starting for an injured Jeff Garcia against the team that had traded him back to Tampa, had one of the most memorable games of his own career as the Bucs rallied to tie the game with seven seconds left and then won it in overtime.
With virtually no running game to lean on and the Bucs chasing a 10-point deficit in the second half, Gruden had Griese drop back an incredible 67 times, and none of those plays resulted in a sack or a quarterback scramble. Instead, Griese fired 67 passes, a single-game Buccaneers record, and completed 38 of them for 407 yards, two touchdowns and three interceptions.
Defensive end Gaines Adams returned an interception 45 yards for a touchdown to give the Bucs a 14-6 lead in the first half but Kyle Orton fired back with two touchdown passes and Chicago had a 24-14 lead with less than seven minutes to play. After a hurried field goal drive and a defensive stop, the Buccaneers got the ball back with 1:49 left and one timeout, needing to drive 79 yards to tie it. A key reception by Antonio Bryant, who had 10 catches for 138 yards on the day, put the Bucs at the Bears one with 10 seconds to play and Griese then hit tight end Jerramy Stevens on a quick slant to tie it.
The two teams played more than 10 minutes of overtime before Matt Bryant won it with a 21-yard field goal. Antonio Bryant's last catch, a 38-yarder to the Bears' six, set up the game-winning kick. The drive was extended after a failed third down when Chicago's Charles Tillman drew an unnecessary roughness penalty in the middle of a big scrum deep in Bucs' territory.
After the game, Gruden was measured in his praise of a 38-completion, 407-yard passing day. "When you throw the ball [67] times you should have some completions," he growled. "You shouldn't be oh-for-[67]."
9. Tampa Bay 20, Carolina 10, Dec. 11, 2005
A quirky stretch in the 2005 schedule forced the Buccaneers to play a trio of road games in a span of 14 days, and two of those were against division opponents. With the Buccaneers holding a 7-4 record and battling Atlanta and Carolina for NFC South supremacy, it was clearly a make-or-break point in the season. The team didn't seem thrilled by the strange schedule but Gruden refused to acknowledge any unhappiness with the way it was laid out.
"It's pretty challenging," he said. "We have three straight road games, that's the way it is. At least we'll be home for the holidays."
After winning 10-3 at New Orleans (or rather at LSU's Tiger Stadium during the Saints' displaced season), the 8-4 Bucs headed off to Charlotte to face the 9-3 Panthers. The game would ultimately decide the division title.
The Buccaneers had lost five straight to the Panthers coming into this game and they were determined to break that streak by being the more physical team. Gruden relied on Cadillac Williams and a short passing attack with Chris Simms to grind out a 20-10 win in which neither team hit 300 yards of offense. Williams ran 29 times, often up the gut, for 112 yards and two touchdowns and Simms threw for just 138 yards despite completing 20 of 27 passes. The Bucs took a 10-0 lead into halftime and never let Carolina back into the game, thanks in large part to Ronde Barber.
Barber's interception at the seven-yard line in the fourth quarter killed one Carolina scoring threat, and his 13-yard sack on third down on the next drive forced the Panthers into a futile fourth-and-40 attempt. The sack made Barber the first cornerback in NFL history to record at least 20 interceptions and at least 20 sacks.
"It's one of those things when you're growing up, it's you and the bully," said Buccaneers tight end Anthony Becht after the game. "The only way to do it is fight your way out of it. That's exactly my mentality and that's what the team's mentality was."
8. Tampa Bay 17, Philadelphia 0, Sept. 8, 2003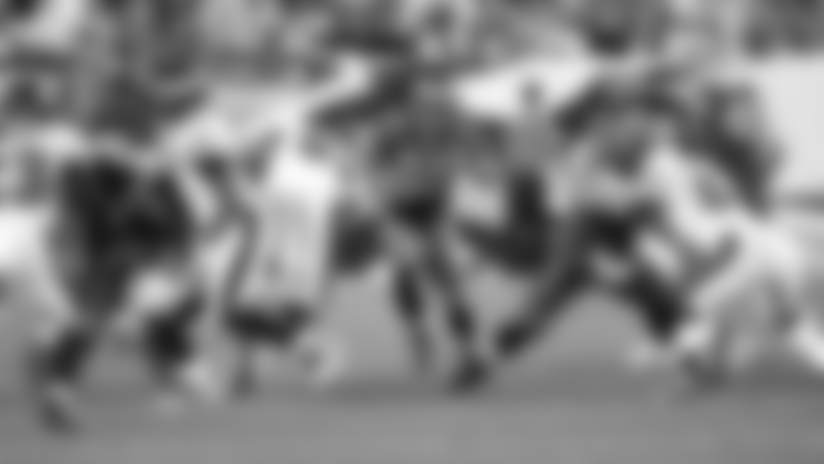 This game was another bit of unusual scheduling, at least in the minds of the Buccaneers. Coming off their victory in Super Bowl XXXVII, the Bucs weren't surprised to be opening the season on Monday Night Football, but they expected to be at home for the game. Instead, they were sent to Philadelphia so that the brand new Lincoln Financial Field could open in front of a prime-time national audience. Of course, the game was also a rematch of the 2002 NFC Championship Game, the last contest ever played at Veterans Stadium (more on that below, of course).
"Obviously, we've got a rivalry going with Philadelphia and I'm sure they're anxious to compete with us," said Gruden in the week before the game. "It will be a big test for us and we're looking forward to it."
Rocky himself appeared before the game to fire up the Linc crowd, but it was all Buccaneers once the ball was kicked off. Tampa Bay's defense only gave up 245 yards to Donovan McNabb and company and only allowed one incursion into their red zone, that one ending on three straight no-gains from the Bucs' one-yard line and a failed fake field goal attempt.
The Bucs' offense started slowly and the game was just 3-0 at halftime, but quarterback Brad Johnson got into a second-half groove, completing 13 of 14 passes after the break. He got a lot of help from Joe Jurevicius, who caught two touchdown passes in acrobatic fashion. The second score was one of the most memorably touchdowns in team history, what Gruden called a "volleyball play," as Jurevicius reached back to tip a pass near the goal line, then spun around a defender and dived to catch the ball before it hit the ground.
The Bucs finished the dominant win with the belief that they were even better than the previous year, primed to defend their title. Injuries and bizarre late-game finishes eventually derailed that hope, but as 2003 began Gruden was driven to keep the Bucs on top.
"He's not as tolerant now with mistakes as he was last year," said linebacker Derrick Brooks, the previous season's NFL Defensive Player of the Year. "Guys were just learning the system then. Now if you make a mistake or you're doing something wrong, he really comes down on you. He's probably a tougher coach this time around because, as he says, 'To repeat the success we had last year is going to take a little more out of every man,' and it starts with himself."
7. Tampa Bay 30, Kansas City 27 (OT), Nov. 2, 2008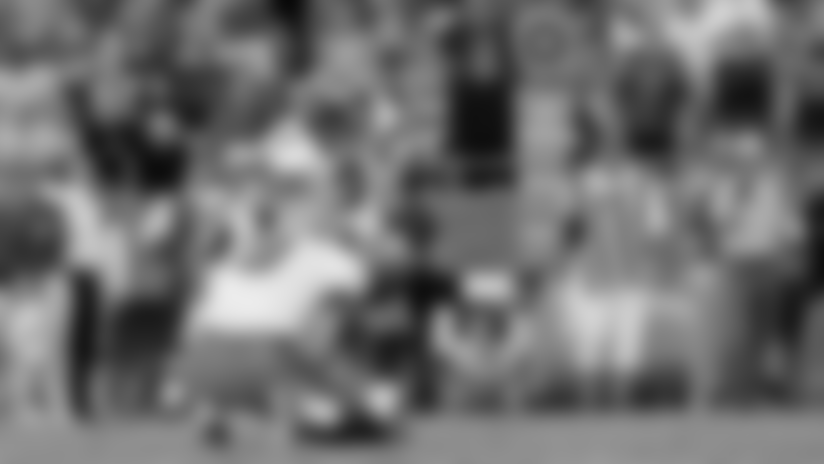 This remains the greatest comeback in Buccaneers franchise history. Taking on a 1-6 Chiefs team that would start the trio of Tyler Thigpen, Damon Huard and Brodie Croyle at quarterback that season, the 5-3 Bucs came out flat and found themselves down 24-3 by the second quarter. The loose Chiefs pulled out all the stops, including a trick play that had wide receiver Mark Bradley throwing a 37-yard touchdown pass to Thigpen, the quarterback. Things looked bleak for the visitors, who had fumbled on their first play from scrimmage, sandwiched between two Kansas City touchdowns.
The Chiefs fast start against a favored Buccaneers team didn't surprise Gruden, who had made a point of telling his players how hard it was to win at Arrowhead Stadium under any circumstances. Even some of the Chiefs' more unorthodox plays weren't too big of a surprise to the Bucs' coach.
"We expected some of what they threw at us," said Gruden. "I mean, they really had us on the ropes there. We might have to try and steal of their plays, maybe."
Gruden responded with some creative play-calling of his own, but the Bucs comeback started on special teams, as Pro Bowl-bound rookie Clifton Smith returned a kickoff 97 yards for a touchdown just two minutes before halftime. The Bucs tacked on another field goal before the break to make it 24-13. That was still the score in the fourth quarter until Tanard Jackson forced and recovered a fumble by Jamaal Charles at the Kansas City three. On the next play, Earnest Graham took a handoff from Jeff Garcia, took one step toward the line, then pulled up and lobbed a touchdown pass to tight end Alex Smith. Garcia would tie the game with 19 seconds left on a scrambling 24-yard touchdown pass to Antonio Bryant, followed by Smith's nice catch of a low pass for the two-point conversion. The Buccaneers got the only possession in overtime and drove 58 yards to set up Matt Bryant's second overtime game-winner of the season from 34 yards out.
6. Tampa Bay 23, Philadelphia 21, Oct. 22, 2006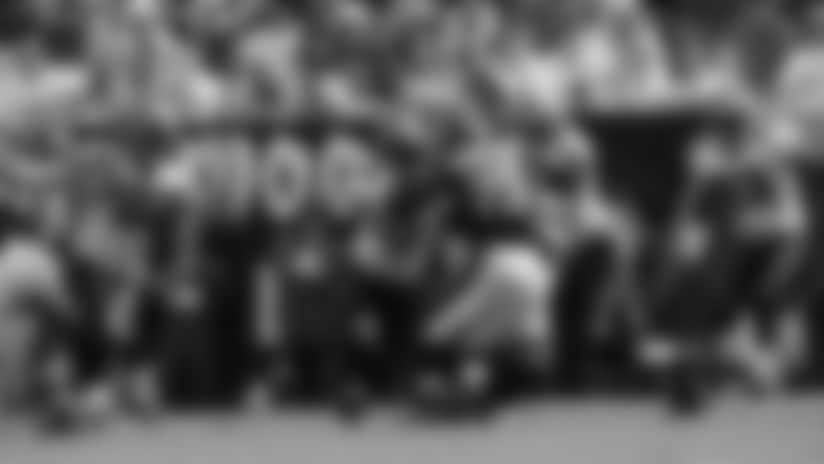 The only game on this list from a losing season, this game was just too memorable to pass up, thanks to the heroics of Ronde Barber and, especially, Matt Bryant.
Donovan McNabb was still the Eagles' starting quarterback in 2006, four years after Barber had victimized him with the game-sealing pick-six in the 2002 NFC Championship Game. Barber would prove to be a thorn in McNabb's side again, opening the scoring with a 37-yard interception return for a touchdown early in the second quarter. It was 10-0 at halftime, and then Barber did it again, jumping a sideline route and returning another interception 66 yards to make it 17-0.
That's when McNabb began brewing up a comeback. He fired touchdown passes to end two consecutive Philly drives, the second one a seven-yarder to Reggie Brown that pulled Philly within three. The Bucs tacked on a field goal but McNabb got the ball back with three minutes to play and wouldn't be denied. After driving the Eagles to midfield, he dropped off a short pass to running back Brian Westbrook on third down with less than a minute to play. Westbrook did the rest, dashing through the Bucs' defense for a 52-yard touchdown and a 21-20 Philadelphia lead.
There were only 27 seconds left when the Bucs got the ball back at their own 36, and that decent field position was courtesy of a good kickoff return by Michael Pittman. Bruce Gradkowski completed one short pass and then scrambled for nine yards to the Eagles' 44. His next pass was incomplete, leaving four seconds on the clock.
Gruden considered the situation, contemplating a 44-yard Hail Mary prayer or a 62-yard field goal try by Matt Bryant, neither a particularly attractive option. He recalled Bryant kicking an earlier kickoff through the goalposts and had seen Philly's David Akers hit on a pair of 60-yard tries during warmups. He thought the ball was traveling well that day. He chose to go with Bryant.
Bryant seized the opportunity of a kicker's lifetime. He hit the ball with all his leg strength, sending it true down the middle of the field, and it cleared the cross bar with a couple of feet to spare. The result was the longest field goal ever by a Buccaneer and the second-longest game-winning kick in NFL history.
"It was a – I don't know – it was an unbelievable day in my life, really," said Gruden. "It was a Hail Mary that was answered. The ball was struck well and our prayers were answered."