The Tampa Bay Buccaneers (2-8) will take on the Chicago Bears (4-6) on Sunday at Soldier Field in Chicago, Illinois. Here are several matchups between individual players and/or certain team units that could go a long way towards determining the game's final outcome:
Buccaneers Defensive Line vs. QB Jay Cutler
The Tampa Bay Buccaneers have 20 sacks this season, averaging 5.5 per game in wins and just 1.1 in losses. This shows just how critical the Bucs' pass rush is in stalling drives, creating turnovers and getting the offense back on the field. There is a similar story with Jay Cutler this season. Cutler has been sacked seven times in Bears wins this season and 16 times in losses. He has just three turnovers (0.75 per game) in Bears wins, and 14 (2.3 per game) in losses. If the Bucs can maintain pass-rush momentum from their six-sack, three-TO performance on the road last week and get after Cutler, they have a good chance of leaving Soldier Field with another victory.
LB Lavonte David vs. RB Matt Forte
Seemingly every week you can find a "Lavonte David vs. running back" entry in this article because, frankly, there might not be a better player to keep your eyes on all game, every game, than David. If there is a tackle on the field, chances are David can be found somewhere in the pile; he has 116 of them this season, 81 of them solo. He has more solo tackle this season than all but 10 players have total tackles. He is averaging a full tackle per game more than the second highest player on that list. David is also making plays that matter, as he's tied for the league lead in tackles for loss. He faces a dynamic running back who is just as dangerous in the passing game as he is rushing the ball. Forte ranks third in the NFL in yards from scrimmage with 1,308 and leads all running backs in receptions and receiving yards. To stop Forte, you need a linebacker that can patrol the entire field, and David has proved he's up for that task. Of course, David is also trying to overcome a sore hamstring, so extra pressure will fall on Mason Foster and Danny Lansanah if the team's leading tackler is unable to go.
WRs Mike Evans and Vincent Jackson vs. WRs Alshon Jeffery and Brandon Marshall
These four players are all game-changers. The Bucs' game in Washington on Sunday was close until Evans blew it wide open with 138 yards and two touchdowns in just two possessions. Jackson averages 75.5 yards per game as a Buccaneer and led the league in yards per reception just two years ago. Jeffery and Marshall are constantly atop weekly highlight countdowns with 1,347 yards and 12 touchdowns between them this season. Both defenses are in the top eight in passing yards and passing touchdowns allowed. Expect both teams to look for their big targets early and often, looking for that game-clinching play from one of their stars.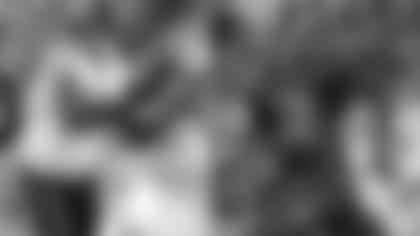 Bears TE Martellus Bennett has hauled in five touchdown passes this season and S Major Wright will try to stop him from making it six or more on Sunday
S Major Wright vs. TE Martellus Bennett
The Buccaneers have allowed just two touchdowns to tight ends this year, and haven't allowed a tight end to gain more than 65 yards in the last five games. However, according to receiving ratings at Pro Football Focus, the Bucs have faced just two tight ends ranked in the top 10, and one of them, Jimmy Graham, left the game against Tampa Bay in the first half. The team will face a big task against Bennett (ranked fourth on the PFF list), who has 591 yards and five scores so far this season. Wright is second on the team in tackles over the last three weeks (behind David, of course) and could find himself covering Bennett and trying to keep the big tight end from making plays over the middle.
QB Josh McCown vs. CB Kyle Fuller
McCown kept a clean sheet for the first time this season in last week's win over the Redskins, completing 15 of 23 attempts for 288 yards, two touchdowns and, most importantly, zero interceptions. His 137.5 passer rating was the second highest of his career. Looking to start a winning streak, McCown must limit mistakes and turnovers again and be particularly mindful when throwing in the direction of Fuller, the Bears rookie who was picked 14th overall in May. Fuller has three interceptions and three forced fumbles on the year, leading all NFL rookies in both categories.
TE Austin Seferian-Jenkins vs. S Ryan Mundy
Seferian-Jenkins has shown flashes that he could eventually become one of the league's premier tight ends. He has two touchdowns this season while his season-high single-game yardage total is 58 and reception total is five. He could be in line to set a new mark in both categories facing a Bears defense that is among the worst in terms of defending against tight ends. Chicago allows 8.3 TE catches per game (third most), 70.7 TE yards per game (second most) and has allowed 10 TE touchdowns over their last six games. Ryan Mundy has shown good range this season, has two interceptions and leads the Bears with 54 total tackles.