The Tampa Bay Buccaneers (2-10) will take on the Detroit Lions (8-4) on Sunday at Raymond James Stadium in Tampa. Here are several matchups between individual players and/or certain team units that could go a long way towards determining the game's final outcome:
CB Alterraun Verner vs. WR Calvin Johnson
Just because it's obvious doesn't mean it isn't worth mentioning; when Megatron is on the field, you better believe that he and the opponent's top cornerback will be a key matchup. Last week, Johnson had his first monster game since returning from an injury that cost him four games, putting up 146 yards and two scores on 11 receptions versus Chicago. Four short weeks ago, the Buccaneers defense was allowing more passing yards per game (276.4) than those Bears, but have made a drastic turnaround over the last three weeks. In those three games, the Bucs have allowed just 151.6 passing yards per game, second only to the Seattle Seahawks. After the difficult tasks of Chicago's Alshon Jeffery and Cincinnati's A.J. Green, Verner will look to continue the recent success of the Bucs' secondary against one of the NFL's most feared receivers.
LT Anthony Collins vs. DE Ezekiel Ansah
The key to keeping the Bucs' offense on the field and putting together meaningful drives is how well the offensive line can protect the quarterback. Collins will be tasked with the Lions' most dangerous outside pass rusher, Ansah, who has 6.5 sacks and three forced fumbles so far this season. Collins, along with the rest of the line will need to win up front and give Josh McCown plenty of space to operate so he can find his receivers and effectively move the ball. This difficult job could fall to Oniel Cousins if the elbow injury that landed Collins on the injury report Thursday proves significant enough to keep him out of the game.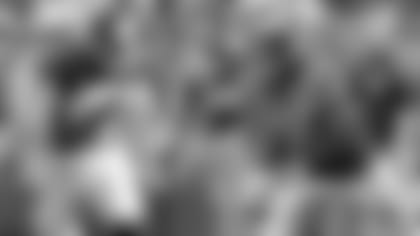 Buccaneers WR Mike Evans has been one of the best big-play wideouts in the game in 2014 but CB Darius Slay and the Lions' defense have not allowed many deep completions
WR Mike Evans vs. CB Darius Slay
Mike Evans has proved to the NFL that he is a serious downfield threat and deep-ball playmaker. He has 12 receptions of 25 yards this season (second-most in the league), with eight of them coming in his last five games. He is also second in the league in average yards at the catch, at 13.9 yards per reception. This week, he'll go up against the defense that leads the league in both of those categories. The Lions have allowed just 11 passes of 25 yards and give up an average of just 4.5 yards at the catch. Darius Slay is their highest-rated cornerback and the league's 10th-ranked cornerback per Pro Football Focus.
RB Doug Martin vs. LB DeAndre Levy
The Detroit Lions allow the fewest rushing yards per game this season, thanks in large part to Levy, who leads the team with 116 tackles (T-2nd in the NFL). The defense has allowed just three running backs to rush for more than 50 yards this season and no RB to go over 85 yards. Last week, Doug Martin showed the spark that was there in his phenomenal 2012 rookie season and will look to carry that performance over this week. Though he faces the league's toughest run defense, he could be productive catching the ball in this contest as the Lions allow the NFL's third-most receiving yards per game to opposing RBs, according to Football Outsiders.
LB Lavonte David vs. RB Joique Bell
Of course, Levy is tied for the second in tackles with the Bucs' own Lavonte David, who has amassed 116 tackles despite missing two games; that gives David sole possession of the NFL tackles-per-game lead at 11.6. David has returned to practice this week, albeit in limited fashion, and is hoping to end his two-game absence on Sunday. If he does, he will surely play a key roll in limiting Bell, who leads the Detroit run game with 581 yards and five TDs. If David is unable to go, that task will fall into the capable hands of Danny Lansanah, who registered 14 tackles last week in place of David at weakside linebacker.
DT Gerald McCoy vs. DT Ndamukong Suh
Knotted at 116 tackles apiece could easily make David vs. Levy the non-head-to-head matchup to watch in this game, but there exists and even juicier defensive storyline upfront between these two DTs drafted back-to-back in 2010. Over the last three seasons, McCoy and Suh have been the top tier at their position. Sacks: McCoy 23 – Suh 18. Tackles: 112–115. Stuffs: 15–21. Passes Defensed: 9–10. Forced Fumbles: 2–1. Both offenses are in the top-10 in sacks allowed, so both of these dominant tackles could be front and center and completely capable of making the game-changing play.