The Tampa Bay Buccaneers (1-4) will take on the Baltimore Ravens (3-2) on Sunday at Raymond James Stadium in Tampa. Here are several matchups between individual players and/or certain team units that could go a long way towards determining the game's final outcome:
QB Mike Glennon vs. DT Haloti Ngata
It is a natural matchup to have a QB go up against a strong pass-rushing lineman. It is also natural to pair them with the defense's interception leader. It's not often that the two are one in the same, but that is the case for Ngata. Glennon must evade the pressure up the middle from the big man who has four QB pressures, three passes defensed and two interceptions.
RB Doug Martin vs. LB C.J. Mosley
Mosley leads the Ravens defense with 49 tackles. Martin is still looking for his 2014 breakout game, having posted 95 yards and one TD on 28 carries through the last two games. He'll have to fight through the Ravens' run defense that is allowing just 3.4 yards per carry and 89.4 rushing yards per game this year.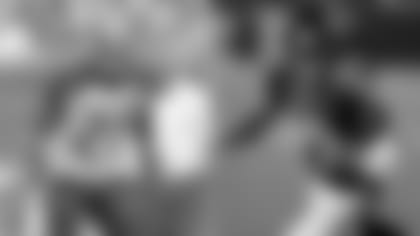 Buccaneers CB Alterraun Verner is new to the NFC South, but his Sunday foe, Steve Smith, is very familiar with the division
CB Alterraun Verner vs. WR Steve Smith
The Bucs have faced Baltimore just four times. They've faced Steve Smith 22 times. He has 1,404 yards, second most of any single player vs. the Bucs. In his 14th NFL season, Smith is on pace for his second-best year in receptions, yards and TDs. Pro Football Focus ranks Alterraun Verner as their fourth- highest CB. He will likely lead the charge in limiting Smith's production today.
WR Vincent Jackson vs. CB Jimmy Smith
Jackson's 144-yard performance last week was his 10th 100 -yard game since becoming a Buc in 2012, tied for seventh-most in the NFL in that time span. With eight grabs last week, he averaged 18 yards per catch, much more on pace with his career average of 17.2. The Ravens are allowing 269.2 passing yards per game this year, but have had just one receiver go for 100 yards through five games.
DE Michael Johnson vs. RB Justin Forsett
The Ravens' three-headed rushing attack is led by the speedy Forsett, who has the second highest yards-per-carry figure among RBs with 10 or more rushing attempts per game. He has also hauled in 23 receptions, fourth among RBs. Johnson must set an edge and not allow Forsett to get outside of him for big gains when the ball is in his hands.
DT Gerald McCoy vs. C Jeremy Zuttah
Despite missing two games, McCoy is the highest graded tackle by Pro Football Focus with two sacks, five QB hits, eight hurries and seven tackles for loss. He will likely face his fair share of double-teams that feature former Buccaneers center Jeremy Zuttah.