The Tampa Bay Buccaneers (0-3) will take on the Pittsburgh Steelers (2-1) on Sunday at Heinz Field in Pittsburgh. Here are several matchups between individual players and/or certain team units that could go a long way towards determining the game's final outcome:
RB Doug Martin vs. LB Lawrence Timmons
On Sunday, Doug Martin should see his first action since leaving in Week 1 with a knee injury after accumulating just 16 yards. While he will probably split carries with Bobby Rainey, he could be in line for his first big game since Week Two of last season, when he ran for 144 yards against New Orleans. Before holding Carolina to 42 yards on the ground last Sunday night, the Steelers defense gave up 191-yard and 157-yard rushing games to Cleveland and Baltimore. The defense is led in the middle by Timmons, who leads the team in tackles with 29.
Bucs Front Four vs. QB Ben Roethlisberger
Roethlisberger has the seventh most passing yards in the league through three games, along with three touchdown throws and two interceptions. What has been lacking in the Buccaneers' three losses is the presence of a dominant pass rush, which will be needed to limit Roethlisberger's effectiveness. Michael Johnson was limited in practice on Thursday but if he plays he should help make that push. Roethlisberger has been sacked six times this season, twice in the loss to the Baltimore, as the Ravens' defense also forced three turnovers.
CB Alterraun Verner vs. WR Antonio Brown
The Bucs cornerback will have another big test this week against Antonio Brown, whose 22 receptions and 98.7 yards per game ranks him fifth in the NFL in each category. Brown has also been on the receiving end of all three Roethlisberger TD passes. According to Pro Football Focus, Verner has been targeted just 12 times, the sixth fewest of cornerbacks who play 75% of the team's snaps. He and the Bucs secondary will need to keep the speedy receiver in check and, more importantly, create turnovers to keep Brown and company off the field.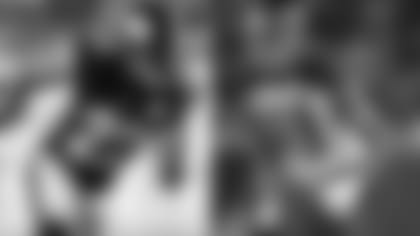 CB William Gay and the Steelers' 11th-ranked pass defense will try to keep WR Mike Evans and the Bucs' pass offense from finding its groove
DT Gerald McCoy vs. RB Le'Veon Bell
With 153.7 scrimmage yards per game, Bell is on pace for 2,459 total yards this season, which would be the second most in NFL history. We are just three games into this young NFL season, so we can't hand out awards just yet, but Bell has proven to be an enormous factor so far. McCoy has been limited in practice and if he plays it will be with a protective covering on his fractured left hand. He will need to continue his dominance in the middle to prevent Bell (5.9 yards per carry in 2014) from making big gains.
QB Mike Glennon vs. Depleted Steelers Defense
Last week the Steelers lost OLB Jarvis Jones, ILB Ryan Shazier and CB Ike Taylor to injuries, but their replacements performed well in Pittsburgh's 37-19 win over the Carolina Panthers. Glennon is likely to get the start against a defense that currently ranks 11th in fewest passing yards allowed. If he plays, he'll need to limit his mistakes and capitalize on any opening, like he did for long stretches of last season, when he threw 19 TDs to just nine INTs.
WRs Vincent Jackson & Mike Evans vs. CBs Cortez Allen and William Gay
Neither Buccaneers WR has had his breakout game yet this season. Evans leads the team 13 catches and 138 yards, while Jackson has 102 yards with one touchdown. Last season with Glennon under center, Jackson averaged 73.8 yards per game and caught seven TD passes. Glennon completed just one pass to Evans in the preseason, a 42-yard gain that ended in a reversed TD call. They face two veteran cornerbacks who have combined for 10 career interceptions.
The Buccaneers hope to get more from their starting WR duo of Vincent Jackson and Mike Evans, but Pittsburgh's pass defense has looked strong, even without injured CB Ike Taylor.