STORY HIGHLIGHTS
FB Jorvorskie Lane's suspension was the result of a violation of the performance enhancing substances policy
Lane will miss the Bucs' games against Minnesota and Cleveland
Lane has played in all six games this season, starting one

Tampa Bay Buccaneers fullback Jorvorskie Lane has been suspended by the NFL for two games. An NFL spokesperson released the following statement on Wednesday:
"Jorvorskie Lane of the Tampa Bay Buccaneers has been suspended without pay for the team's next two games for violating the NFL policy on performance enhancing substances.
Lane's suspension begins immediately. He will be eligible to return to the Buccaneers' active roster on Monday, November 3 following the team's November 2 game against the Cleveland Browns."
Lane is in his first season with the Buccaneers after previously playing for Miami in 2012 and going to training camp with the Dolphins in 2013. He has played in all six games this season, starting one, and has two carries for 56 yards plus one reception for three yards.
Lane does not count against the Buccaneers' 53-man roster during his suspension. The Bucs filled the open spot quickly on Wednesday by signing former Chicago Bears cornerback Isaiah Frey.
The Bears drafted Frey in the sixth round in 2012, Lovie Smith's final year as the team's head coach. After spending his rookie season on Chicago's practice squad, the former University of Nevada standout emerged as the team's nickel back in 2013. He played in all 16 games and made six starts, contributing 47 tackles, one pass defensed and two quarterback hits.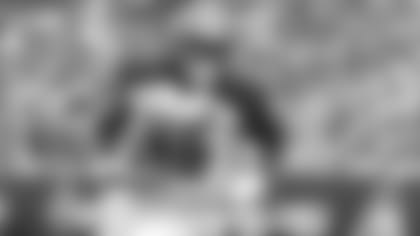 FB Jorvorskie Lane will not count against the Buccaneers' roster while he serves his suspension
Frey (6-0, 190) began this season back on the Bears' practice squad but was then elevated to the active roster again on September 16. He subsequently appeared in three games with one start, recording another 11 tackles plus a forced fumble and a fumble recovery, before being waived last week.