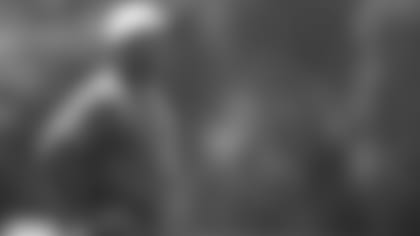 ](http://www.buccaneers.com/news/index.html)
Last week, Head Coach Lovie Smith met with the media for the second time since the Buccaneers began Organized Team Activities (OTAs). One reporter wanted to know, after a disappointing season in 2014 - how excited is he heading into this season?
"I can't wait to get to it," Smith said. "Of course we didn't meet our expectations or anybody else's last year, but we get to start over just like everybody else. Some of the things we felt like we didn't do well last year, we are addressing. The talent level is better. We are going to do a better job of coaching. So yes, there is a lot of excitement and with every day we get a little bit closer to training camp."
This offseason has given Smith more than a handful of reasons to be in high spirits. The Bucs brought in several players during the draft who are expected to compete for starting spots, including quarterback Jameis Winston, the draft's top selection.
Offensive linemen Donovan Smith and Ali Marpet, who were drafted in the second round, have taken reps with the first team offensive line during OTAs and linebacker Kwon Alexander, General Manager Jason Licht said, was one of the top outside linebackers on the Bucs' draft board. Plus – wide receiver Kaelin Clay, a sixth-round pick, was working as the Bucs' No. 1 kick returner last week.
The Bucs also brought in free agents Bruce Carter, Henry Melton, Chris Conte, Sterling Moore and D.J. Swearinger, among others.
OTAs marked the first time all of Smith's new players were on the same field together. He said that he was pleased with the strides his team has been making since reporting two weeks ago.
"We are making progress," Smith said. "There is nothing like OTAs. Phase 1 for our offseason program now is really good. Phase 2, you don't get a lot done. Phase 3, once you can get offense, defense, we are able to get a lot of situations in. For some of our young players, they need to have looks. You know, see competition, see a different color jersey on the other side and that's what we are getting. So we are getting better each day like most teams are."
This is the last week the Bucs will be holding OTAs. Mandatory mini-camp follows next week.
The best photos from the second week of Organized Team Activities.