Wearing cleats on a football field is innocuous enough. It's necessitated, in fact. You could go an entire game without bothering to really notice the usually plain, logo-emblazoned footwear that NFL players have on their feet. But what about when those cleats are hand-painted in bright colors with flowers or rainbows or even hearts on them? Then would you take notice? Imagine a 300-plus-pound offensive lineman with a big heart that reads '4EVS' on his size 15 cleats. Then imagine two. You might notice that. Millions of other people might notice that. And that's exactly what Buccaneers Director of Player Personnel John Spytek and his family are hoping for come Sunday, when both Ali Marpet and Alex Cappa will be proudly donning cleats representing the National CMV Foundation for the NFL's My Cause, My Cleats Campaign.
CMV is short for cytomegalovirus and it's a common occurrence that's typically harmless to healthy adults and children. In fact, the CDC estimates that 50-80 percent of Americans will have had the infection by the time they are 40 years old. However, an active infection can be harmful to unborn children and infants, especially if it goes undetected. It became the Spytek's heartbreaking reality when their daughter, Evelyn, was born with congenital CMV in 2013.
"It took us a while to wrap our heads around what she was dealing with and what we were going to deal with," Spytek said when Evelyn was diagnosed in the NICU. "You're always dealing with a lot as a first time parent, but when it goes a different way than you expect or that everyone told you it was going to seem, there are a whole other set of challenges."
The Spyteks were at a loss following the diagnosis, having not heard about the disease while John's wife, Kristen, was pregnant. Right away, they noticed a glaring need for more education and awareness about a disease that is ultimately preventable with the right precautions, yet affects an estimated 30,000 babies each year. The couple started the National CMV Foundation in 2014, while they themselves learned and coped with Evelyn's condition, with the mission of educating women of child-bearing age about CMV.
With John working in the NFL and the My Cause, My Cleats Campaign bringing national attention to a multitude of causes, there was an opportunity there that was readily taken by a couple of guys that are hard to miss on Sundays.
"When John told me about his organization, it was a no brainer," right guard Ali Marpet said about how he made his decision to support the National CMV Foundation on his cleats this Sunday. "Their commitment to this and wanting to get more people involved I think is awesome. It's a great organization."
It's the second year in a row Marpet will be wearing his CMV cleats. The right guard has gained notoriety as one of the highest-paid players at his position and being an offensive lineman, is on the field for pretty much all of the team's offensive snaps. With him will be rookie Alex Cappa, who jumped on board after hearing about the cause through Marpet.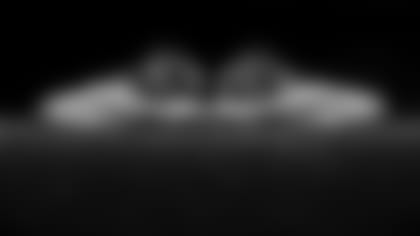 "Especially when it comes to something like CMV, the big issue is that people don't know about it," Cappa said. "So even though it's just something like wearing cleats, really bringing attention to it is the important thing in this situation."
The cleats they will wear feature a big heart on them that has '4EVS' inscribed inside it. That's because after a two-year battle with the disease, the Spyteks' daughter, Evelyn, or 'Evs' as John always called her, passed away due to complications of CMV. Kristen now works full-time as the president of the National CMV Foundation, something that shows her amazing strength and courage in the eyes of John. He serves as her vice president, though it's hard sometimes to be faced with the constant reminder his daughter is no longer here, he knows a lot of good can come from the awareness they are creating. It's crucial to helping stop the disease.
"What Ali and Alex are doing is helping to get people to start asking questions," John said. "We need women going to their OBs to demand answers. That's a lot of what we're trying to accomplish. The first key is awareness. You have to know it exists before you can ask questions about it."
It's all to help prevent what happened to them from happening to anyone else. And they have the support not only of the two players that will be wearing cleats on a field, but from John's boss and close friend, Buccaneers General Manager Jason Licht.
"As time went on and I learned more about [CMV] through John, and just how driven they are to raise the awareness of the condition to save lives in the future, my wife and I both were really inspired by how much they want Evelyn to live forever through her cause and what this can do for people in the future," Licht, who will be wearing National CMV sneakers along with John on Sunday, said. "It's a no brainer to help them out with this."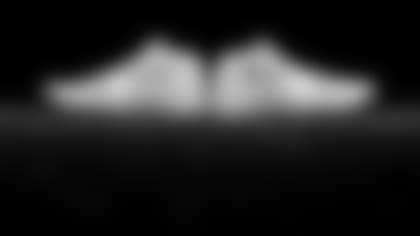 Licht isn't the only one in his family even that wanted to help out. He said several months ago, his kids approached him about wanting to hold a lemonade stand. As he set up the card table in the driveway, his kids informed him that they wanted all the money they raised to be for Evelyn.
"Especially with kids, now [John and Kristen] have Tommy and Jack, it's really cool how they still talk about Evelyn openly," Licht said. "Evelyn is with us. Our kids talk about Evelyn."
He said within an hour, the kids came back with over $150 in donations. They even held a couple more, just to see how much more money they could "give to Evelyn."
"We're just thankful for Jason, for Ali, for Alex," John said. "It's just a really cool thing. My Cause, My Cleats is such a cool initiative and I'm proud to be part of it. I think it's awesome the NFL has grown it the way they have. To some people it might seem like it's not a big deal, right? Ali's like, I'm just wearing cleats on a field, but it's bigger than that."
John has tried to convey the magnitude of the initiative to both Marpet and Cappa and how grateful his family is to them. He's appreciative of them putting themselves out there for a cause that people don't know much about. It means an extra effort on their part to understand the condition. John doesn't think they truly grasp how much they are doing for his family. He insists that for their foundation to make it to the NFL is a big deal, and it is. It's an even bigger deal to him and his wife, personally.
"Unfortunately, sometimes it takes heartache and pain for you to see the good in the people around you," John said. "We have and we continue to see it. They carry us on through our tougher moments. I mean I wish more than anything my daughter were here, but to me it's just a constant reminder of her spirit and the good that she continues to put in Kristen and mine and Jack and Tommy's life because of the people that support us."
To learn more about CMV, including its cause and treatment along with how you can get involved with their Compete 4 CMV initiative, visit NationalCMV.org.