STORY HIGHLIGHTS
Doug Martin's 2013 shoulder injury won't keep him out of offseason workouts with the team in 2014
The Bucs intend to establish a power rushing attack under Lovie Smith and Martin is capable of carrying the load
Martin has averaged 111.3 yards from scrimmage per game in his young career

Less than six minutes after he began speaking at his introductory press conference, new Tampa Bay Buccaneers Head Coach Lovie Smith came around to one of his core offensive beliefs. While Smith obviously knows that an NFL offense needs balance – only two teams, San Francisco and Seattle, ran the ball more often than they threw in 2013 – he intends to build his on "a strong running game, a power running attack."
As such, one of the most noteworthy developments of Smith's first offseason at the Buccaneers' helm will be the recovery of third-year running back Doug Martin from the right shoulder injury that sidelined him for much of 2013. The Buccaneers got some noteworthy efforts out of Mike James and Bobby Rainey after Martin's injury last fall, and Offensive Coordinator Jeff Tedford expects to make use of several running backs next season, but it is Martin who is likely to, uh, shoulder the load in 2014.
Fortunately, his shoulder appears as if it will be up to the task, and soon.
On Wednesday, after another session in the training room at One Buccaneer Place – he comes in three or four times a week, for about two hours at a time – Martin expressed confidence that he will soon be back full strength.
"I feel pretty good," said Martin. "I'm doing everything the trainers are telling me. I'm coming into rehab and getting it done. I've got about three or four more weeks left before I'm ready to get back into the weight room and start running again so I can get ready to go."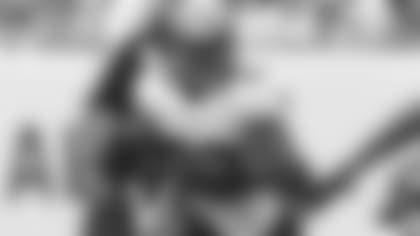 RB Doug Martin lost 10 games to injury in 2013 but racked up 1,926 yards from scrimmage as a rookie in 2012
The NFL's new league year starts on March 11, and the Buccaneers' first organized work on the practice field will fall on April 7. Martin says he will be essentially full-go by that date, though he understands that the trainers may seek ways to ease him back into action to avoid any setbacks. Fortunately, he has been able to do a variety of conditioning and strength exercises that don't stress his shoulder.
"We might hold me back from a couple things and keep track of what I do to make sure no injury re-occurs," he said. "I get in the pool and I run for about 15 or 20 minutes. I do some curls and some abs to make sure I don't get too big during the offseason. I'm keeping myself in shape."
Martin's injury was a fluke thing, as he landed awkwardly while trying to make a diving, spinning catch near the goal line in Atlanta in Week Seven. Up to that point, he had played in 22 games since being drafted with the 31st overall pick in 2012 and had racked up 2,448 yards from scrimmage, or 111.3 per game. Tampa Bay's offense as a whole struggled to get on track in the first month of 2013, but Martin's rookie season was testament to what he can produce as the centerpiece of an NFL rushing attack.
In 2012, Martin started all 16 games for the Buccaneers and ran for 1,454 yards and 11 touchdowns on 319 carries, the second-highest single-season rushing total in franchise history. He averaged 4.6 yards per tote and also added 49 catches for 472 yards and another score. He got 20 handoffs per game as a rookie, and that was upped to just over 21 last year before his injury. Compactly built and the type of runner who frequently pushes through contact for extra yards, Martin is more than capable of providing the power attack Smith is planning to field.
And, fortunately, the two will be able to start working together sooner rather than later. One unfortunate landing in the Georgia Dome may have wiped out much of Martin's intended follow-up to his rookie breakout, but it doesn't appear as if it will affect him in 2014, and that's good news for Lovie Smith's Buccaneers.