STORY HIGHLIGHTS
With the Bucs and Carl Nicks parting ways, there are now two offensive guard spots open for competition
Jamon Meredith, who could take Nicks' spot at left guard, says the team has plenty of strong candidates
Meredith has started significant stretches at both guard spots during the past two seasons

The Tampa Bay Buccaneers sent out a press releaseat 4:55 p.m. on Friday afternoon stating that the team and Pro Bowl guard Carl Nicks had mutually parted ways. That was 25 minutes after the Bucs had taken the field for their first training camp practice, and about 16 minutes after lightning had forced them back into the locker room.
Jamon Meredith, who was focused on the shifting practice schedule and what he personally needed to do to meet his coaches' demands, was not aware of the Carl Nicks news until practice ended and the media was allowed into the locker room. Nicks had already been excused from camp, so there was no reason for Meredith to read anything into his absence on the practice field.
He knew something was up, however, when the media descended upon his locker.
"The first time I heard about it was when [the media] came in and told me," said Meredith. "I was at practice, so I don't have a phone or Twitter out there. So this is news to me. I figured something was wrong because you all came and talked to me. I knew it had to be something. I heard about it, and that's really unfortunate."
The attention paid to Meredith in the post-practice locker room was the direct effect of Head Coach Lovie Smith's press conference a few minutes earlier. Smith indicated that, had the team actually gotten to its full-team portions of practice that evening, Meredith would have taken the first snaps at left guard, Nicks' presumptive position. That doesn't mean Meredith is a lock to be starting between Anthony Collins and Evan Dietrich-Smith on opening day – both guard positions are wide open to competition – but he is clearly one of the team's primary options to replace Nicks.
Meredith, who also spent a good portion of the offseason working at both tackle positions, isn't taking anything for granted, but his versatility and the sudden absence of Nicks certainly makes him a more important figure on the Bucs' offensive front.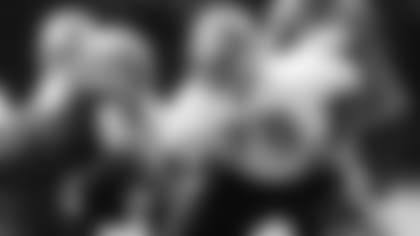 Jamon Meredith worked at both tackle and guard during the offseason and has extensive starting experience inside
"I took some tackle reps today," said Meredith. "That's going to be pretty much my [thing]. I'm always going to have that in my back pocket. Even if I am blessed to be able to start at guard, if something happens at tackle and my coach wants me to start at tackle I can do that and still keep it rolling. I was blessed with the ability to be able to play both positions, so I'm going to always have that in my repertoire."
The Buccaneers signed Nicks to a lucrative free agency contract in March of 2012, following his second straight Pro Bowl season in New Orleans. He started out strong but then succumbed to a toe injury seven games into the '12 season. Complications followed, most notably a serious infection, and he was able to suit up just twice in 2013. Nicks exhausted every possibility in his efforts to return to the field in 2014 but stated on Friday that he was going to "step away from the game."
Meredith may have been surprised by the news after practice on Friday, but he wasn't worried about the Bucs' ability to weather this latest development.
"Carl's a great player and I had the utmost respect for him," he said. "I love him as a player, I liked watching him and I learned a lot from him. But he's gone down two times before in the past and we were able to bounce back, and that was right when it happened, without time to actually plan and get adjusted to each other. It happened on the fly, and we found a way to keep improving. I think we'll be okay. Honestly, I really do."
The Buccaneers signed Meredith as a tackle in 2012 but he ended up being the team's best option at left guard after a season-ending injury to Davin Joseph. After starting 12 games at that spot in his first Buccaneer season, Meredith was a reserve to start 2013 but eventually made eight starts at left guard in Nicks' absence. In the offseason, after the change in management brought in Lovie Smith and Jason Licht, Meredith was one of only three unrestricted free agents the Bucs re-signed out of a list of 17.
What Smith and Licht's Buccaneers got was a lineman who is willing and able to fill in wherever needed. On the first day of camp, Meredith isn't necessarily thinking about one job in particular for himself. He's surveying the team's overall offensive line depth and feeling confident in what he sees.
"Especially on the offensive line, you never know who's going to start, you never know who's going to go down," he said. "You can lose one here, you can lose one there, but that's the type of group [we have]. We have a tough group, we have a smart group that can bounce back from stuff like this.
"I've always thought that we had a good group across the board, at every position.  I know it's always tough to lose somebody, a Pro Bowl-caliber guard like Carl Nicks, but we've lost Carl a few times in the past and we've been able to bounce back.  This is one of those unfortunate things, but as far as our team I think we're built ready and I think we're built to be able to bounce back from this.  We've got a lot of young guys that can step in.  I'm experienced, Oniel Cousins is experienced, and we've got some guys that have played multiple positions.  I think, honestly, we'll be fine."