STORY HIGHLIGHTS
The Bucs will give Patrick Omameh the start at RG against Miami and hope for better play up front
Even with the loss of rookie Charles Sims, Tampa Bay has excellent depth at running back
Lovie Smith's Buccaneers are determined to re-establish a significant homefield advantage in 2014

After struggling in the preseason opener at Jacksonville, the Tampa Bay Buccaneers' offense made one change to their blocking front and lost one player to injury. In both cases, the result is an important opportunity for other Buccaneer players.
That change on the offensive line came at right guard, where the team will start second-year man Patrick Omameh after testing Jamon Meredith at that spot last week. The Bucs are looking to determine their best starting tandem at the two guard spots this month, and they will stand pat with Oniel Cousins on the left side after he put some good work on tape in Jacksonville. Omameh's presence alone, even if he plays well in his first NFL start, won't cure all the problems from the preseason opener; the Bucs need the entire unit to put forth a stronger effort in Week Two.
"We didn't play as well as we need to, as well as we will," said Head Coach Lovie Smith. "Some things we were able to work on in practice and I'm anxious to see exactly how far we've come this week.
"We have a few guys that played decent football on the offensive line last week, but as a whole we didn't. We have made one change – Patrick Omameh will start tonight along with Oniel Cousins at the other spot. Our two tackles and our center will remain the same, and hopefully we can do some things to help them out like run the ball a little better."
The player the Buccaneers lost to injury over the week was a factor in that running attack. Rookie RB Charles Sims, the team's third-round pick in the 2014 draft, will miss at least the first half of the regular season after sustaining an ankle injury in practice that required surgery. While that is an unfortunate development for the team, they can at least fall back on some rather impressive depth in the backfield.
"It was just a freak injury, no contact involved, came down wrong on his ankle," said Smith of the loss of Sims. "This was a setback for him; he was doing some good things. We're excited about what he would bring to our team early on, but we'll just have to wait a little bit longer.
"We were talking about five guys that were doing good things for us, and now we have four. That's plenty of guys. It will be a few more reps, and more opportunities for some of our guys."
While the offense failed to find a groove in Jacksonville, the Bucs' defense was good from play one, when All-Pro DT Gerald McCoy knifed through the Jaguars' line and forced a five-yard loss on a running play. Tampa Bay's defense only allowed a field goal after a turnover and a late touchdown when the deep reserves were in (the other Jacksonville TD was a pick-six), and the line in particular was dominant for much of the night.
But it was far from a successful performance in Smith's eyes, and that boils down mostly to the team's lack of takeaways.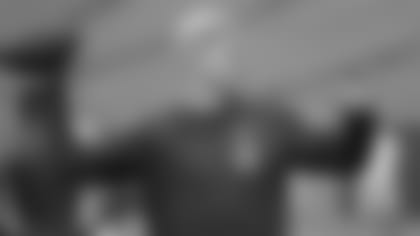 QB Josh McCown should get better protection from the O-Line in the Bucs' second preseason game
"We deferred [on the coin flip] and went three-and-out," said Smith. "Guys played good ball as far as just getting them off the field. We did some good things – Gerald, of course, getting off the ball. But we had some opportunities. On one play we had an opportunity for a takeaway and three of our guys missed it. I'm not pleased with zero turnovers. You don't win many games when you're minus-two in turnovers."
Smith thinks his team will make a significant improvement from Week One to Week Two of the preseason. If so, they will put on a show for the home crowd in the first action at Raymond James Stadium this summer. This also happens to be the first time that Lovie Smith will walk out of the home tunnel as head coach of the Tampa Bay Buccaneers.
"There's nothing like playing your first preseason game at home," said Smith. "They keep score, the fans are out there and the fans are ready to go. There's a lot of excitement. There's no place like Raymond James Stadium and our crowd will be a big part of our success here."
There are no official inactives during the preseason but the Buccaneers have indicated that the following players will not suit up tonight: Sims, CB Alterraun Verner, CB Mike Jenkins, T J.B. Shugarts, DL Da'Quan Bowers and DE Steven Means. The Dolphins will hold out RB Mike Gillislee, RB Knowshon Moreno, RB Daniel Thomas, TE Charles Clay, DT Micajah Reynolds, C Mike Pouncey, T Jason Fox, TE Arthur Lynch, TE Harold Hoskins and DT A.J. Francis.
With Verner and Jenkins out, the Bucs will start second-year player Rashaan Melvin at left cornerback. The team is also expected to give rookie WR Mike Evans, the seventh overall pick in the 2014 draft, his first preseason start.
The Bucs play their 2014 preseason home opener against the Dolphins on Saturday night at 7:30 p.m. ET at Raymond James Stadium. The game will be broadcast locally on television by WFLA-TV and on radio through the Buccaneers Radio Network and its flagship station, US 103.5 FM. That radio broadcast will also be carried live on Buccaneers.com.