Mike Evans has "only" one 100-yard receiving game so far this year, but he is averaging just over 100 yards per game, and no Tampa Bay Buccaneer has ever been able to say that three games into a season before.
With 99 receiving yards in the season-opener at Atlanta, 70 in Week Two at Arizona and another 132 on Sunday against Los Angeles, Evans now has a total of 301 in 2016. That's the most through the first three weeks of the season by any player in franchise history.
Most Receiving Yards, Buccaneers, First Three Games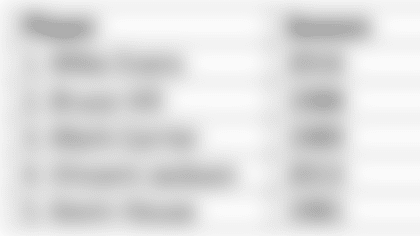 Evans is on pace for 1,616 receiving yardson the season, which would easily break the Bucs' single-season record of 1,422 by Mark Carrier in 1989. Of course, it's a bit early for a pace to be firmly established, but it's worth noting that every other player in the top five on the above list did crack 1,000 yards, as Evans has done in each of his first two seasons. He's trying to become just the fourth player in NFL history to start his career with three consecutive 1,000-yard receiving seasons (the New York Giants' Odell Beckham can also accomplish that feat in 2016). The first three to do so were John Jefferson, Randy Moss and A.J. Green.
Evans is one of just five receivers currently averaging over 100 yards per game in the NFL. He is, in fact, among the league's top five in receptions, receiving yards and touchdown catches.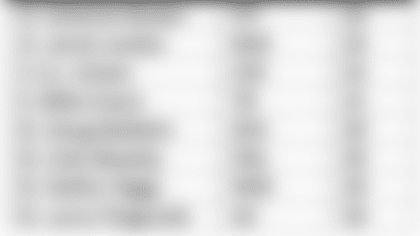 NFL Receiving Yardage Leaders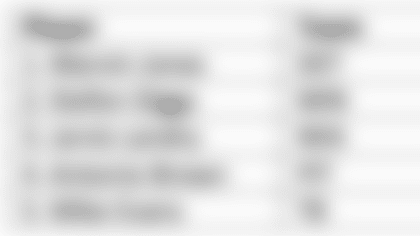 NFL Touchdown Reception Leaders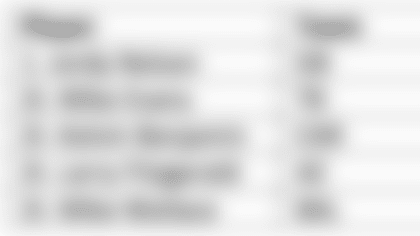 Evans and Green Bay's Jordy Nelson are the only players who have caught a touchdown pass in each of the first three weeks of the season. That makes Evans the first player in Buccaneer history ever to accomplish that feat. The Buccaneer record for consecutive games with a touchdown catch, regardless of when it happens in the season, is four, with  Evans among those who have put together such a string. He did it during his 2014 rookie campaign; it was also previously done by Mike Williams over the last three games of 2010 and the opener of 2011; Antonio Bryant in 2008; Joey Galloway in both 2004 and 2005; and Bruce Hill, who did it first in 1988.
Evans led the Bucs with 132 yards on 10 catches on Sunday but second-year wideout Adam Humphries also contributed exactly 100 yards on nine receptions, both of which were career highs. Evans and Humphries were the first pair of Buccaneers to each post a 100-yard receiving game in the same contest since Vincent Jackson had 117 and Louis Murphy had 113 at Chicago on Nov. 23, 2014. That double 100-yard performance has happened just 10 times in Buc annals, and only six times by a pair of wide receivers.
Two Buccaneers with 100 Receiving Yards Each in the Same Game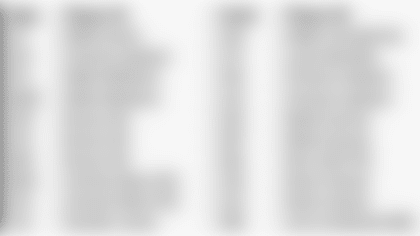 Tight end Cameron Brate tied his single-game career high with five receptions, which netted 46 yards and a pair of touchdowns. It was Brate's first two-TD game, and the first by any Buccaneer since Austin Seferian-Jenkins did the same thing in the last year's season opener against Tennessee (Sept. 13, 2015).
RB Charles Sims accounted for the Buccaneers' fourth offensive touchdown on a one-yard run in the second quarter. Sims, who also scored on a 23-yard reception in the Week One win over Atlanta, is one of only six player in the NFL who have already found the end zone on both a catch and a run. The other five, all running backs, are Pittsburgh's DeAngelo Williams (2 rush, 1 rec.), Denver's C.J. Anderson (2, 2), Tennessee's DeMarco Murray (1, 2), Detroit's Theo Riddick (1, 1) and Indianapolis' Frank Gore (1,1).
Sims gained 55 yards on 13 carries and added 69 yards on his six catches for a total of 124 yards from scrimmage. That's the third time in his career he has cracked 100 combined rushing and receiving yards in a game. He has specifically had three games since the start of 2015 in which he has posted at least 50 rushing yards and at least 50 receiving yards. That's tied with Atlanta's Devonta Freeman for the must such games in the NFL in that span.
Sims missed the first eight games of his 2014 rookie season due to injury, making his regular-season debut against Atlanta on Nov. 9 of that year. Since that game, he has amassed 856 receiving yards, the second-most by an NFL running back in that span. The only running back with more is Detroit's Theo Riddick, with 994.