STORY HIGHLIGHTS
Josh McCown is healthy and active for Sunday's game but Mike Glennon will get the start at QB
Tampa Bay's secondary is in better shape after the returns of S Dashon Goldson and Johnthan Banks
The home team hopes new return man Trindon Holliday can provide an instant spark

In a way, Lovie Smith had a tougher decision on Sunday morning than he has had on most game days this season. Fortunately, that falls into the proverbial "good problem to have" category.
Specifically, Smith had a nearly complete roster of players to choose from when it came time to decide the 46 men who would be active on Sunday to take on the Minnesota Vikings. Reserve linebackers Jonathan Casillas and Brandon Magee will miss the Week Eight contest at Raymond James Stadium due to injury. The other 51 players on the roster are healthy enough to play, the result of the extra week of rest and recovery afforded by a Week Seven bye.
"It kind of goes without saying a little bit, that all players look forward to that bye week to let their bodies heal up a little bit," said Smith. "For us, it came at the perfect time. Except for one player we'll have our entire football team available this weekend."
That includes, to the Buccaneers' good fortune, starting right cornerback Johnthan Banks and starting free safety Dashon Goldson. Tampa Bay's secondary had one of its worst outings in recent memory in Week Six against Baltimore, and while there were factors to that performance beyond missing players, it still obviously helps to get Banks and Goldson back.
"Both guys have practiced well this week, gotten all the work in, so of course it's good to get your starting corner and starting safety back out there," said Smith. "Both guys are a go."
Quarterback Josh McCown, who started the first three games of the season before suffering a thumb injury in Atlanta, is also back among the options from which Smith can choose. Second-year man Mike Glennon will make his fourth straight start, but McCown will be active and would be the team's next option, with Mike Kafka one of the seven inactive players.
"He has come back quickly, but he was able to go through practice all week," said Smith of McCown. "The hand will not be a part of the equation at all. He's good to go."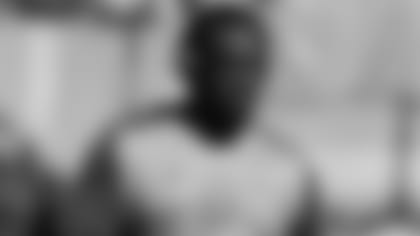 Like several of his teammates, DT Gerald McCoy is closer to 100% healthy after a well-timed bye week
The Bucs are also hopeful that the extra rest will help players who have been working through other injuries – such as Gerald McCoy, Michael Johnson and Vincent Jackson – be closer to 100% effective as the team tries to start a post-bye push. McCoy (hand) and Johnson (ankle) in particular are key to the Bucs' fortunes in Week Eight and beyond. Facing rookie quarterback Teddy Bridgewater, who has been sacked 13 times and picked off five times in the past two games, the Bucs want to create havoc in the backfield from the game's early minutes. While Bridgewater has said that he has caused many of those negative plays by holding onto the ball too long, the Bucs don't want to count on having that advantage Sunday.
"As our front is rushing him, we don't want to rely on him holding the ball an awful lot," said Smith. "We have to get pressure on a normal rhythm for the quarterback, which we feel like we can do. Getting Michael Johnson fresh, healthy and ready to go should help our defense a lot.
"Teddy Bridgewater is a rookie quarterback but he's going to be a very good quarterback in the league. A lot has been placed on him. He's healthy now also. They're still committed to the running game. They try to win football games the same way we do – commit to the run, play-action passes and those things."
Another part of the Bucs' avowed formula for winning under Smith is gaining an edge on special teams. The team hopes it did that this week by signing return man Trindon Holliday, who had six combined punt and kickoff return touchdowns during the 2012-13 seasons (including postseason games). The former Bronco takes over for rookie Solomon Patton, who had acceptable return averages but had yet to break a big one.
"We wanted a spark," said Smith of the Holliday signing. "He knows how to go the distance with it. He has excellent quickness, good vision, a knack for making a guy miss in the open field. Again, that's an area where you can gain ground. We put a lot of emphasis on our special teams but you need a special returner back there and we feel like we have one of the best around."
If that formula works, the Buccaneers could secure their first home win of the season on Sunday. An 0-3 record at Raymond James Stadium has contributed to the team's surprising and frustrating 1-5 start. Smith thinks his team can change that against the Vikings.
"We're overdue to get that first victory here at Raymond James Stadium," he said. "I feel like our guys are going to play hard, be physical and find a way to get a victory."
In addition to Kafka, Casillas and Magee, the Buccaneers deactivated S Keith Tandy, CB Brandon Dixon, G Kadeem Edwards and T Kevin Pamphile. The Vikings declared the following seven players inactive: FB Zach Line, LB Gerald Hodges, LB Brandon Watts, G Vladimir Ducasse, G David Yankey, TE Kyle Rudolph and De Scott Crichton. Hodges, Ducasse and Rudolph are out due to injury.
The Buccaneers take on the Vikings in Week Eight of the 2014 season on Sunday afternoon, with kickoff scheduled for 1:00 p.m. at Raymond James Stadium in Tampa. The game will be broadcast on television by FOX and on radio through the Buccaneers Radio Network and its flagship station, US 103.5 FM. That radio broadcast will also be carried live on Buccaneers.com.