STORY HIGHLIGHTS
If the Bucs are to repeat their road success from Week Four, they will need several reserves to step up
Tampa Bay's pass rush, led by Gerald McCoy and Michael Johnson, will be the key to slowing down Drew Brees
Both teams will be starting backup free safeties due to injury

It's safe to say that the Tampa Bay Buccaneers enjoyed this past week at the office more than the three previous ones, given that they were celebrating a victory for the first time. But if their first three losses weren't going to affect their preparation, as they claimed, then neither was one victory – no matter how dramatic – going to disrupt their approach.
"It's still about going through the same routine," said Head Coach Lovie Smith. "You look at video, make the necessary corrections. There were a lot of things we did wrong that we need to correct."
If Tampa Bay's last-minute victory in Pittsburgh didn't alter the routine, it did at least provide a confidence boost, particularly in regards to their ability to come through in clutch moments. The Bucs came through at the end in a very hostile environment, and they might have to do so again Sunday if they want to hand the Saints their first home loss since 2012.
"There were more positives than negatives [in the Pittsburgh game]," said Smith. "We did so many things right. We do talk about finishing games. You want to start fast and play well throughout, but it is how you finish games. There are some situations that we practice a lot that came up, and you get to a point sometimes where you just have to make a play in a critical moment. We had different guys step up at critical times during the game."
One of those critical moments faced the Buccaneers with less than 40 seconds left in the game last Sunday. QB Mike Glennon, who was starting in place of the injured Josh McCown, hit WR Louis Murphy down the seam for a gain of 41 yards to the Steelers' five-yard line. Vincent Jackson scored the game-winning touchdown two plays later.
Murphy caught six passes for 99 yards in the game, most of it after he stepped into the primary WR spot opposite Jackson following a groin injury to rookie WR Mike Evans. Evans had made several big plays in that contest before he was hurt, but Murphy allowed the offense to continue without missing a beat. He is one of the main players who will be asked to "step up" again in New Orleans, as Evans remains out.
"Mike Evans did have a big game and was really playing good ball before he went down, but he is not ready to go this week so he'll be inactive," said Smith. "We'll hopefully get him back soon. In his absence, Louis Murphy, who really stepped up last week, will take his place.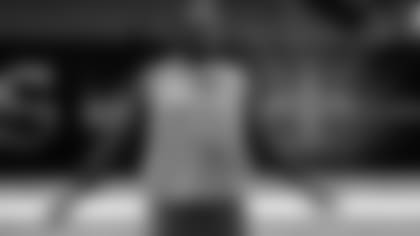 DT Gerald McCoy could be the key to getting enough pressure on Saints QB Drew Brees to create mistakes
"He's a local guy who did well. He had an unfortunate injury in the last preseason game and he did go away for a few weeks, was working hard to get himself healthy. As soon as he was, we brought him back. Your roles change at different times and you have to be ready. If you deserve to play, you'll normally get an opportunity. The ones that are ready for that opportunity can really take off with it, and he did."
LB Danny Lansanah did the same thing, making his first NFL start last Sunday at strongside linebacker. Lansanah's role could grow again in Week Five, as he may get a chance to remain on the field during nickel packages, along with Lavonte David, with starting middle linebacker Mason Foster still sidelined. Fifth-year safety Major Wright will have a larger role, too, as he will start in place of the injured Dashon Goldson at free safety. Wright, who played three seasons under Smith with the Chicago Bears, played much of the Steeler game after Goldson's ankle injury and finished with nine tackles.
"Another University of Florida guy doing well," said Smith. "Every year he's played in the league he's played in the league he's played in our system. He knows it about as well as we know it as coaches. He's a vocal player. You have to be able to make plays and he did a great job with some critical tackles last week."
Tampa Bay's latest rash of injuries has been somewhat balanced out by the return of such previously-shelved players as Gerald McCoy, Michael Johnson, Doug Martin and Austin Seferian-Jenkins. McCoy and Johnson, in particular, made a noticeable difference in last week's game, combining for three of the team's season-high five sacks. Given the need to slow down, at least, the amazingly prolific Drew Brees, the efforts of McCoy and Johnson are likely to be central to today's outcome as well.
"It's critical," said Smith. "Each week we say this, but it does help your pass rush when the face of your franchise, Gerald McCoy, comes back. And he was dominant as he always is. Getting Michael Johnson back – Michael has been hurt pretty much from the start of the season – Mike had some good reps. He was the only guy on our team who graded out as an "A" for his overall performance last week."
In addition to McCown, Evans, Foster and Goldson, the Buccaneers have deactivated DE Larry English, T Kevin Pamphile and G Kadeem Edwards. Like the first four, English is out due to injury.
The Saints will also be on their second free safety, as veteran Jairus Byrd suffered a season-ending knee injury during practice this week. Rafael Bush will start in his place. RB Mark Ingram will also miss another game due to a hand injury. The remainder of the Saints' inactives are WR Joseph Morgan, FB Erik Lorig, LB Ronald Powell, WR Nick Toon and NT Brandon Deaderick.
The Buccaneers take on the Saints in Week Five of the 2014 season on Sunday afternoon, with kickoff scheduled for 1:00 p.m. at the Mercedes-Benz Superdome in New Orleans, Louisiana. The game will be broadcast on television by FOX and on radio through the Buccaneers Radio Network and its flagship station, US 103.5 FM. That radio broadcast will also be carried live on Buccaneers.com.
Brush up on the Saints' key players before Sunday's matchup in New Orleans.