STORY HIGHLIGHTS
The Bucs got three picks off Drew Brees and the Saints in Week Five and will need more of the same to end the season with a victory
WRs Mike Evans and Vincent Jackson are on the verge of becoming the first 1,000-yard receiving duo in franchise history
The Buccaneers will be without starting MLB Mason Foster but the Saints will play without LT Terron Armstead and two-thirds of their starting D-Line

The Tampa Bay Buccaneers and New Orleans Saints needed a little extra time to decide their Week Five matchup in October. This week, they'll run out the clock on the 2014 season, and chances are the game will be just as close as it was the first time around.
"I think you can take quite a bit from [the first game]," said Buccaneers Head Coach Lovie Smith. "For the most part, a Sean Payton offense has a certain look; it's not going to change a lot. A Rob Ryan defense has the same look, and it's the same thing with us. Both teams have gotten better at different things, but for the most part it's the same schemes and it always comes down to who performs each play, and that's what it will come down to this time."
The Saints prevailed in overtime, 37-31, in the Superdome in the two team's first meeting. That outcome came despite the fact that the Buccaneers won the turnover margin, 3-1, picking off superstar QB Drew Brees three times. Even though those takeaways didn't quite produce a victory, the Bucs know that area of the game will be extremely important again in Week 17. Like the Buccaneers, the 6-9 Saints, who were just eliminated from the NFC South race last Sunday, have failed to meet their 2014 expectations in part because they haven't taken the ball away nearly as well this year as they did in 2013.
The Buccaneers plan to be much better in that regard in 2015, and they'd like to provide a preview of that type of performance in the 2014 finale.
"We hope that's in our DNA, to take the ball away," said Smith. "It is critical. If you look at [the Saints'] football season, they'll probably say one of the reasons they haven't had the type of year that they were expecting is that you have to protect the football. It's the same thing with us. Turnover ratio, just like the last time we played, will be huge."
The game's final outcome won't have a significant impact in the league standings, as the NFC South crown will be decided by Sunday's Panthers-Falcons game in Atlanta. That doesn't lessen Tampa Bay's desire to add another win to its final total, and they might rely on some young players to get that victory. Rookie RB Charles Sims has seen his role steadily increase since his return from an ankle injury, for instance, and he'll surely get another chance to impress in the season finale.
"It was good to get Charles Sims back on the field after that injury," said Smith. "We see signs of him getting better each week. Bradley McDougald, I've talked about quite a bit based on his play. I just think he's going to be one of the better safeties; I've really liked the progress he's made. I try to get [kicker] Patrick Murray [into the conversation] every time, too. He's one of those players that at the start of the season we didn't know a lot about him. We know a lot more about him now."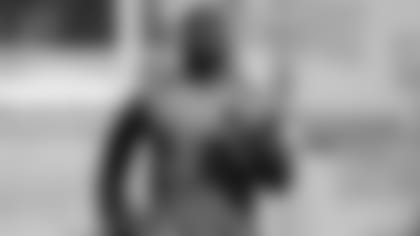 CB Leonard Johnson and the Buccaneers' defense will likely need some takeaways to slow down Drew Brees and the Saints' offense
First-year DE Jacquies Smith is another young Buccaneer who has risen to prominence in the second half of the season, based on the merit of his play. Smith is second on the team with 6.5 sacks and has started at left end since midseason. On the other end of the line, Michael Johnson will face a backup at left tackle, as Bryce Harris steps in for the injured Terron Armstead. Johnson and Smith may be the key to the Bucs' pass-rush on Sunday, but they'll have a lot of help as the team has kept nine down linemen active for the second straight week. There's one change in that group, however, as recently-signed end Lawrence Sidbury will get the active jersey this week instead of undrafted rookie DT George Uko.
"He's gotten the production by actually getting the quarterback down with his sacks, but he's had good pressure also," said Lovie Smith of Jacquies Smith. "He plays hard. Of course, he's still a young football player but he's made the most of the opportunities that he's gotten. And we're going to even try to get Lawrence Sidbury a few reps this week."
Armstead isn't the only New Orleans player to get hit by injury in the season's final month. Earlier this week, the Saints placed DE Akiem Hicks, NT John Jenkins and RB Pierre Thomas on injured reserve. That means two-thirds of the Saints' starting defensive line will be replaced on Sunday. Brandon Deaderick will make his second start of the season and the 17th of his five-year career at left end in Hicks' spot, and rookie Lawrence Virgil will make his first NFL start at nose tackle for Jenkins.
The third starting lineman is 2013 Pro Bowl DE Cameron Jordan, who has seen his sack total decline from 12.5 last year to 6.0 in 2014. Nevertheless, he and outside linebacker Junior Galette (9.0) represent the Saints' top pass-rushers, and as always, a Rob Ryan-designed defense is a threat to bring extra blitzers from all over.
"It's one thing to be a 3-4 team, and that's just their base foundation, their structure," said Smith. "But then it's what you do with it, and they'll come with a lot of different blitzes, even though they haven't blitzed as much lately. For us, when you find a team that does that much blitzing you know that you're one-on-one on the outside and that's what we need to win."
If the Bucs can give QB Josh McCown time to hit his impressive outside duo of Mike Evans and Vincent Jackson, the team will have a chance to put up memorable numbers on the scoreboard and in the year-end stat sheet. Evans needs just three yards and Jackson nine for the two to become the first pair of Bucs to hit 1,000 receiving yards in the same season. That's one milestone the team would like to hit – and probably will – but it's not the only thing the Bucs are playing for in Week 17.
"One game left to go," said Smith. "We're not playing for a lot – some people would look from the outside and say that. But it's one more chance for our guys to give us one more look at them, to give us some insight on what's coming next year. So this is a big game for our football team. They realize that and they prepared this week to play their best game."
The Saints have included starting safety Kenny Vaccaro, a 2013 first-round pick and rookie standout, on their inactive list for Sunday's game, though Vaccaro was not on the weekly injury report. Jamarca Sanford, who has seen his role expand in recent weeks, will start in Vaccaro's place.
Foster is one of the Buccaneers' seven inactive players for the game, along with Uko, WR Robert Herron, WR Solomon Patton, RB Mike James, CB Isaiah Frey and T Anthony Collins. Foster, Patton and Frey were out due to injuries.
Along with Vaccaro and Armstead, the Saints deactivated WR Seantavius Jones, WR Brandon Coleman, CB Stanley Jean-Baptiste, LB Moise Fokou and LB Jerry Franklin. Armstead was out due to injury.
The Buccaneers take on the Saints in Week 17 of the 2014 season on Sunday afternoon, with kickoff scheduled for 1:00 p.m. ET at Raymond James Stadium in Tampa. The game will be broadcast on television by FOX and on radio through the Buccaneers Radio Network and its flagship station, US 103.5 FM. That radio broadcast will also be carried live on Buccaneers.com.