STORY HIGHLIGHTS
The Falcons got much-improved play from their offensive line in Sunday's win against the Buccaneers
Carolina lost a lopsided game on Monday Night Football and have a new injury concern on the defensive line
The Saints' latest loss in a game that came down to the wire did not knock the team out of first place

The New Orleans Saints are now below .500, but still in possession of first place in the struggling NFC South. Despite enduring a five-game losing streak, the Atlanta Falcons are now just a game behind the Saints following a win in Tampa that included some encouraging signs from a shuffled offensive line. The losses suffered by New Orleans and Carolina – to San Francisco and Philadelphia, respectively – also came with potentially difficult injury news for the team's defenses. In Week 11, the Falcons and Panthers meet up to see who can stay on the Saints' tails, while New Orleans gets a chance to start another home winning streak against the contending Cincinnati Bengals. As the division prepares for what will surely be an unpredictable stretch run, it's time once again for our weekly check of the headlines from around the Buccaneers' division.
In Atlanta, the Falcons are enjoying a victory for the first time since the days following Tampa Bay's visit to the Georgia Dome in Week Three. The Falcons are now just a game out of first place in the division and they learned a few things about themselves during their trip to Tampa. In addition to such notes as the unexpectedly strong play of James Stone, the team's third center of the season, and the life in Steven Jackson's legs, the Falcons also apparently had "no concern" that the Bucs would answer Atlanta's go-ahead touchdown in the fourth quarter, according to CB Desmond Trufant. Dave Choate got a little more specific on The Falcoholic, breaking down a strong performance from the Falcons' shuffled offensive line. Choate says that unit, which has lost five players to injured reserve, will be the key to the team finding enough wins down the stretch to make the playoffs and/or keep Head Coach Mike Smith around. The O-Line was definitely a winning edge for Atlanta on Sunday, as it allowed just one sack and helped veteran RB Steven Jackson look both powerful and "youthful." As for Smith didn't have to answer questions about his job security this week after a victory, and he had some other positive developments to discuss, such as an Atlanta rushing defense that seems to be getting steadily better. The Falcons gave up a whopping 153.5 rushing yards per game during the season's first month but have surrendered just 100.4 per game over the last five outings, including 92 to the Bucs. Atlanta had made an effort to build a stronger interior line with the offseason acquisitions of DTs Paul Soliai and Tyson Jackson. "We were really not where we wanted to be at the beginning of the season, and we've slowly started to play better," said Smith. "It's a group effort. It starts with being able to occupy blockers with your front, and then having the linebackers and the safeties making sure they fit it well. It's good to see us play the run much better here, especially the last three or four weeks." Smith was not pleased with a couple of the penalties Atlanta drew on Sunday, even though they were flagged half as often as the Buccaneers and for a season-low 30 yards. Atlanta's defense also recorded a season-best four sacks on Sunday at Raymond James Stadium; the Falcons have 11 sacks on the season, seven of them in two games against the Buccaneers. Clearly, the pass rush has been lacking this year, but it could heat up in the second half if Kroy Biermann and Osi Umenyiora continue to produce. The back end of Atlanta's defense could be stronger by the end of the month, too. Starting safety William Moore has been on short-term injured reserve for much of the season but he's eligible to return to practice this week and could suit up by November 30 against Arizona. It also appears as if the team left Tampa without any new major injury concerns; three different receivers were banged up during the game but none of their ailments appear to be serious.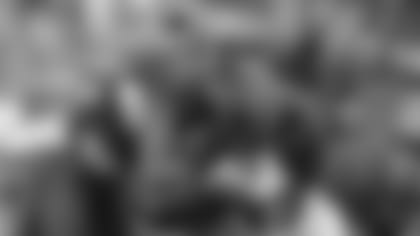 Atlanta's win in Tampa moved them back within a game of first place in the NFC South
In Carolina, the Panthers are just now recovering from their Week 10 contest, as they played on Monday night in Philadelphia. The Charlotte Observer said the team got "embarrassed" by the Eagles in a 45-21 loss, which started with two turnovers on Carolina's first three plays from scrimmage. "The Panthers have fallen," wrote the Observer's Joseph Person, "and have shown no signs of getting up." Carolina actually did show a few signs of life very late in Monday's game, making the score look a little less lopsided with two Kelvin Benjamin touchdown catches, though that was probably more important to fantasy football players than anyone else. Jonathan Jones of the Observer wrote that Carolina QB Cam Newton, who threw three interceptions and lost a fumble, had one of the worst games of his career. While that kind of outing might be partially attributable to a series of injuries Newton is rumored to be dealing with, Head Coach Ron Rivera said on Tuesday that his quarterback is not hurt. ESPN.com's David Newton reports that Rivera is committed to sticking with Newton and is not looking for "short-term fixes." Unfortunately for the Panthers as they prepare for a Week 11 game against Atlanta that will determine who stays in second place behind the Saints (or potentially catches the division leader), standout defensive tackle Star Lotulelei is hurt; Bleacher Report compiled the reports on Lotulelei as the night progressed. The Panthers' web site reported that the injury does not appear to be "as serious as initially feared," but Lotulelei is expected to miss the Atlanta game. That's a blow to a Carolina front that led the league in sacks last year but is 19th in sacks per pass play in 2014 – without the services of DE Greg Hardy – and has conversely had trouble protecting Newton on the other side of the ball. ESPN.com's Newton suggests that the Panthers simply don't have what it takes to form an effective front on offense. That's obviously not helping Cam Newton succeed in 2014, and it's part of the analysis you'll find in this very lengthy and detailed defense of the fourth-year quarterback by the Cat Scratch Reader's Ivan Halley. Halley says the Panthers are "wasting" Newton's talents. Last year, Newton led the Panthers to the division title but this year, writes Panthers.com's Bryan Strickland, the team is experiencing the less enjoyable side of the NFL's unpredictable nature. "Last year was good, but it's not last year," Strickland quotes DT Kawann Short as saying. "Every year is different. We're not thinking about last year. We're thinking about now and what is wrong with us and what we need to do to correct things." The Observer's Scott Fowler believes there is more that is wrong about the Panthers than what is right at the moment, calling Monday's game "the kind of performance that will get you fired." Among the issues Fowler enumerates, in his opinion, are safeties having difficulty in coverage, the lack of receiver depth behind Benjamin; the absence of a true #1 running back, an out-manned offensive line, poor special teams play and "atrocious" play-calling.
In New Orleans, the Saints are still enjoying their spot atop the division despite falling below .500 with a rare defeat at home. In fact, the 27-24 loss to San Francisco was New Orleans' first in the Superdome since the 2012 season finale, and it was a tough one to swallow. Not only did San Francisco convert a fourth-and-10 with a 51-yard pass to set up the tying field goal in the fourth quarter, but an apparent game-winning TD catch by Jimmy Graham on a Hail Mary was erased by a pass-interference call on the All-Pro tight end. Head Coach Sean Payton wasn't too concerned about the Hail Mary penalty on Monday morning, but the fourth-down conversion definitely drew his attention during film study. San Francisco QB Colin Kaepernick scrambled to his right on the play before throwing back to the deep middle to WR Michael Crabtree, who had gotten behind the defense. "When a play extends that far, coverage gets extended, we have to be able to stay behind it," said Payton.  "We are kind of in a rolled coverage there. We have to stay deeper, and the underneath route that is coming needs to be played by the underneath coverage.  That is one of the challenges about playing defensive back though, when all of a sudden you are covering for three and half seconds, four seconds, we lose contain and now everything becomes problematic.  There is a lot that goes into that." Like the Panthers, the Saints might also have a significant injury on defense to deal with in addition to a tough loss. Cornerback Keenan Lewis missed part of the game after hurting his knee in a collision with TE Vernon Davis, and was limping when he returned. Lewis will undergo an MRI examination and the Canal Street Chronicles says his potential loss would be a major blow to the team. ESPN.com's Mike Triplett quotes Lewis as saying he'll be ready to play against Cincinnati in Week 11 but writes that, "it sounded a little more like that's Lewis' desire than an official diagnosis. Sunday's thriller with the 49ers was the fourth game New Orleans has lost this season by a field goal or less in which it held the lead in the final two minutes of regulation. For that reason, Saints players still believe they will be a legitimate playoff threat, even if they get in largely because the rest of the NFC South is equally trouble. Of course, they'll have to figure out a way to stop letting such games get away, which means doing a better job of "finishing" games. They almost did just that on Graham's Hail Mary play; while that touchdown was erased, Graham had two more during the 49ers contest and appears to be picking up steam, according to Triplett. Having Graham back to full strength, or close to it, is a huge boon for QB Drew Brees, who has come to depend on the tight end in difficult situations. "Brees got some serious pressure [against San Francisco], and we've been able the last five years to really have this connection," said Graham, as reported by Triplett. "And more times than not, when he gets in trouble he just finds me and throws it up. I always tell him, throw it up, I'll be the only one that catches it."