STORY HIGHLIGHTS
The Falcons own the current tiebreaker in the NFC South standings but are not considered the favorite by one predictive model
Carolina got a strong performance by RB Jonathan Stewart Sunday but saw RB DeAngelo Williams incur a broken finger
The Saints didn't much care for rumors of a sideline coaching rift or a waning faith in QB Drew Brees

Week 13 in the NFL brought a win on the road for the New Orleans Saints and a victory over a first-place team for the Atlanta Falcons, which means those two teams remain tied atop the NFC South with identical 5-7 records. Drew Brees proved he wasn't washed up at age 35 with a five-TD, no-interception game while Julio Jones proved that, yes, he was definitely a match for Patrick Peterson. Meanwhile, the Panthers saw their winless streak run to seven games, thanks in large part to an exceedingly rare occurrence on special teams, but they remain alive in the playoff hunt. With the Panthers about to travel to the Superdome for a do-or-die matchup with the Saints, it's time once again for our weekly check of the headlines from around the Buccaneers' division.
In Atlanta, the Falcons are enjoying their first win over a team outside the division, as well as a continued share of first place in the NFC South. The victim was the suddenly-reeling Arizona Cardinals, who found Atlanta WR Julio Jones too much to handle, even with Pro Bowl CB Patrick Peterson on the assignment. Jones might have had a little extra incentive to push him to his 10-catch, 189-yard, one-TD day, as earlier in the week Peterson had claimed an edge in their head-to-head battle dating back college. Jones chose not to engage in the pregame banter, but his big day against Peterson – maybe the league's best at shutting down #1 receivers in 2013 – was the biggest factor in Atlanta's much-needed 29-18 win on Sunday at the Georgia Dome, according to Grantland.com's Robert Mays. Atlanta's passing attack could be even better next week, as WR Roddy White is expected to return after missing the Arizona game with an ankle sprain; CB Robert Alford (wrist) may also return after being fitted for a cast. The Falcons' defense already got S William Moore back on Sunday after a two-month absence. Moore contributed four tackles and a forced fumble but may have made his biggest impact in the locker room before the game. Teammates gave him credit for spurring them on with a pregame speech. "I explained to the team we're number one in the division]," Moore said, as reported on the team's web site. "No matter how it happened, no matter what the record is, let's get some confidence. Let's play like we're number one. No matter how we get there, we're going to win the division." Head Coach [Mike Smith felt that Smith made a difference between the lines, as well. "It was great to have William back," said Smith. "He's a playmaker. He forced the fumble when they were driving the ball there in the first half of the ball game and knocked it out. He had a big hit in the ball game, and when you have him involved as an element, and trying to defend the run it's like having another linebacker close to the line of scrimmage. He did a very good job yesterday. We were a little concerned about his conditioning, but he was able to play every snap in the ball game, so he did a very good job in preparation for his return." After taking care of the NFC West front-running Cardinals in the Georgia Dome the Falcons have another battle of first-place teams in Week 14…but perhaps a much bigger challenge. Atlanta must head to Lambeau Field, where the NFC North-leading Green Bay Packers are 6-0 this season. "They're playing for the same thing we're playing for," said Smith. "They're in first place in their division. We're in first place in our division. It's no different from this past week." A showdown between the Falcons and the Saints in New Orleans also looms in Week 16. Both teams are 5-7, and while Atlanta currently owns the tiebreaker thanks to a win over New Orleans in Week One, but Football Outsiders pegs the Saints as the prohibitive favorite to win the division. The Saints' odds went up 16.5% to 73.7% with their win in Pittsburgh on Sunday, while the Falcons' odds actually went down 4.1%, to 24.5%, despite their victory.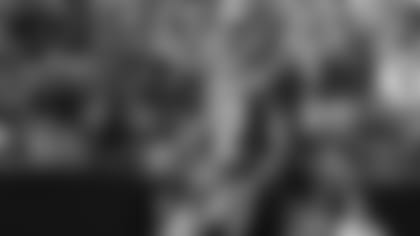 A little more separation took place in the standings in the Buccaneers' division in Week 13
In Carolina, the Panthers stayed alive in that NFC South race despite seeing their winless streak stretch to seven games with a  31-13 loss at Minnesota. That same FO playoff-odds chart lists the Panthers' playoff chances at 1.2%, though they remain just 1.5 games out, at 3-8-1, with four to go, including one more each against the rest of the division. In fact, Carolina could get right back in the picture this coming Sunday with a win at the Superdome. Tight end Greg Olsen said the playoff race is a secondary concern for his team right now, however. ''All that other stuff, playoff talk, that's irrelevant,'' said Olsen. ''We've just got to win a game.'' The latest loss included a meltdown on special teams, as the Panthers became the first team in 25 years to have two punts blocked and returned for touchdowns in the same game. Head Coach Ron Rivera defended Special Teams Coordinator Richard Rodgers after the game and said there would be no "knee-jerk" changes to the team. However, Carolina did continue to rid the roster of some of its underperforming veterans, following the recent departures of S Charles Godfrey and WR Jason Avant with Tuesday's release of CB Antoine Cason. As such, ESPN.com's David Newton said there could be a youth movement in Carolina over the last four weeks of the season, with more playing time for such rookies as S Tre Boston, CB Bene Benwikere, DE Kony Ealy and WR Philly Brown. Brown played more than 50% of the snaps on Sunday and scored a touchdown in the third quarter on a 32-yard pass from QB Cam Newton. Newton had another tough outing, completing just over 50% of his passes, averaging just 5.5 yards per attempt and absorbing four sacks while compiling a 65.7 passer rating. However, even if the Panthers do make some changes down the stretch, they won't be making a switch under center. Newton, in fact, remains the Panthers' quarterback for the foreseeable future and Rivera said it would be "difficult" and "unfair" to judge him too severely for what has transpired in 2014. The 2014 campaign hasn't treated the Panthers' running backs very fairly, either; a litany of injuries has befallen the group, the latest a fractured finger for DeAngelo Williams, who had just seven carries for 21 yards in Minnesota. Jonathan Stewart stepped into the void to produce a season-best 110 combined rushing and receiving yards, averaging 7.9 yards per touch. Helping open holes for Stewart was new starting right tackle (and former Buccaneer) Mike Remmers, who took over after Nate Chandler went to injured reserve. Though the Panthers' front gave up four sacks, Remmers appeared to handle his first NFL start very well. Meanwhile, Cam Newton thinks part of the problem for the Panthers this season is that they have lost their confident attitude. "We have the guys who can get the job done," he said. "The worry now is trying to get our swagger back, so to speak, moving forward."
In New Orleans, the Saints continued to turn their traditional narrative on its head, winning a tough game on the road in Pittsburgh after losing three straight at home, where they had previously been almost untouchable. The 2014 Saints have been quite unpredictable, or as Head Coach Sean Payton described it, "unpredictable." Payton is hoping the win in Pittsburgh propels his team to a strong finish to the season, with less drastic swings in its performance. "We all gotta continue to look at being a little more consistent as opposed to up and down," he said, as reported by ESPN.com's Mike Triplett. "And really trying to bring out the best of what we can do every week, coaching and playing.  I think that you've gotta build on some good tape like that win], and part of it's confidence and part of it's coaching. A lot of it is us making sure we're doing the right things and giving 'em a chance." Of course, a team with Drew Brees at the helm always seems to have a chance, and John DeShazier of the Saints' official web site says [the quarterback's performance in Pittsburgh – five TDS, no INTs, 140.0 passer rating – was "Brees-level," which is just what his team needed. Brees did all of that despite not targeting a single pass in the direction of his top target, TE Jimmy Graham. The Steelers made a very obvious effort to take away the Saints' best weapon but that led to a big day for several others, including WR Kenny Stills. Brees' seventh career five-TD/zero-pick game came on the same day that NFL Network alleged the team was displeased with the 35-year-old's "waning arm strength and diminished production." Payton was understandably irritated by questions regarding the Saints possibly drafting a new QB next year, but Brees didn't consider the topic any sort of added motivation. "My mentality, my approach, my preparation and my process throughout the week does not change regardless of whether people are singing my praises or telling me that I can't play anymore," said the quarterback. "I really don't care. I pride myself on the way that I work, the way I prepare, the type of leader and person that I'm trying to be for my team." Payton was definitely irritated by questions regarding a supposed sideline rift between him and Defensive Coordinator Rob Ryan (and Payton still sees a lot of promise in his team's defense anyway). Everyone, on the other hand, was happy with RB Mark Ingram on Sunday after he ran for 122 yards on 23 carries. Ingram got almost all of the Saints' 23 totes, which is another departure from how the team has commonly operated, but that could change again next week when RB Khiry Robinson likely returns from an arm injury. One of Brees' five touchdown passes in Pittsburgh came after DE Cameron Jordan set the team up at the Steelers' 15 with an interception. That marked just the second time all season that the Saints had started a drive inside the opponents' 20-yard line. Triplett thinks this kind of play has been the missing element that could help the Saints down the stretch in the NFC South race. A favorable schedule for the final four games could help, too.