STORY HIGHLIGHTS
The Falcons continue to have trouble getting pressure on opposing quarterbacks
Carolina has signed Chris Ogbonnaya after DeAngelo Williams became the latest Panther back to go down with an injury
New Orleans is winless on the road this year and has forced just one takeaway in four games

All four NFC South teams were away from home this past weekend, and if not for Vincent Jackson's last-second touchdown catch, the whole division would have returned home empty-handed. In fact, while the Tampa Bay Buccaneers were getting their first victory of the season, the Atlanta Falcons, Carolina Panthers and New Orleans Saints were absorbing a trio of losses by an average margin of more than 30 points. The Falcons and Panthers also have some significant new injury concerns, while the Saints' troubles have largely been on defense, where takeaways have been scarce. With the first quarter of the season in the books and all four NFC South teams within a game of each other in the standings, it's time for our weekly check of the headlines from around the Buccaneers' division.
The training room should be busy this week in Atlanta, after a game in Minnesota so full of injury misfortune that tight end Levine Toilolo spent a good portion of the second half playing right tackle. Like most teams, the Falcons kept two reserve offensive linemen active for the game, and that led to a game of front-line musical chairs when LG Justin Blalock, RG Lamar Holmes and C Joe Hawley got hurt in succession.  (RG Jon Asamoah also left the game for several plays with a hand injury but was able to return.) Former Buccaneer Gabe Carimi played right guard, left guard, right tackle and left guard again during all the commotion.  It looks like all the injuries could lead to another chance for Peter Konz, who started at center and guard in 2013 but began this season as a reserve behind Hawley and Jon Asamoah.  With Hawley a question mark for next weekend's game against the Giants in the Meadowlands, the Falcons may have to sign another lineman, perhaps former Jaguar Uche Nwaneri or their own practice squad player, Harland Gunn. Of equal concern for the Falcons after their 41-28 loss to rookie QB Teddy Bridgewater and the Minnesota Vikings is the play of the defense.  After handling the Buccaneers with ease in Week Three, the Falcons gave up over 500 yards to the Vikings on Sunday, as each of the home team's first six drives ended in either a TD or a field goal try.  James Rael of The Falcoholic points to a pass rush that has been a concern for years and doesn't seem to be getting any better in 2014.  Recapping the game on Monday, Head Coach Mike Smith seemed more concerned about the run defense, finding fault with it on all three levels.  "We didn't do a very good job of fitting the runs," said Smith.  "Again, when we talk about defending the run it's all three levels that are responsible; the defensive line, the linebackers and the secondary. We had way too many explosive plays because of misfits, and each unit contributed to the specific plays that we're talking about; it's not just one group. We're all in this together, and we all have to fit, and if something happens at level one it should have an opportunity to get stopped at level two or level three."  Despite Sunday's loss, the Falcons are 2-2 and tied with Carolina for the lead in the NFC South.  There's a pretty obvious split in their record: Atlanta is 2-0 and has scored 93 points in home games but is 0-2 with a pair of two-touchdown losses on the road.  Four of the Falcons' next six games are on the road, so this is an issue Smith intends to address immediately.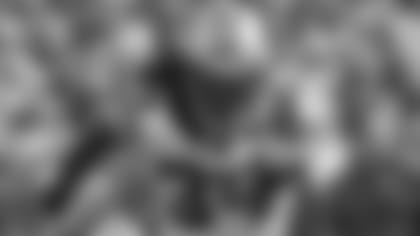 RB DeAngelo Williams left Sunday's game early with an injury, leaving the Panthers' rushing attack to Darrin Reaves and Tauren Poole
If the offensive line caught the injury bug in Atlanta and the defensive line has been the target in Tampa,in Carolinait's the running back corps that can't catch a break.  With Jonathan Stewart and Mike Tolbert already out with injuries, veteran DeAngelo Williams was expected to carry the load for a few weeks but he suffered a foot injury against Baltimore on Sunday, leaving the running game in the hands of Darrin Reaves and Tauren Poole.  It doesn't look good for Williams or Stewart returning for next Sunday's game against Chicago, so the Panthers have chosen to look for outside help.  Poole, who fumbled on his only carry against Baltimore, was cut Monday to make room for former Cleveland Brown Chris Ogbonnaya.  Carolina could choose to boost the running game by cutting the restraints on QB Cam Newton; Newton has been limited in the first month by an injury to his ribs.  The defense also could get some help from DE Frank Alexander, who was reinstated from an NFL suspension on Monday and could be added to the active roster before Sunday's game.  The Panther defense will definitely have at least one new starter in Week Five, as CB Josh Norman has reclaimed his spot over Melvin White. "I thought Josh played pretty well [against the Ravens]," said Head Coach Ron Rivera on Panthers.com.  "He did a nice job. A couple times he was undisciplined with his eyes. But I thought his positioning was very good. We've got to send some messages and some clear-cut ones. But Melvin will play. We're not throwing anybody aside. We just want to give [Josh] a few more opportunities earlier in the game."  To the surprise of no one, none of the Panther defensive backs were able to contain Baltimore Ravens wide receiver Steve Smith, who put on a show as a way to prove his former team made a mistake by letting him go this past offseason.  Smith also unsurprisingly capped the game with the week's most reprinted quote: "That film [of today's game] was a coaching session. I'm 35 years old, and I ran around them boys like they were school-yard kids."  Rivera showed class in the loss, seeking out Smith for a handshake after the game.  After a 2-0 start, the division's defending champs have allowed 75 points in losses to Pittsburgh and Baltimore, an unexpected turn of events given the Panthers' acknowledged strength in the front seven.  LB Luke Kuechly, the reigning NFL Defensive Player of the Year says the solution begins with stopping the run more effectively on early downs.
In New Orleans, the Saints must surely be looking forward to sticking around for a week (and welcoming the 11-point underdog Buccaneers to the Louisiana Superdome on Sunday).  New Orleans is 1-3 (but, like the Bucs, only a game out of first in the division) with all three of their losses coming on the road.  The most lopsided of those three was on Sunday in Dallas, where the Saints absorbed a 38-17 pounding that caused right tackle Zach Strief to declare that, "…right now, we're a bad team."  As long as Drew Brees is under center, the Saints will always be a dangerous team on offense – especially in the Superdome – but the defense seems to have regressed after a bounce-back year in 2013, especially in terms of getting to the passer. Echoing Rivera, Head Coach Sean Payton said the key to getting a better pass-rush is to do better against the run early.  "Oftentimes to get your sack production you're able to have success in the run game and then at some point make the team one dimensional," said Payton in his Monday game review. "It's harder to have that production when you're able to run the football and have that balance, it becomes more challenging defensively."  Tony Manfred of Yahoo.com wonders if the root cause of the Saints' struggles might be the team's decision to let a number of players leave while reworking the salary cap to sign high-priced free agent S Jairus Byrd.  It was Byrd who forced a fumble in Atlanta in Week One for what remains the only takeaway of the season so far for the Saints' defense.  That and other defensive shortcomings have some wondering if Coordinator Rob Ryan is (or should be) on the hot seat; JR Ella of the Canal Street Chronicles weighs in on that though here.  Payton said the defensive problems are real but they should not be pinned on one man. "We're in a fast race to really correct and change and make those changes, to allow ourselves an opportunity to win games," Payton said on the team's web site. "The takeaway-giveaway is one that seems easy (to correct) and yet, that has to change. That has to change. Here's what we can't do – we can't continue with the exact same preparation, [and] plan, and expect different results. You've got to constantly look at tweaking the approach coming into the next week. That's something we have to do. We'll find out a little bit about this team here. When you start the season 1-3 and you get punched like that, very quickly we'll find out a little bit about what we're made of."  While the Saints didn't experience quite the rash of injuries that hit the Falcons and Panthers on Sunday (not to mention the Buccaneers, who lost WR Mike Evans and S Dashon Goldson), they did have to make a move at left tackle after Terron Armstead sustained a concussion.  Third-year man Bryce Harris stepped in to replace Armstead and would get the start again Sunday if Armstead is still unavailable; Payton called Harris' play in Dallas a "bright spot" for the Saints.