STORY HIGHLIGHTS
The Falcons' defense is riding high after Thursday's win but will have to prove it can excel on the road
Carolina's loss to Pittsburgh included injuries to Mike Tolbert, Jonathan Stewart and Thomas Davis
New Orleans is getting very good production from rookie WR Brandin Cooks

The Carolina Panthers and Atlanta Falcons are tied atop the NFC South with 2-1 records after Atlanta took care of the Tampa Bay Buccaneers and the Panthers absorbed a big loss at the hands of the Pittsburgh Steelers. Injuries could keep those two teams heading in opposite directions, as the Panthers' usually strong rushing attack must now move on, at least temporarily, without Mike Tolbert and Jonathan Stewart and with a limited Cam Newton. The New Orleans Saints got their first win on Sunday over the Minnesota Vikings and are just a game off the lead. That win was surprisingly led by New Orleans' defense, which smothered the Vikings despite an ongoing outage of takeaways. With the first quarter of the season about to come to a close, it's time for our weekly check of the headlines from around the Buccaneers' division.
**In Atlanta, the Falcons had a few extra days to enjoy their lopsided win over Tampa Bay on Thursday night, and they found a few new ways to do so before getting back to work on Monday and focusing on such young Minnesota Viking offensive weapons as Teddy Bridgewater and Cordarrelle Patterson.  Bridgewater, the rookie quarterback who was named the team's new starter after a Week Three loss in New Orleans, poses a different kind of threat for the Falcons' defense in that he's a better runner than former starter Matt Cassel.  The Falcons say that keeping Bridgewater from having a successful starting debut depends on playing with discipline.  A few Falcons did not take part in Monday's bonus practice – including wide receiver Devin Hester and Roddy White – but Atlanta's passing game is still in good hands with Julio Jones, the NFL's leading receiver.  Even after a 42-point win, the Falcons are still looking for ways to improve, and apparently run-blocking is one aspect of his team's play with which Head Coach Mike Smith is still not satisfied. Atlanta's defensive regulars are, of course, quite satisfied with their latest outing after they were challenged by coordinator Mike Nolan to play with more intensity.  "It's about energy, man, and we fed off the offense: The offense was moving the ball, and we were creating turnovers," cornerback Desmond Trufant said, as reported by ESPN.com's Vaughn McClure. "If we do that every week, we can blow teams out every week."  Added S Kemal Ishmael, who had a pick-six in the first quarter on Thursday night: The sky's the limit with this defense. We have so much talent on this defense. ... It's crazy how much talent we have. We just have to go out there and make the plays." As some new players like Ishmael begin to emerge for a Falcons' defense that struggled in 2014, TheFalcoholic.com wonders if the team is beginning to phase out veteran defensive end Kroy Biermann due to an inadequate pass rush.  Trufant and Ishmael may be right about the Falcons' D, but Aaron Freeman of FalcFans.com isn't quite so sure the win over Tampa signals an era of Atlanta domination, noting that things often go differently for the team away from home. One thing just about everybody – including Bears RB Matt Forte – can agree upon is that Devin Hester is the greatest kick returner in NFL history.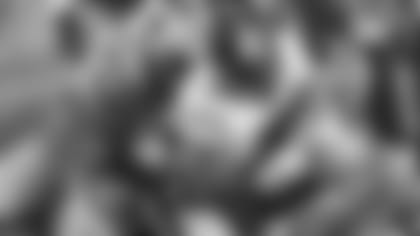 Carolina's defense gave up an uncharacteristic 264 rushing yards to the Steelers on Sunday
In Carolina, the Panthers aren't quite as happy – or as healthy – as the Falcons after taking a 37-19 pounding from the Pittsburgh Steelers on Sunday.  After uncharacteristically losing the rushing-yardage battle to the Steelers by a whopping 264-42 margin, the Panthers are focusing on getting better in the ground game on both sides of the ball.  The 100-yard games posted by Le'Veon Bell and LeGarrette Blount will probably prove to be an aberration against Carolina's outstanding front seven, but there are real reasons for concern on offense.  Fullback Mike Tolbert, a great short-yardage weapon, has landed on injured reserve/designated for return due to a hairline fracture in his knee and Jonathan Stewart has what the Charlotte Observer's Joseph Person describes as a "severely sprained right knee."  Person writes that it would not be surprising to see Stewart miss a significant amount of time.  In addition, the Carolina rushing attack isn't getting the usual boost from quarterback Cam Newton, who has had to change his style of play somewhat to accommodate his injured ribs.  Scott Fowler of the Observer believes that Carolina has to either let Newton play the way he's used to or sit him until he's healthy.  ESPN.com's David Newton agrees, stating that, "In order to protect quarterback Cam Newton, the Carolina Panthers may be hurting themselves."  Newton quotes Carolina Head Coach Ron Rivera on the subject, too: "We know that he was a big part of what we do," said Rivera. "The thing that this shows us is we can't rely on him all the time. So now we've got to find other answers and ways to do that." The Panthers' defense, considered one of the league's best coming into the season, had two good games before the let-down against Pittsburgh, and is likely to remain the strength of the team.  Whether or not the edge rush remains a major strength of that defense, however, is an open question.  With the continuing uncertainty regarding Greg Hardy's availability, more pressure is on Charles Johnson, and James Dator of the Cat Scratch Reader says that Johnson is simply not producing to expected levels.  Another key Panther defender, linebacker Thomas Davis, had to leave Sunday's game early with an apparent leg injury.  Rivera said that Davis would not practice on Wednesday and the team will reassess his situation on Friday.
In New Orleans, the Saints are back within a game of first place in the division after getting their first win of the year on Sunday, a 20-9 decision in the Superdome. It may be no coincidence that this was also the Saints' home opener after two losses on the road; the New Orleans defense definitely played much better in its familiar environs, shutting the door on Bridgewater and the Vikings.  Katherine Terrell of NOLA.com says that's because the Saints "dialed back" their defensive calls after having communication issues in Cleveland in Week Two.  Terrell quotes safety Jairus Byrd on the issue: "I think anytime ... we were having communication issues, especially playing at home, anytime you can simplify it, that helps everyone."  ESPN.com's Mike Triplett gave the game ball to linebacker Curtis Lofton after the victory and called his play "dominant" after taking a closer look at the game tape.  Triplett also says that, for the Saints' defense to be the difference in road games, it will have to start creating turnovers.  New Orleans has gone 11 quarters without creating a takeaway and has just five of them in its last 14 games. The Saints needed the strong defensive stand against Minnesota because the offense produced its lowest point total of the season, and the team was clinging to a four-point lead late in the third quarter.  However, a hit from cornerback Captain Munnerlyn that drew a penalty apparently fired up quarterback Drew Brees, and the Saints went on to get the clinching touchdown on that drive.  Analyzing that important game sequence, Triplett quotes tackle Zach Strief as saying, "We really hit a cold spell there, and anything like that can light a spark. Certainly, if you want to fire this team up, that's the guy to go after." The Saints are certainly used to putting up more than 20 points on any given Sunday, and as they prepare for a road game against the Cowboys they are analyzing why the offense hit a dry spell for two quarters on Sunday. That is certainly not due to the team underutilizing rookie wide receiver Brandin Cooks, who had a team-high eight catches for 74 yards against the Vikings and is off to a very impressive start. Cooks has not quite hit his 21st birthday – that will happen Thursday, and Evan Woodbury of NOLA.com compares his start quite favorably to other 20-year-old receivers in NFL annals.