STORY HIGHLIGHTS
Atlanta has a healthy Julio Jones to start the season and a focus on using him and others to get better near the goal line
Panthers QB Cam Newton is practicing with a flak jacket after suffering a hairline rib fracture
The Saints still need to decide upon a kicker, who will likely benefit from an offense that is as explosive as ever

The NFC South kicks off the season with a pair of intra-division matchups this weekend, as the Saints travel to Atlanta and the Panthers come to Tampa.  All four teams are brimming with optimism as they enter the new campaign, but there are minor concerns at each headquarters.  The Falcons, for instance, are putting a lot of pressure on a pair of second-year linebackers who were undrafted free agents a year ago, while the Panthers have a banged-up rookie ready to face off with Tampa Bay's Gerald McCoy.  Things look good for the Saints' high-powered offense, already, but there's a question mark at center and the team headed into Tuesday without a kicker.  With the season finally upon us, it's time to check in on the headlines from around the Buccaneers' division for the first time.
In Atlanta, the Falcons want to avoid a repeat of last year's season opener.  Atlanta rolled into New Orleans last September as the defending division champs, coming off a 13-3 campaign in 2012, but they fell to the Saints, 23-17, to kick off a surprising 1-4 start.  The Falcons never recovered as their injuries mounted and they ended up tied with the Buccaneers at 4-12 while New Orleans won a Wild Card berth. This year, New Orleans is the consensus favorite to recapture the division crown, but it's the Saints that have to come to Atlanta to start things off.  It was a one-score game last year that set the season's tone, and the Atlanta Journal-Constitution's D. Orlando Ledbetter says the difference should come from better red zone play on offense.  While the Falcons' red zone offense will necessarily suffer from the retirement of Tony Gonzalez, it will benefit from a fully healthy Julio Jones.  Jones, who played in just five games last year but was as productive as ever when he did (41-580-2), agrees that red zone improvement is paramount.  "That's a big emphasis here," he said. "We have to score in the red zone, man. That's--we have too many weapons to get covered up in the red zone. We've got to make those plays, especially when we get one on one, because we've got to make Matt Ryan] feel comfortable."  Atlanta's big, physical back, Steven Jackson, missed most of training camp but says [he's ready to go for the season opener.  That's good for the Falcons because they need all the weapons they can get against the Saints' rising defense.  "They do a really good job of mixing in their personnel, bringing a lot of different defensive fronts and blitz packages," said Jackson, on the team's official web site. "That means our offensive line and the running backs have to communicate and make sure we're seeing the same picture; we just have to be prepared for it."  Speaking of weapons, Atlanta thinks they have one in Devin Hester, who spent 2013 focusing solely on his greatest skill, the return game, but could see an expanded role in Atlanta after coming over as an unrestricted free agent this spring.  On defense, the Falcons are hoping to be much more stout against the run in 2014 after finishing 31st in that category a year ago.  They brought in a lot of new front-line bulk in D-Linemen Paul Soliai, Tyson Jackson and draft pick Ra'Shede Hagement, but the key may be in the improvement of second-year linebackers Paul Worrilow and Joplo Bartu.  A pair of undrafted rookies last year, both Worrilow and Bartu were pressed into significant service, in part due to an injury to LB Sean Weatherspoon.  Weatherspoon is out for the season again, this time succumbing to a ruptured Achilles in June, putting Worrilow and Bartu back in the spotlight.  Head Coach Mike Smith has been pleased with the results from his defense so far.  "I think we've played the run much better in these two preseason games," Smith said at the end of August. "We had an explosive run [last week at Houston] that we had four or five missed tackles on one play, but having some girth up in front of them - some bigger players, guys that can stack blocks - our linebackers are going to have opportunities to make plays." **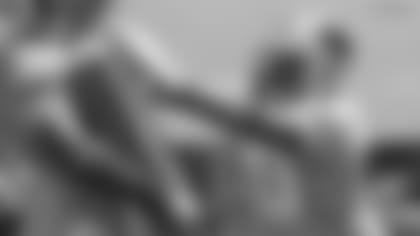 Panthers rookie G Trai Turner is returning from a groin injury just in time to go head-to-head with Bucs DT Gerald McCoy
In Carolina, the Panthers are insisting that QB Cam Newton looks good despite playing with a hairline rib fracture.  Newton wore a flak jacket during practice on Monday and, according to the team's web site, is working on settling on one that feels comfortable going forward.  "He looked good, threw a few more passes than we expected," said Head Coach Ron Rivera after Monday's practice. "We felt pretty good about it. … He's sore, but it's not like it was when it first happened.  He moved around a lot better. I'm excited about it."  Rivera also noted that rookie Trai Turner, who has claimed the right guard spot in Carolina's new-look offensive line, is expected to play after missing two weeks with a  groin injury, but the Panthers' are preparing backup Fernando Velasco just in case.  The Charlotte Observer's Joseph Person notes that Turner has a tough test ahead of him in his NFL debut if he does play.  Turner takes the spot vacated by converted defensive lineman Nate Chandler, who played eight games at right guard last year but is now manning right tackle.  There's a new starter at left tackle, too, in Byron Bell, who started most of his first three years on the right edge.  Bell is naturally left-handed and Rivera thinks the switch is working out well for him.  "His punch is a lot better, his first step is a little bit better," said Rivera of Bell.  "And again that's because he's working off his left side. Having seen that, I have confidence that he can do the job for us. But we want to continue to watch him. He's taken some big steps."  Newton threw just 21 passes during the preseason and the Panthers kept their offensive approach vanilla, as do most teams.  Bobby Agnese of CatCrave.com suggests that when the gloves come off, the Panthers will be relying heavily on a two-TE package that worked very well for Newton during his impressive rookie season.  Of course, the Panthers might want to lean on tight ends Greg Olsen and Ed Dickson in part because the wide receiver corps is such a question mark.  Rookie Kelvin Benjamin has won a starting spot opposite Jerricho Cotchery and has shown some big play ability during the preseason, but Person says this is one of three areas at which Carolina G.M. Dave Gettleman has gambled with his team's 2014 success.  ESPN.com's David Newton seems to think those gambles will pay off, because he predicts a 4-1 start for the Panthers, including a win at Tampa this Sunday.  Newton also reports that the Panthers are still looking for potential additions to the receiver squad, as indicated by the much-publicized visit with recent Jets cut Stephen Hill.  Of course, there are virtually no questions about Carolina's defense, particularly a dynamic front seven that helped Carolina lead the league with 60 sacks last year.  Third-year LB Luke Kuechly remains at the heart of that defense, and he's aiming for a different kind of hardware after winning Defensive Rookie of the Year and Defensive Player of the Year in his first two NFL seasons.  Kuechly has reportedly been working hard on his pass coverage to become an even better defender and has looked as good as ever this summer.  "The best accolade you can get is the Super Bowl," said Kuechly, as reported by ESPN.com. "That's what my goal is. I think what everybody in the room wants is for us to win the Super Bowl."
In New Orleans, the Saints made at least one interesting decision in trimming their roster to 53 players, according to the Times-Picayune's Katherine Terrell, keeping undrafted rookie CB Brian Dixon over 12-time Pro Bowler Champ Bailey.  Terrell notes that Dixon (coincidentally the twin brother of Brandon Dixon, a recent signee to the Bucs' practice squad) could follow in the successful footsteps of running back Pierre Thomas, an undrafted free agent who was kept over a fourth-round running back in 2007. In addition to Bailey, the Saints also cut both of the kickers vying for their job this year, which means they will likely dip into the pool of recently-released veterans soon, though ESPN.com's Mike Triplette wonders how quickly the team can "develop trust in a new guy quickly enough." The Canal Street Chronicles breaks down the options, with author Wallace Delery tabbing former Buccaneer Connor Barth as his preferred choice.  The depth chart on the Saints' web site also does not currently list a starter at center, with the competition apparently coming down to veteran Jonathan Goodwin and inexperienced second-year man Tim Lelito.  Terrell says the job likely belongs to Goodwin, who is back with the Saints after three years in San Francisco.  "Things like that rarely happen in this league, to have a chance to do return as a starter], it'll be a little surreal but something that I thought I could accomplish," said Goodwin in Terrell's report. "Like I said, I would have never tried to come back if I thought I couldn't still play this game."  In their efforts to overtake the Panthers for the division title this year, the Saints could get significantly bigger contributions from three players: WR Brandin Cooks, S Kenny Vaccaro and RB Mark Ingram.  Cooks, of course, is a rookie, so anything he adds to the offense will be new, and after a strong preseason it looks like he could carve out a major role.  In addition, [as John DeShazier reports on the Saints' web site, Vaccaro may be about to take a big leap forward from his first NFL season to his second and Ingram might finally be ready to break out in his fourth season after coming aboard as a first-rounder in 2011.  If Ingram and Cooks do indeed have big seasons, QB Drew Brees could do the unthinkable and have his best year yet.  That would be saying a lot for a quarterback who has averaged 4,841 yards and 35 touchdowns per season in his eight years in New Orleans, but Brees thinks it's possible.  Said the 14th-year veteran to NFL.com's Judy Battista in an email this week: "Listen, Brett Favre had one of the greatest seasons of his incredible career when he was 39. Kurt Warner had some remarkable success later in his career. I played with Doug Flutie when he was 42, and [he] still had the skills and the knowledge. I watch what Peyton [Manning] and Tom [Brady] are doing in their late 30s and certainly that inspires you to think that maybe our best is yet to come."