STORY HIGHLIGHTS
Atlanta fielded a shuffled O-Line on Sunday due to injuries but could get several key players back soon
Carolina's win over the Bears was powered in large part by a more effective pass rush
The Saints began their bye week with an unexpected roster move and some helpful self-scouting

Carolina's victory over the Chicago Bears combined with Atlanta's loss in New York has pushed the Panthers into sole possession of first place in the NFC South. New Orleans' overtime victory over Tampa Bay allowed the Saints to keep pace, tied with the Falcons and one back of the Panthers. The Saints won't be keeping pace this week, however; rather they'll get some time to rest and recuperate on their bye week. The Panthers could have used some extra time off this week in their efforts to get at least one of their running backs healthy. The Falcons got a relatively good performance Sunday from an offensive line that featured three new starters due to injury, but a little more time would also help that group build some chemistry. As the NFL schedule heads into Week Six, it's time for our weekly check of the headlines from around the Buccaneers' division.
The first topic of conversation in Head Coach Mike Smith's day-after-game press conferencein Atlanta was, unsurprisingly, the play of the offensive line against the New York Giants on Sunday. That was a major concern heading into the game, given that the line featured three new starters after a rash of injuries the week before in Minnesota. With Lamar Holmes and Joe Hawley on injured reserve and Justin Blalock seeing his streak of 102 straight games played interrupted by a back injury, the Falcons went with Gabe Carimi at right tackle, Peter Konz at center and Harland Gunn at left guard. Gunn was just promoted from the practice squad last week. QB Matt Ryan was sacked just once on 46 drop-backs and the Falcons averaged 4.3 yards per carry, so it's hard to pin the blame for a 30-20 loss on the offensive front. "Well, in terms of the offensive line I thought that they did a good job," said Smith. "In terms of the sacks, we only gave up one sack, albeit it was at a crucial time in the football game. We had too many pressures. I thought we were a little bit edgy, but for the group to come together in such a short time, I thought Coach Tice and his guys did a very good job. I think we can be better, and we will be better moving forward." The crucial moment to which Smith alludes was a fourth-and-one from the Atlanta 29 with 4:40 left in the game. Trailing by seven, the Falcons made the bold move of going for it and saw it backfire when Ryan was sacked back at the 20. The Giants got one first down and then kneeled before kicking a short field goal to make it a two-score game with two minutes to play. It was a moment eerily similar to a decision Smith made last year that also failed to work out in a loss to the Saints, right down to the exact yard line. In each case, Smith said he didn't regret the decision. "Fourth downs and one in the NFL are really, fairly high percentage plays," said Smith. "I felt like we needed to get that first down and continue on down the field to get seven points. We had not moved the ball. We had one really efficient play, and that was the long scoring play by Antone Smith in the second half. Next question, if you ask, 'Would I do it again?' Absolutely. You don't get second chances and second-guess yourself. That's something that you make that decision and you live with it." Carimi, who reportedly played a solid game in Holmes' place, did regret a mistake he said he made at another key moment in the game. Smith had the Falcons' lone score of the second half on a 74-yard catch-and-run, his third TD this year of longer than 30 yards. Smith was only on the field for 15% of the Falcons' offensive snaps and Smith concedes that the team needs to get him the ball more often. The Falcons fell to 2-3 with Sunday's loss, allowing Carolina to take over sole possession of first place in the division, but Smith points out that there is a lot of football left in the season. The next opponent is Chicago, and not only is at the Georgia Dome, where Atlanta has played much better this season, but it could feature the helpful returns of Blalock and WR Harry Douglas.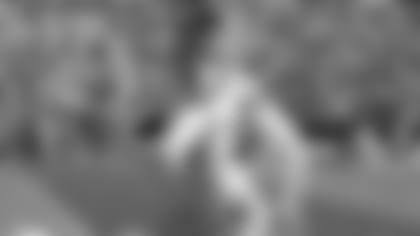 Rookie WR Philly Brown got a touchdown out of a heads-up play on special teams Sunday against the Bears
In Carolina, the Panthers are enjoying that first-place perch thanks, they say, to their vaunted pass-rush finally coming through. Charles Johnson's hard work this season paid off with his first QB takedown of 2014, and he also recovered the game-sealing fumble late in the fourth quarter at Chicago after Mario Addison and Dwan Edwards combined for the Panthers' fourth sack of the day. Despite missing a couple of practices with a hip ailment, Johnson had his best game of the season in Carolina's 31-24 victory. "I think this was his best game of the year, no doubt about that," Panthers Defensive Coordinator Sean McDermott told the Charlotte Observer. "He was very active. He looked quick and decisive, which is part of being a good pass-rusher. And yet he defended the run, too." The Panthers were also able to cobble together a passable rushing attack out of the new "three-headed monster" of Darrin Reaves, Chris Ogbonnaya and Fozzy Whittaker; that's the group currently taking the place of the injured trio of Jonathan Stewart, DeAngelo Williams and Mike Tolbert. The Panthers might be getting Stewart back soon; the team isn't yet certain but Stewart may return to practice on Wednesday as Carolina starts preparing for a tough matchup with the Bengals. Meanwhile, Reaves and Ogbonnaya combined for 59 rushing yards against Chicago while Whittaker didn't get into the game. Wide receiver Philly Brown provided the extra complement with a pair of rushes for 22 yards, but it was the rookie's alert play on special teams that produced the game's first points. The work of Reaves and Ogbonnaya complemented Cam Newton's work in the passing game, in which he threw for 255 yards and two scores and distributed the ball to eight different targets. Newton was particularly sharp during a pair of touchdown drives sandwiched around halftime on which the Panthers' offense adopted a no-huddle approach and erased a 14-point deficit in a hurry. "He reacts to a lot of things and he makes a lot of good decisions when we put it in his hands like that," said Head Coach Ron Rivera, as reported by ESPN.com's David Newton. "That's something he thrives on." Added center Ryan Kalil: "He does a good job of recognizing the defense and he does a good job of keeping it going. I thought obviously we were able to get in more of a rhythm. Not that the huddle stuff wasn't effective, but for whatever reason we were able to keep the momentum going and keep them on their heels and finish. That's what you want to do." The first of those two hurry-up drives ended in a Greg Olsen touchdown catch, as did the game-winning march in the fourth quarter. The Observer's Joseph Person thinks that Newton has a stronger chemistry with his veteran tight end, at this point, than the team's new-look corps of wideouts. The Panthers will need those two and other veterans to lead them in the coming weeks as they enter a brutal five-game stretch that goes like this: at Cincinnati, at Green Bay, vs. Seattle, vs. New Orleans and at Philadelphia. All five of those teams were in the playoffs last year and four of them are currently division leaders.
In New Orleans, the Saints have two things to celebrate: an overtime victory over the Buccaneers on Sunday and the beginning of their bye week. Drew Brees used some of his free time to film a Pepsi commercial, and afterward the Times-Picayune's Larry Holder caught up with Brees for an exclusive interview. Among Brees' thoughts was one that echoed what Mike Smith is saying in Atlanta: There's a lot of football left. "I'd say the first five games, record-wise, don't indicate necessarily how this thing is going to finish. Carolina started 1-3 last year and won the division finishing 12-4. It just goes to show you that a lot of things can happen. … I feel like the things we've learned through these first five games are really going to pay off for us down the road. Success is not a good teacher, but failure is a good teacher. I feel like we've learned around from these first five games." The Saints apparently learned that they did not need to see anything more of fourth-round draft pick LB Khairi Fortt. In a move that Nick Underhill of The Advocate calls "surprising," the Saints waived Fortt on Monday; the team obviously has a reason, but it was an unexpected move because Fortt had been given the team's one and only "injured reserve/designated for return" tab of the season. Fortt, who has a hamstring injury, would have been eligible to return after Week Eight, but the Saints do not get to put that designation on any other player after his release. The team will have a spot on the 53-man roster when it inevitably puts S Jairus Byrd on injured reserve; the team didn't feel the need to make that move before Sunday's game against the Bucs. They'll have time to scour the waiver wire during the bye week, and they will also use a lot of that time for self-scouting in order to improve upon their 2-3 start. The time off will also allow several other injured Saints to heal, including TE Jimmy Graham, who suffered a shoulder injury against the Buccaneers that is reportedly not serious. Some scouting not of their own roster but of the list of officials for Sunday's game played a part in the Saints' win, according to Head Coach Sean Payton. The Buccaneers were penalized 15 times for 113 yards in the game, drawing eight flags in the fourth quarter and overtime, while New Orleans was hit with just six for 50 yards. Payton said that was no accident, and it was perhaps the game's decisive factor down the stretch. "If that doesn't swing in our favor, we lose that game," said Payton, as reported by ESPN.com's Mike Triplett. "The one thing we did know when we profiled these guys on Friday was -- there's a crew that's tops in the league with penalties called, and then there there's a distance gap between second, third, fourth and fifth. That was a big point of emphasis with regards to, you name the penalty. Holding? They were calling two times as many as the average crews across the league. You pick it, and they were double. We knew going in that was going to be the type of game."