STORY HIGHLIGHTS
The team is hopeful that G Carl Nicks will be able to take the practice field during the offseason program
RB Jeff Demps could get another crack at the Bucs' return job in 2013, an opportunity that would've been blocked by a Devin Hester signing
The idea of moving the extra point line back to the 20-yard line has currently been tabled, but perhaps not for long

Each week, Senior Writer/Editor Scott Smith will dip into the inbox to answer questions from  Buccaneer fans.  This week, Smith fields questions on Jeff Demps, Oakland's trade for Matt Schaub and what it might mean for the seventh pick in the draft, and the potential extra-point change that could still come to pass.
Fans can submit questions for upcoming mailbags via Twitter to @ScottSBucs (#BucsMailbag), through a message on the Buccaneers Official Facebook Page or via email at **tbbsocial@buccaneers.nfl.com*.  The One Buc Mailbag runs every Thursday and is not necessarily meant to reflect the opinions of the team's management or coaching staff.*
So Devin Hester went to Atlanta instead of the Bucs. Hopefully he doesn't hurt us, but otherwise I'm not really that upset. That's because I think the Bucs need to give Jeff Demps another chance…what do you think, could he be our return guy?
- Vince L., via email to tbbsocial@buccaneers.nfl.com
The Hester case is an interesting one to me.  In a Read and React piece that was posted earlier this month, four days before the start of free agency, I took a look at a list of potential targets for the Buccaneers put together by Fox Sports Florida's Andrew Astleford.  The author brought up five players who could end up in red and pewter, including Hester.  My thought was that it was a good list, with solid reasoning for each choice, but with not much likelihood of matching reality once the market actually opened.  I predicted the Bucs would land one of those five, tops, and it turned out to be a good guess.  However, my specific prediction was Hester; instead, the Buccaneers plucked quarterback Josh McCown off Astleford's list amid a pretty impressive spending spree.  Hester, as Vince notes, eventually signed with the Falcons after sitting on the market for about nine days.
The Bucs could use a spark in the return game, there's no doubt, and Hester had positive ties to the team's new head coach, Lovie Smith.  It was clear he was moving on from Chicago, and he had enjoyed something of a resurgence in 2013 after dropping his receiving duties and going strictly to what he does best, returning punts and kickoffs.  To me, that logic seemed to add up to a trip to Tampa.
Here's what I may have left out of the equation: Salary.  Hester, probably the greatest return man in NFL history, mentioned a salary target during the first week of free agency, and it was pretty high.  Now, I don't know if the Buccaneers engaged in any serious negotiations with Hester, and if salary proved to be the dividing factor, but I would believe it.  I think what we've seen since the start of free agency – and actually a few days before it – is that Smith and General Manager Jason Licht have a specific way they want to distribute their salary cap space.  Smith has made it clear that he believes in building his team from the lines back, which is why Darrelle Revis' $16 million hit was essentially redistributed to the likes of Michael Johnson and Clinton McDonald (and Pro Bowl cornerback replacement Alterraun Verner).
Hester reportedly got a three-year $9 million from Atlanta, and good for him.  Even if he's getting something of a premium for things he's accomplished in the past, he probably deserves it.  And, of course, the true value of the contract will probably end up being something different, as only the $2.5 million signing bonus and the $1 million 2014 salary are reportedly guaranteed.  He'll have a cap hit of about $3.3 million in 2015 but the Falcons could cut that in half by walking away.  The difference is even more drastic in 2016.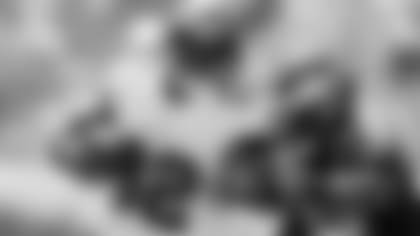 Jeff Demps was listed as a running back with the Bucs last year but will be tried out at a variety of positions by Lovie Smith's coaching staff
So, could that be the reason the Buccaneers didn't go hard enough at Hester to reunite him with Smith.  I think it's quite possible.  Licht and Smith have simply decided that they did not want to devote that portion of their cap space to a return man, especially when rule changes (and potentially more of them in the near future) are reducing the impact of that particular role.  I agree with Vince – it would have been nice if Hester had not ended up right here in the NFC South, but I can't really blame the Bucs for not being the ones to land his services.
All of which brings us to Demps, though I suspect Vince (a Gator fan, perhaps?) actually started his line of reasoning with Demps.  It's hard not to be intrigued by his Olympic-level speed, and indeed the Bucs' former management definitely was intrigued.  They tried to sign him after the 2012 draft but saw him go to New England instead; that was rectified by a draft-weekend trade the next year in which LeGarrette Blount went to the Patriots for a draft pick and Demps was a throw-in to the deal.
Demps' track commitments kept him away until after the season started, but he was welcomed into the fold when he arrived.  The Bucs seemed to be finding a little more for Demps to do every week – returns, short passes, runs around the end – until he unfortunately went down in Week Six with a groin injury.
It remains to be seen if the new team management is just as much intrigued.  I think it might be.  Lovie Smith said on Wednesday that they would be trying Demps out at a variety of positions to see where he might be able to help out the team.  One of those is likely as a kick returner.  Can he be the guy?  There's not really much evidence to base a conclusion on yet.  He has never returned a punt in the NFL and he had a total of four kickoff returns for 93 yards (23.3-yard average) last year.  He's made two trips to injured reserve in two years in the league, which is a concern.  I guess if you were looking at this completely dispassionately, you'd probably have to say that the odds are against it, but that speed of his makes it hard to be dispassionate.  I would say there's enough potential there to at least give him a shot at it this summer.
With Matt Schaub going to the Raiders, that's one less team that needs to draft a quarterback. That's one less team ahead of the Bucs that doesn't need to draft a QB now and could take Sammy Watkins before we do.  Should I be worried?
- Stephen Garrett, via email to tbbsocial@buccaneers.nfl.com
Stephen, it appears like you're on the same Sammy Watkins bandwagon I jumped aboard last week.  If Watkins-to-the-Buccaneers is the scenario you're hoping for, I think our biggest worry is whether that's the guy Jason Licht and Lovie Smith are targeting or not.  We really won't know that until May (and maybe never if Watkins goes one through six), so we'll have to satisfy ourselves in the meantime with mock drafts and our own hopes.  I almost didn't include this question because I wrote about Watkins last week and don't want to keep beating the drum for one guy when there are quite a few options that could help the Buccaneers at #7.  However, I think you've got an interesting angle on the same question here, Stephen, so let's discuss it.  After that, however, no matter Sammy Watkins – I don't want to jinx it!
Should you worry about the Schaub trade decreasing the likelihood of Watkins last to #7?  Well, first of all, I'm not even sure that I fully agree with the premise of your first sentence.  Schaub going to Oakland doesn't necessarily mean the Raiders will turn their attention away from the quarterback position in the draft.  The Buccaneers recently signed a veteran QB who is expected to start in Josh McCown, giving him a two-year contract, but Licht says that the quarterback position is still being considered with that seventh overall selection.
I mean, look at the team Schaub came from.  Houston traded him after signing veteran Ryan Fitzpatrick, who nominally steps in as their starter.  It is widely believed that the Texans will still use the first overall pick on a quarterback, with Fitzpatrick providing the bridge until that new QB is ready.  The Raiders apparently don't want a rookie starting for them in 2014, but they could still draft their QB of the future in May if they really like one of the top candidates.  Personally, I could really see Johnny Manziel in silver and black.
Actually, I think the relative "slide" of the top-name quarterback prospects in recent weeks (as reflected in various mock drafts, at least) is more of a worry.  At one point, Manziel, Terry Bridgewater and Blake Bortles were all seeing their names in the top five or six slots in the mocks.  Now, take a look at the five assembled mock drafts on NFL.com: Only one of them has a quarterback going first and none of them have all of the above three off the board by pick #7.  One of the analysts, Charles Davis, does an entire first round without taking any quarterbacks (though he admits it's more of a thought experiment than what he truly expects to happen).
This year's top five picks or so seem harder than ever to predict.  Still, if the quarterbacks aren't taking up the slots before the Bucs (or maybe just taking up one of those slots), then who is going 1-6?  Jadeveon Clowney almost surely, right?  Khalil Mack seems to have the most buzz of any of the prospects right now.  Maybe Greg Robinson or Jake Matthews, the top-rated OTs or LB Anthony Barr from UCLA.  And Watkins.  I could easily see St. Louis at #2, Cleveland at #4 or, yes, the Raiders at #5 going in that direction.
Scott,
If the nfl "tabled" the idea of moving the extra point back to the 20, does that mean it's something they're still going to think about doing?  They might as well – the extra point is pretty boring the way it is now. I'm for anything that adds excitement to a play that nobody cares about.
- Aaron, via email to tbbsocial@buccaneers.nfl.com
Yes, I think that's exactly what it means, Aaron, and of course the fact that they're going to test it out in the preseason emphasizes the point.  This very well could be coming, and soon, and unlike you I'm not too thrilled about it.
I actually discussed this very point with Derrick Brooks, Pat Yasinskas and T.J. Rives on a Pewter Panel we shot today, so I don't want to beat a dead horse.  Check out that video on Friday if you're interested in hearing more (that particular discussion is in Part 4).  In the meantime, I'll just say that I understand that NFL rules constantly evolve to account for player safety, to make use of advancing technology and to make the game more entertaining where possible.  I get that.  What I don't personally like is rules that change the fundamental nature of the game, and that's how I feel about this one.  A touchdown should be worth seven points (even if it takes a short kick to get that seventh point).  If you make the extra point a play that is successful, say, 80% of the time, than a touchdown isn't really worth seven points anymore.  That's just my two cents.
If it's inevitable that the classic PAT is going to be tweaked or removed altogether, then what is the best way to do it?  Ideas like making the player who scored the touchdown kick it, or adopting the rugby idea of having to angle the kick based on where the ball crossed the goal line…those are fun to think about but probably a little too radical to introduce into the NFL formula.  The one I like is simply making the touchdown worth seven points but allowing a team to go for two if it wishes.  If you go for two and make it, you get eight; if you fail, that TD is reduced to six points.
There's a complicating factor, here, however.  Remember the 2003 game between the Buccaneers and Panthers at Raymond James Stadium?  (If you do remember it, you're probably cursing me for reminding you.)  In that game, the Bucs struggled all game and were losing 9-3 heading into the final 1:49 of the game.  Brad Johnson finally got the offense moving, however, and was able to direct an 82-yard drive that ended in a six-yard touchdown pass to Keenan McCardell on the final play of regulation.  It appeared that victory was ensured, but DT Kris Jenkins blocked Martin Gramatica's extra-point attempt and the game remained tied, 9-9.  The Panthers eventually won in overtime on a field goal.
The odds that a team would avoid defeat by blocking an extra point with no time left on the clock are quite slim, of course.  That wasn't quite the case on this day; the Panthers famously exploited a weakness in the Buccaneers' "A gap" that day with the enormous Jenkins and his linemate Julius Peppers already blocking two field goals earlier in the game.  But they never would have had the chance to stay alive at the end if the rule I describe above is adopted.
Therefore, to do that, you would also have to have a provision that the defensive team can choose to make the scoring team actually try the traditional extra point.  If they can make the scoring team try the kick, wouldn't they always make them try?  Well, yes, so therefore if you choose to make the scoring team attempt the kick, they get two points instead of one if they make it.  Practically speaking, you would still essentially do away with the extra point kick, because there is almost no situation in which you would grant the other team a chance to score a point on a play that is almost always successful.  However, if it's a matter of either stopping the point or losing the game, you force them to kick and you don't particularly care much of it's worth one or two in the end.
To be honest with you, I think that's all probably too complicated to ever come to pass.  But it's also the only idea I've heard of to modify the extra point that I've liked.  So far.