STORY HIGHLIGHTS
The Bucs' representation in the Hall of Fame could double in the next four or five years
A trio of versatile linebackers should be among the pending free agents the Bucs consider re-signing
A couple successful seasons would help the Tampa Bay franchise cross a certain winning percentage barrier

Each week, Senior Writer/Editor Scott Smith will dip into the inbox to answer questions from  Buccaneer fans.  In the first One Buc Mailbag, Smith addresses such topics as the Hall of Fame, the upcoming free agency period and the Buccaneers' all-time winning percentage.
Fans can submit questions for upcoming mailbags via Twitter to @ScottSBucs (#BucsMailbag), through a message on the Buccaneers Official Facebook Page or via email at tbbsocial@buccaneers.nfl.com.  Following  this introductory edition, the One Buc Mailbag will run every Thursday, beginning this week.
The Bucs have gone from one Hall of Famer to three in the last two years.  I don't think it's going to stop there.  What future Buccaneers, including anybody on the roster right now, could you see eventually joining Lee Roy, Warren and Derrick in the Hall?
- Brian S., via Facebook message
It has definitely been exciting to see the Hall open its doors to Warren Sapp and Derrick Brooks, allowing them to join the Buccaneer's Canton pioneer, Lee Roy Selmon.  And I agree with you, Brian, that we're not done yet.
The most obvious answers to your question are John Lynch and Tony Dungy, as both were among the 15 finalists (along with Brooks) for this year's Hall of Fame class.  Lynch and Dungy were eliminated in the cut from 15 down to 10, but it was only John's second year on the ballot and Dungy's first.  I think there is a general sense that both are eventually getting in, but it might take some time as the Selection Committee works to clear up a logjam of worthy players who have been on the ballot for a while, a la Andre Reed.  I wrote more about the Hall of Fame chances for these two Bucs last week.
The next candidate coming down the road, and due to hit the ballot in 2018, is Ronde Barber.  In my opinion, Barber is a lock for the hall.  His resume – highlighted by five All-Pro selections,  12 touchdowns and the unmatched dual feat of at least 40 interceptions and at least 25 sacks – is just too strong.  I don't think he's a total lock to be a first-ballot Hall of Famer, particularly because the 2018 group of candidates looks like it will be particularly strong, but I can't imagine him having to wait more than a year or two if he doesn't make it in '18.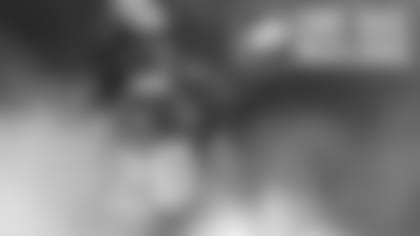 Ronde Barber's statistical accomplishments, Super Bowl ring and string of All-Pro and Pro Bowl selections should make him a lock for the Hall of Fame
I honestly don't see any other likely candidates from among the former Buccaneers who have already finished their careers.  The Super Bowl receiving duo of Keyshawn Johnson and Keenan McCardell were on the original list of 126 candidates this past year, but neither one made it to the semifinalist stage.  McCardell does rank 16th all-time in receptions (as of the end of 2013) but he played for five teams and only spent two years with the Buccaneers.  Warrick Dunn was eligible for the first time this year but also didn't make the first cut.  He ranks 19th on the league's all-time rushing list but that's well below #6, Jerome Bettis, who is still trying to get in.  Edgerrin James, who is 11th on the list, becomes eligible next year and would like bump Dunn down a slot on the running back waiting list.  Dunn's Thunder & Lightning running mate, fullback Mike Alstott, has six Pro Bowls and three first-team AP All-Pro selections to his credit, which is actually a really nice start for a Hall of Fame resume, but he has always been more appreciated locally than nationally.  For the record, I think the locals have it right on Alstott, but he's probably a stronger candidate for the Buccaneers' Ring of Honor than Canton.
One might be able to make a stronger case for Simeon Rice, as he ranks 15th in league history with 122 sacks and can boast a Super Bowl ring and a run of about five years where he was probably the league's best sack artist.  At one point, he looked like he was well on his way to Canton, but his career dropped off rather suddenly in 2006 and now he looks like more of a fringe candidate.
Former Bucs Head Coach Jon Gruden was on the original list of 126 this year, too, but unlike Dungy didn't make it to the semifinals or the finals.  If there is a sense that the one "hole" on Dungy's resume is that he "only" won one Super Bowl, then the same would apply to Gruden.  Monte Kiffin, when he finally concludes his impressive career, could be a dark horse consideration, but the Hall has yet to admit a coach who wasn't a head coach at some point.
So, if the Bucs are able to get Barber, Lynch and Dungy in, there will likely be another lull before the next round of viable candidates hits the ballots.  And it is at this point that we move into sheer speculation.  It is pure hubris to predict the Hall of Fame for any player who hasn't yet put together most of his NFL resume.  Sure, Peyton Manning and Tom Brady are active players who will undoubtedly make the Hall, but they could end their careers right now and already have all the credentials they need.  You can't say that about any current Buccaneer, or 95% of the players in the league right now, for that matter.
But we can speculate.  Gerald McCoy has two Pro Bowls in four seasons – and two in his only two fully healthy campaigns.  If he continues to pile up the all-star bids, he could get some admiring glances from the Hall, but he'll probably need to up his sack totals, as well.  Lavonte David already looks like the next great Buccaneer linebacker, but he'll have to fulfill that promise to nearly the same level as Derrick Brooks did to punch his ticket.  Probably the safest bet one could make from the Bucs' current roster is cornerback Darrelle Revis.  Revis has already spent a stretch of three or four seasons where he was considered the best in the league at his position, and his rapid comeback last year suggest he could put together a similar run in the years to come.  Five more seasons of high-level play would make him a strong candidate, and would probably also make him more of a Buccaneer than a Jet when he entered the Hall.
Of the 15 to 20 players from the 2013 roster who could become free agents in March (if what I see online is correct), who would you most like to see the team re-sign?
- John B., via tbbsocial@buccaneers.nfl.com
That's the right range, John.  The Bucs currently have 19 players who are scheduled to become unrestricted free agents on March 11 if they do not re-sign with the team before that date.  There is also one restricted free agent (tight end Kyle Adams) and two exclusive rights free agents (running back Bobby Rainey and wide receiver Eric Page) on the list, but players in those categories rarely leave if the team is motivated to bring them back.
The good news for the Buccaneers is that their list of pending UFAs is not heavy on the core players from the depth chart.  That's not to say they aren't important or valuable contributors, simply that they don't represent the really difficult decisions free agency occasionally presents (see Jimmy Graham in New Orleans or Greg Hardy in Carolina).  Those 19 players combined to make just 56 starts in 2013, and only two (fullback Erik Lorig and defensive end Daniel Te'o-Nesheim) opened more than half of the Bucs' 16 games.  Only three (wide receiver Tiquan Underwood, guard Ted Larsen and linebacker Adam Hayward) started the final game of the season.
With a new GM-Head Coach combination at One Buccaneer Place, there is likely to be a little more roster turnover this offseason than might be the average.  Jason Licht and Lovie Smith need to form their own opinions on the caliber of each player and how well he would fit in the team's new offensive and defensive schemes.
Personally, I wouldn't mind seeing virtually any of the players on that 19-man list come back, but there are a few I would prioritize.  Licht has said that the Buccaneers would seek value in the free agency market, and these players would seem to fit into that level of commitment.
Erik Lorig, a defensive end when he was drafted in 2010, has steadily improved as a fullback and has been the primary starter the past two years.  The importance of that position may have waned a little bit in the NFL in recent years, but it is also a difficult spot at which to find talent.  If the price is right, it would make sense to keep Lorig around.  Andrew Economos has handled the Bucs' long-snapping duties for a long time – he first came to the team in 2007 – and you rarely hear his name on game day.  That's a good thing; he's as steady and dependable at they come at a specialized job that is generally only noticed when something goes wrong.  The rising minimum salary for veterans may complicate this situation, but if the cap hit is acceptable there is no need to look elsewhere for someone to fill that thankless role.  It is also clear that he is respected in the locker room; it was Economos that called a players' meeting early last season.
The same is true of linebacker Adam Hayward, who has been the team's special teams captain for the past two years.  Hayward, Jonathan Casillas and Dekoda Watson – all set to be free agents – accounted for all eight starts at strongside linebacker for the Buccaneers this past year, and all three are strong on special teams as well.  The strongside spot is generally not one at which the Buccaneers will break the bank – he is often the first player off the field when sub packages enter – but all three of those players can help you in a variety of ways, and none has hit his 30th birthday yet.  I would like to see the team bring back at least two of them, if not all three.
I've been reading your archive of Answer Man columns and I gotta say -- they are awesome! The detailed statistics, the obscure rules, the humor -- it's stat geek heaven! You should work for the Elias Sports Bureau. Anyway, quick question. The Buccaneers' all-time winning percentage has been tantalizingly close to .400 for the past few seasons (right now it's about .393). How long do you think it will be (next season, 2015, ...?) before the Bucs win enough games to break the .400 barrier? Keep up the good work!
- Leopold, via the Answer Man's former inbox
Oh, wow.  This is going to be a little awkward.  Leopold, I regret to inform you that the Answer Man is no longer with us.  I believe he returned to his home planet or something.  Hopefully I can fill at least part of the void he's left with these weekly mailbags.  Anyway, I'm sure he appreciates the kind words.  (Hint: He and I have never been seen in the same room together.)
Of course, you've given me the perfect opportunity to cut my teeth on a little statistical analysis, so let's see what we can do here.  For anyone who doesn't quite understand the question, the Buccaneers current all-time win-loss-tie record in regular season games is 233-362-1, for an overall winning percentage of .392.  Leopold wants a prediction on when that winning percentage might top .400 for the first time in franchise history.
First, let's look at how we got to this point.  As most Buc fans recall or have since learned, the early years were rough as the system for new teams in 1976 was a lot less forgiving than it became in later rounds of expansion.  The Bucs lost their first 26 games, creating a winning percentage hole that was necessarily going to take some time to climb out of.  Then, after a brief period of playoff competitiveness from 1979-82, 14 straight losing seasons followed, making the hole even deeper.  (Actually, the team's overall winning percentage did climb for seven straight years, but the overall number of games also grew, obviously, meaning it would take more and more victories to make a significant impact on that percentage.)  A new era of success began in 1997, and since then the team has played just a hair under .500 ball (133-139).
Following a 10-6 campaign in 2010, the Buccaneers' all-time winning percentage reached its franchise peak (to this point) at the end of any season: .399 (.398726, to give a better idea of how close it was to .400).  It has since yo-yoed to .395 after 2011, .396 after 2012 and .392 after this past season.
But I've got news for you, Leopold: The Buccaneers have already broken the .400 barrier.  Twice.  Unfortunately, neither time lasted long.  The franchise started the 2008 season with an all-time winning percentage of .393 and won nine of its first 12 games.  After the first 11 of those games, with that season's record at 8-3, the Bucs broke .400 for the first time - .400195, to be more exact.  Another win bumped it up to .4014.  However, the Bucs lost their last four games of that season, and after the second of those losses had dropped down to .3998.  So the first above-.400 period in franchise history lasted from November 30 to December 14, 2008.
After a tough 2009 season, the Bucs clawed back to within spitting distance of .400 with a 10-6 record in 2010.  That left them sitting at .3987 to start the 2011 season, and a 2-1 start to the season pushed it to .4002.  It peaked at .4016 after a 4-2 start, but three losses followed and after the third the team went back under .400 to .3994).  It hasn't made it back since.
But it should soon, and perhaps for good this time.  I guess I channeled our dear, departed Answer Man by taking five paragraphs NOT to answer Leopold's question, but at least we made it here.  We can pinpoint the exact answer as to when the Bucs' could break .400 again – they would make it nine games into the coming season if they won all nine.  That would put the all-time franchise record at 242-362-1 for a winning percentage of .4008.
While the optimist in me would like to believe that's possible, I must note that the best start in team history to any season is 5-0 (1979, 1997).  I don't think we can assume a 9-0 start next season.  We'll have to get to .400 a little more gradually, and Leopold wants to know how gradual I think that will be.  Here's my guess: 2016.
If the Bucs go 10-6 this coming season, which I truly do not believe is a stretch, the winning percentage would be .3978 at the end of the year.  Another 10-6 season in 2015 would put the mark at .4036 by the end of the year.  Now, let's take into account that I may be going a little too optimistic here and say the Bucs are only 8-8 in 2014.  Even so, a 10-6 season in 2015 would put the team over .400.  However, 7-9 in 2014 and 10-6 in 2015 would leave us just a tick below .400 again.  That's why I'm hedging my bets and saying 2016, just to cover myself if the team's expected improvement is more gradual than I expect it to be.
See, if the Bucs go exactly .500 for the next three years, the winning percentage at the end of 2016 would be .3998.  I purposefully have not been rounding up to .400 throughout this discussion, but you really can't get much closer.  So, in other words, all the team needs to do over the next three years is be one game over .500 to get to Leopold's .400 threshold.  I believe that will happen.