STORY HIGHLIGHTS
If he can shine on special teams, rookie LB Nate Askew could be a surprise addition to the 53-man roster
Buccaneer players and coaches are looking forward to making the team relevant again, and to quickly re-establishing home field dominance
Even with a wider array of offensive weapons around him, Doug Martin is in position to thrive again in 2014

Each week, Senior Writer/Editor Scott Smith will dip into the inbox to answer questions from  Buccaneer fans.  This week's fan-submitted topics include a challenge, arising from an earlier article, about which players will actually be surprise keepers on the regular-season roster.  Buc fans also want to know what the players and coaches are most looking forward to this season (and which game in particular) and who is going to produce the most in the team's new offense.
Fans can submit questions for upcoming mailbags via Twitter to @ScottSBucs (#BucsMailbag), through a message on the Buccaneers Official Facebook Page or via email at **tbbsocial@buccaneers.nfl.com*.  The One Buc Mailbag runs every Thursday and is not necessarily meant to reflect the opinions of the team's management or coaching staff.*
Scott, you said that might make the team and that seems pretty farfetched to me. He hasn't had much time to work with the team so hes behind guys like Owusu and Louis Murphy and besides he hasn't played much the last couple years. I think if you're looking for a surprise you should start with Solomon Patton (go Gators!). There are some surprise guys that are going to make the team though. I mean, there usually are. Give me one or two guys who that could be, and don't say David Gettis!
- Sean Casey, via email to tbbsocial@buccaneers.nfl.com
No, Sean didn't send his question in with an embedded link.  I added that (even though I don't normally edit your questions) in case readers didn't know the article to which he was referring.  The David Gettis thing was in an article posted on Monday called, "Five Potential Training Camp Surprises."  Allow me to quote a few lines from that piece:
"These aren't things I am certain will happen during the six weeks that commence on July 25, but they are six things that if they transpired wouldn't totally surprise me…"
"…I can't help thinking that if nobody really blows the doors off this thing, Gettis will have a chance to sneak in.  Remember, we're talking 'surprises' here, not likelihoods."
The point of the article was to stretch the boundaries a little bit.  There's probably going to be a pretty good battle for the slot receiver job, for instance, but I don't think anyone will be terribly surprised if the winner is Robert Herron or Louis Murphy or Lavelle Hawkins.  I would be a bit surprised if Gettis, the last receiver added to the Bucs' current group, makes the team, but I can see the potential path to that happening.  And, for the record, I like Solomon Patton, too.  He looked not only fast this offseason but also very smooth; he looks like he generates that speed effortlessly.
As for your question, Sean, I'm going to assume you're not talking just about receivers.  Even if I'm wrong about that assumption that's the question I'm going to answer, because we've already gone pretty deep into that position.  So let's throw out a couple names from around the 88-man roster that could surprise us by still being around when it becomes a 53-man roster.
Well, I already threw out the name of Boston College rookie tackle Matt Patchan a little earlier this year when asked about undrafted free agents who might make the team.  I still think that's a good surprise pick; the Bucs are not long on experience behind starters Anthony Collins and Demar Dotson, and if they end up keeping four tackles I think Patchan has a really good shot.  His competition is fifth-round draft pick Kevin Pamphile (a good bet to stick and get developed for the long term), first-year man Jace Daniels and versatile swingman Jamon Meredith.
In that same article, I picked Patchan over linebacker Nate Askew, another undrafted rookie, right at the end.  I think Askew's a nice surprise pick, too, because I'm sure the Bucs will keep at least five linebackers and maybe more if they can contribute on special teams.  Behind the clear top four of Lavonte David, Mason Foster, Jonathan Casillas and Nate Fletcher there's a lot of room for competition.  You can't really call Ka'Lial Glaud or Danny Lansanah potential surprises since they were on the roster last year, so I'll go with the Texas A&M rookie.  The book on Askew is that he's a very talented athlete who is very raw at the position as a fairly recent convert from wide receiver.  He wouldn't necessarily have to prove that he's ready to play linebacker at the pro level to make the team, as long as he can prove that his athletic skills will be an asset on special teams.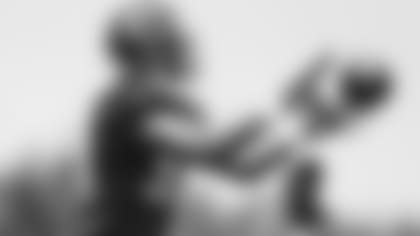 As a former wide receiver at Texas A&M, rookie LB Nate Askew probably has some of the better hands in his group
Would the Bucs keep three quarterbacks?  That seems unlikely, as Head Coach Lovie Smith has hinted broadly that his team is more likely to stick with two, the more common approach for teams since the "ineligible third quarterback" option on game day was removed.  Still, I think Smith and his staff like Mike Kafka, who was signed early in the offseason before the acquisition of Josh McCown.  McCown and Mike Glennon are locks, obviously, but maybe the team makes room for Kafka if he shows enough promise in Jeff Tedford's offense, which reportedly requires very intelligent and quick-thinking field generals.  The problem is that Kafka is no longer practice squad eligible, so if the Bucs want to keep him around they have to make room on the 53.
Please remember that Sean asked for "surprises."  I don't want to be quoted from this article when the Bucs stick with two quarterbacks and try to put Patchan and Askew on the practice squad to start the year.  If you want me to play it safe I could go with Patrick Omameh or Rashaan Melvin.  Okay, moving on…
Does Jeff Demps qualify as a surprise if he makes it?  I think he does, simply because of the numbers at running back.  Would the Bucs keep five tailbacks?  Maybe, if there's no fullback on the roster and they use tight ends/H-backs for lead blocking instead, or if Mike James is asked to do some of that.  Would they keep Demps over James or Bobby Rainey?  That wouldn't be a total shock, as Demps brings something a little different to the table than the typical fourth tailback would.  Maybe Demps eventually becomes classified as a receiver instead of a back, and the Bucs keep six of those, or maybe they keep an extra player in the backfield because he wins one or both of the return jobs.  Soooo many "ifs" surrounding the Demps-on-the-53-man roster, and that's why I think it falls into the "surprise" category, if mildly so.
Finally, does a long-snapper count?  Jeremy Cain is the veteran who was ostensibly brought in to replace fellow veteran Andrew Economos, and Cain has both NFL game experience and a Chicago Bears connection with Lovie Smith. But the Bucs then also brought back Andrew DePaolo, and this is the third time they've done that.  DePaola will go to his third Buccaneer training camp, and this time there's no reason to believe that his Rutgers background has anything to do with it.  I can't honestly say I've watched Cain and DePaola much lately, but I don't think the current regime would have brought the latter back again if they didn't think he had a legitimate shot to win the job this time.
Bet you didn't think you were getting long-snapper analysis today, Sean.  It's your lucky day!
What are the players and coaches looking forward to the most this season, Thomas?  That's easy: Winning.  Or, as Lovie Smith put it in his introductory press conference, being "relevant" again.  There's not a single player on the Bucs' current roster who was on the team the last time it was in the playoffs (2007).  There are some signees from the last couple years, like Dashon Goldson and Michael Johnson, who have tasted the postseason, but most of the 2014 Bucs are still waiting for that experience.
That seems like a terribly obvious answer to your question, Thomas, I know.  Everyone wants to win.  But I guess my point is that the arrival of Lovie Smith and the aggressive roster additions of the offseason have a lot of players around here really believing that their time has come.  If the wins start adding up early in the season, I think these guys are going to enjoy being relevant in the NFL (many of them for the first time) so much that they will feed off of that and play even harder.
I know every team is optimistic at this time of the year.  I get that.  Even factoring that in, however, I get a greater sense this summer than I have in some time that this team believes it is a real contender.  This team thinks it deserves to be relevant in the NFL, and I think the players and coaches are most looking forward to proving they are right.
As for the specific game to which the players and coaches are most looking forward, I think that one's easy, too: the home game against the Carolina Panthers.
After the touchy-feely answer I gave you above, Thomas, you probably don't want to hear any clichés, but there's a lot of truth to this one: "We take it one game at a time."  And this one: "The most important game is the next game."  The Panthers are the Buccaneers' next game.
Every Buccaneers coach I've known has harped on that point to his team, and it's easy to understand why.  So much goes into preparing for a game that you really can't afford to have your focus divided.  And if you do give the upcoming game less attention than it deserves, you take a big risk of losing it, no matter where the opponent is in the standings.  There are no true pushovers in the NFL, no teams  you can beat without taking them seriously.
The Buccaneers know this: Ever since the 2014 schedule came out, the Panthers have been preparing for them.  They have to at least match the Panthers' level of preparation and focus to have a chance, so I think Tampa Bay's players and coaches are thinking a lot more about the Panthers than any other team on the schedule.
In this case, however, it happens to all come together nicely, much better than if the season opener was, say, at Cleveland (which was a possibility).  For one, the Panthers are the defending division champions and thus a perfect opening-game measuring stick for the new-look Buccaneers.  Lovie Smith thinks of the Panthers as more of a physical, hard-nosed team than a finesse team, and I think he wants his team to have the same DNA.  Just like he started his tenure in Chicago by specifically saying he wanted the Bears to learn how to beat the Packers, I think he wants his Bucs to measure up to Carolina as much as any team on the schedule.
In addition, it happens to be a home opener.  Another thing Smith has specifically emphasized is the need for the Buccaneers to rebuild the home-field advantage they enjoyed in the late '90s and early '00s.  Defeating the defending NFC South champs at Raymond James Stadium to start the season would go a long way towards packing that house for the rest of the year and rekindling that suffocating atmosphere for opponents.
Vincent Jackson would be the obvious choice, since he was the one constantly productive player in a season of upheaval and depressed numbers for the Buccaneers last year.  However, if I have to pick one player to give that mantle to for 2014, I'd go with Doug Martin.
That's not to say Vincent Jackson will be less productive in 2014.  In fact, given that he caught 78 passes for 1,224 yards and seven touchdowns (and was only held below 50 yards in five of 16 games) while playing three games with a badly struggling quarterback and the other 13 with a rookie passer, there's every reason to believe he'll approach those numbers again.
I just think (or perhaps hope) that the Buccaneers' passing attack will be quite a bit more varied in 2014 than it was in 2013, when it was hard to find any other consistent weapon beyond Jackson.  Mike Evans will be a better #2 WR option; the trio of Brandon Myers/Austin Seferian-Jenkins/Tim Wright, however it's employed, will bring more out of the tight end spot; a dynamic slot weapon, such as Robert Herron, could develop; and the backs should catch more passes.
And, yes, there are more of those backs that will be involved this year.  Whether it was Martin, Mike James or Bobby Rainey, the Bucs mostly relied on one ballcarrier at a time last year.  That's apparently not going to be the case under Lovie Smith and Jeff Tedford.  Still, Smith has said repeatedly that Martin will remain the "bell cow" back in the Bucs' offense, so he shouldn't have any problem racking up 250 carries or so.  That's what Matt Forte had in Chicago in 2012, Smith's last year at the helm, even though Michael Bush, Kahlil Bell and Armando Allen were combining to take about 10 handoffs a game.  Forte is considered a more accomplished pass-catcher than Martin, but he had a total of 44 receptions in 2012 (to be fair, that's his career low).  Martin had 49 receptions as a rookie in 2012 on the way to 1,926 yards from scrimmage.  I know that rookie Charles Sims is expected to be the Bucs' top pass-catching back, but that doesn't mean Martin will be shut out of the aerial game.
Martin ranked third in the NFL in yards from scrimmage in 2012, and second among running backs because that was the year that Detroit wide receiver Calvin Johnson fully turned into a cyborg.  Forte did the same thing last year in a new offense in Chicago, ranking third with 1,933 yards.  Meanwhile, Seattle's Marshawn Lynch, who could certainly be described as an "offensive powerhouse" was sixth in the NFL and fifth among back with 1,573 yards from scrimmage.  That's about 80% of what Martin produced in 2012.  I think Martin can get to at least 80% of his 2012 production, even if he's ceding some of the carries and catches he would have had that year to other strong options in the Bucs' offense, and that would once again make him a powerhouse.  The powerhouse in Tampa Bay's offense.