STORY HIGHLIGHTS
Gerald McCoy has long wished to face off against Green Bay QB Aaron Rodgers, but his timing has been unfortunate
Even without McCoy on the field, the Bucs will need to establish a physical presence at the line of scrimmage to keep the Packers in check
DE Da'Quan Bowers will get an opportunity to prove himself while taking many of McCoy's snaps

The Tampa Bay Buccaneers have faced Aaron Rodgers, Green Bay's MVP candidate, three times since he took over as the Packers' starting quarterback in 2008. The first two times, in 2008 and 2009, Gerald McCoy was still polishing his draft resume at the University of Oklahoma. The third time came in Week 11 of the 2011 season; McCoy suffered a season-ending arm injury in Week Nine. Tampa Bay's defense gets another crack at Rodgers this Sunday…seven days after McCoy suffered a season-ending knee injury at Carolina.
That's some pretty unfortunate timing for McCoy, who has long wanted to line up opposite the 2011 MVP. Just a little more luck and McCoy could have begun reprising the Warren Sapp role as the foil of former Packer great Brett Favre. Of course, Sapp and Favre shared a division for years and thus met frequently; McCoy may have to wait as many as three years to get another shot at Rodgers and the Packers.
"I'm one of Aaron Rodgers' biggest fans," said McCoy. "I know it's bad to say as a defensive lineman, but I am. I've been wanting to play against the guy since I got drafted. Arguably not just the best quarterback, the best player in the NFL.
"Those types of moments don't come around often. And for me, I love this game so much; I'm just a huge competitor. I'm just missing the fact that I get to play against a team of this caliber, or a quarterback such as Aaron Rodgers like 99 [Sapp] got to play against Favre all the time. It's not like I have bad [quarterbacks in the division] – I get to play against Drew Brees twice a year. But Aaron Rodgers, I'm just a fan of his. I hate that I have to miss this because this will be my second time missing the opportunity to play against him. So hopefully it will come around again."
Obviously, the Buccaneers would have had a better shot at slowing down Rogers and the NFL's second-highest scoring team if McCoy was on the field. The fifth-year lineman leads the Buccaneers with 8.5 sacks and creates opportunities for his linemates by absorbing frequent double-teams. More than that, however, his absence could very specifically impact the Packers' game plan on offense.
As dangerous as the Green Bay passing attack can be, that offense also features a top running back in Eddie Lacy and the Packers actually ran the ball more effectively than they threw it last Sunday in Buffalo. The Buccaneers will be slotting Da'Quan Bowers into McCoy's spot for a good portion of this Sunday's contest, and Defensive Coordinator Leslie Frazier expects the Packers to test Bowers early and often.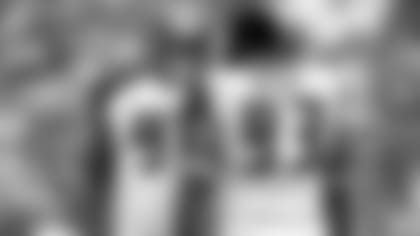 DT Gerald McCoy will have to settle for offering advice to Da'Quan Bowers and his other linemates as they go after Green Bay QB Aaron Rodgers
"You'd like to see a guy who can be physical at the point of attack," said Frazier of his hopes for Bowers in this greater opportunity to prove himself. "We'll probably get more runs at that position than we've probably had all season because Gerald is not playing. So he'll have an opportunity to really show his teammates [and] his coaches what he's able to do in an extended period. We saw a little bit of that last week when Gerald went down early. He got a few more snaps and he found out the importance of conditioning – which is very important if you want to play well. But we need to see if he can pass rush, we need to see him go down in and down out and really do the things we ask him, and run defense as well. Great opportunity for him [to] maybe showcase that, 'I'm more than capable of being a quality, potential NFL starter in this league.'"
Lacy and the Packers ran for 158 yards on a stout Buffalo front last week, but the Bills were able to hold Green Bay to 13 points and come away with a big win. The only other teams to keep Green Bay below 23 points this season were Seattle and Detroit, owners of perhaps the two best defenses in football. All of those defenses play a rugged style of football and pressure the passer well, and that's the blueprint Frazier hopes his team can follow on Sunday. It will start with Bowers and his fellow linemen.
"What [those teams] were able to do from a physical standpoint, they really were physical, and we'll need to be on Sunday as well at the point of attack with our front," said Frazier. "We really want to be able to establish the line of scrimmage with our front – that will be important. Although Green Bay lost their game on Sunday, they still did a good job of running the football and rushing for over 150 yards. So they still did some good things in that ballgame. But for us, it will be about establishing the line of scrimmage."