STORY HIGHLIGHTS
Both teams are likely to attempt to establish a strong running game with two alternating backs
Tampa Bay hopes for a boost from the returns of Gerald McCoy, Doug Martin and Michael Johnson
The Bucs' defense hopes to keep Steeler QB Ben Roethlisberger in the pocket as much as possible

The Tampa Bay Buccaneers are going all-in for their first victory of 2014 on Sunday in Pittsburgh, and when they lay down their cards they hope their pair is better than the Steelers' pair.
For just the second time since the arrival of Bobby Rainey last October, the Buccaneers will have both him and Doug Martin active for the same game, and they hope to use those two to establish a physical presence from the start. It will be a challenge, however, for Martin and Rainey to outdo Pittsburgh's duo of Le'Veon Bell and LeGarrette Blount, which accounted for 257 yards on the ground a week ago.
The only other time the Bucs had both Martin and Rainey ready to go at the same time was this year's season opener against Carolina, but Martin suffered a knee injury after logging just nine carries. That injury kept him out of the last two contests – and gave Rainey another chance to show what he can do – but he's one of a handful of key Buccaneers who are ready to return on Sunday.
"It should help getting Doug back," said Buccaneers Head Coach Lovie Smith. "Doug Martin is all set and ready to go. He'll start the game and Bobby Rainey will back him up. Mike James will be inactive today, so there's a little changeup at the running back position."
Mike Glennon will start at quarterback due to Josh McCown's thumb injury, and the Buccaneers believe the second-year passer can handle the aerial attack just fine. No matter which man was under center, however, Tampa Bay would have started it's game plan with an intention to establish the ground game.
"We're going to say that each week because we're a running football team," said Smith. "The run's going to set up everything else for us. [The Steelers] will take a similar approach and it's going to be about the running game. Both teams have two excellent running backs and you have to stop the run."
The Steelers ran roughshod over a good Carolina defense using Bell and Blount, as they outgained the Panthers on the ground, 264 yards to 42. That's a formula any NFL head coach would be happy to follow, but that doesn't mean the Steelers will be out of options if the Bucs can slow down their running back tandem. Quarterback Ben Roethlisberger is more than capable of carrying Pittsburgh's offense, and that's why it's so important that the Buccaneers are also getting defensive tackle Gerald McCoy and defensive end Michael Johnson back into the pass-rush rotation. McCoy missed last week's game with a fractured hand and Johnson has played just six snaps the past two weeks due to an ankle sprain.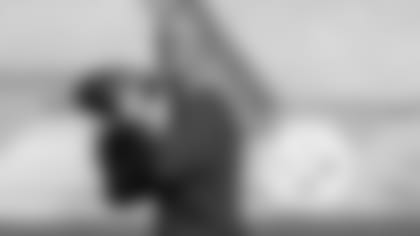 Second-year QB Mike Glennon started 13 games as a rookie in 2013
"Of course, stopping the run is important, but from there, if they would like to be a passing team, they could do it well," said Smith. "Ben Roethlisberger is as good of a quarterback as there is in the game. He has excellent skill guys, great speed on the outside, playmakers. In order for us to offset that it will be about our rush, led by Gerald, of course, Michael and others.
"I think he's the best quarterback in the game as far as keeping plays alive. He'll run if he needs to but it's more about moving around to get the throw off. And size-wise, he's a big man. You're not going to stop him trying to arm-tackle him. We'll have to keep him in the pocket as much as possible and make him get rid of the ball."
The Bucs' pass-rush has been less effective than the team envisioned before the season started, but the team's starting four of McCoy, Johnson, Adrian Clayborn and Clinton McDonald has played less than half of the team's defensive snaps through three weeks. Clayborn won't be back this season due to a biceps tear, but the Bucs still have high hopes for a front line that features McCoy and Johnson. Those two, Martin and rookie tight end Austin Seferian-Jenkins, who is returning from an ankle injury, could provide the Bucs with a big boost on Sunday.
"We have gotten some injured players back, which is always good," said Smith. "We missed Gerald McCoy last week. Michael Johnson wasn't able to do a whole lot. Austin Seferian-Jenkins was not active. Those guys are all set and ready to go."
McCown is not, of course, but the Bucs were confident in their quarterback position as a whole heading into the season. Glennon started 13 games last year and performed admirably under difficult circumstances. He's a more polished player in his second year and the Bucs don't believe the switch will limit what they can do on offense Sunday.
"We're excited about what Mike can possibly bring to us…just running our offense as much as anything," said Smith. "He knows it, has been around every step of the way with Josh. He can make all the throws. Mike played a lot last year; it's not like this is his first NFL action. We need to get our offense going and we feel pretty good about our game plan today."
In addition to McCown, the Buccaneers will also be without starting middle linebacker Mason Foster and reserve defensive end Larry English, both out due to injury. Those three have been declared inactive along with James, guard Kadeem Edwards, WR Robert Herron and tackle Kevin Pamphile. Dane Fletcher will make his second consecutive start at middle linebacker. In addition, Danny Lansanah will start in place of Jonathan Casillas at strongside linebacker.
The Steelers are down three defensive starters from last week's game. LB Jarvis Jones has already been placed on injured reserve (with a designated for return tag), while LB Ryan Shazier and CB Ike Taylor are both inactive due to injury. Arthur Moats will and Sean Spence step up into the starting linebacker quartet, while William Gay is likely to take Taylor's spot at RCB. The Steelers also deactivated starting left guard Ramon Foster and will start Cody Wallace in his place. The remainder of the Steelers' inactives for the game are QB Landry Jones, WR Martavis Bryant, DL Daniel McCullers and OL Wesley Johnson.
The Buccaneers take on the Pittsburgh Steelers in Week Four of the 2014 season on Sunday afternoon, with kickoff scheduled for 1:00 p.m. at Heinz Field in Pittsburgh. The game will be broadcast on television by FOX and on radio through the Buccaneers Radio Network and its flagship station, US 103.5 FM. That radio broadcast will also be carried live on Buccaneers.com.